Dec 16, 2002 — by LinuxDevices Staff — from the LinuxDevices Archive
Foreword: LocustWorld recently announced a hardware/software implementation of an open access point platform capable of meeting the needs of community networks. The system is available for purchase as a ready-to-go system (the "MeshBox"), or the software can be freely downloaded from LocustWorld's website.
Originally released as a bootable CDROM called "MeshAP," MeshBox is now implemented as an under-32MB system image which can fit within a small CompactFlash card. But despite its small size, MeshBox extends the basic access point and mesh routing functionality of the original MeshAP. MeshBox now provides the capabilities of a set-top box Internet Appliance, wireless mesh router, connection to remote windows terminal servers (or other PCs), web browsing, mp3 audio and mpeg video streaming, connection to multiple peer-to-peer networks, instant messaging network chat, and file exchange.
LinuxDevices.com asked Jon Anderson, the creator of MeshAP and MeshBox, to provide some background on these interesting projects — and here's what we learned . . .
---
About the MeshBox
by Jon Anderson
Some months ago, I was approached by
CommunityWireless.org
who were looking to utilize the 2.4 GHz (no license required) radio frequency to deploy community networking projects. Other projects already existed along the same idea (e.g.
www.consume.net
), but none of these had a simple "turn key" distribution which facilitates community networking.
I set about researching hardware and software, looking to produce the cheapest black box which you could plug in and go. The first version was in the form of a bootable CD called the MeshAP CDROM. It was widely publicized by the UK national newspaper "The Guardian," who estimated it could cost the telecoms industry £27 billion.
Then my website (running on a mini-itx board) got slashdotted.
I continued working on the system and decided on the mini-itx platform to deliver the product. It continued to evolve and now is a multi-function device, called the MeshBox.
With the MeshBox, what you have is a black box which you switch on and it configures itself either as a router, a gateway, or as a wireless mesh repeater. All configuration is automatic, but can be tweaked via the web at www.wiana.org.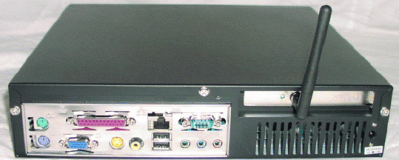 It is also a thin client workstation, with web browser, p2p filesharing, all networks, instant message client, remote desktop and windows terminal server client, mpeg video, and mp3 audio player.
The hardware is a fanless 566 MHz mini-itx board with 128MB of RAM, 32MB CompactFlash boot media, and TV out. It has a PCI wireless card with stub antenna, and an external antenna connection. Another wi-fi card can be added to utilize multiple frequencies at once.
The project got slashdotted again when the hardware went on sale.
Packages of note within the MeshBox include . . .
Opera 6.03 — free to use (ad sponsored browser) (may replace with mozilla etc)

Xmms — advanced mp3 player / shoutcast streamer

Everybuddy — instant messenger applications (AIM/MSN/Yahoo/ICQ/IRC)

DonkeyML — p2p file sharing – edonkey and soulseek p2p networks

Vncviewer — remote desktop control application

Rdesktop — windows terminal server client

MpegTV — free to try mpeg video viewer (may replace with xanim etc)

Netstrength — graphical wireless monitor

Bubblemon — comical system load meter

Squid — advanced web caching system

Boa — Tiny high speed webserver

OpenSSH — Encrypted secure shell login server

Dhcpd — ISC dynamic host control protocol server

Aewm++ — Window manager

Vtund — Virtual Private Network server

OpenSSL — complete cryptography package

Linux — Linux kernel vers. 2.4.18+

Xwindows — Graphical networked windowing environment

PCMCIA — Card services support, PCMCIA + Compact Flash

Truetype — Truetype vector fonts for large scale text

Wifi — Support for many devices, prism2, orinoco, PCI, PLX, PCMCIA, USB etc.

CaptivePortal — wireless users are authenticated before they can gain access.

RemoteManagement — Complete setup/upgrade/package manager via remote website
Further details on the MeshBox are available here . . .
You can download the latest version of the system software from the downloads section of LocustWorld's website (look in the CompactFlash images in "downloads"). Also, pre-written CompactFlash cards (and adapters) are available for purchase, as well as pre-built MeshBoxes.
As far as I know, the MeshBox is the only open wi-fi compliant mesh routing solution available today. I've been selling hundreds of them from the website and have some very significant projects underway to utilize the system in various different markets.
---

This article was originally published on LinuxDevices.com and has been donated to the open source community by QuinStreet Inc. Please visit LinuxToday.com for up-to-date news and articles about Linux and open source.