Mar 20, 2007 — by LinuxDevices Staff — from the LinuxDevices Archive

Muse Research used Linux and the open source WINE Windows emulator to build a virtual instrumentation and effects box used by the Rolling Stones, U2, Herbie Hancock, John Mayer, and others. The 2U rackmounted "Receptor" runs VST-format audio effects and virtual instruments on commodity PC hardware, using a… 2.4-series Linux kernel.
Muse was founded by music industry veterans from OpCode, E-MU, Apple, and Be, with the goal of creating a dedicated VST (virtual studio technology) plug-in machine, according to Bryan Lanser, VP of business development. He said, "We had all observed how software virtual instruments had decimated the dedicated hardware synthesizer and effects market. Yet people who were making amazing music on their desktop computers are hard-pressed to perform live, even using the fastest laptops available."
The company shipped Receptor, apparently its first product, about two years ago. The product has since undergone three hardware and five software revisions, Lanser said. "We are all musicians here, so we're very passionate about both the product and the end result!" he enthused.


Muse Receptor
(Click to enlarge)
The Receptor runs virtual instrument software in
VST format
. The device features a dedicated hardware front panel, so it "looks, acts, and feels a lot like dedicated hardware," Lanser said. However, inside it runs Linux and has a
WINE
Windows API emulator to run the VST plug-in software.
Keyboardists and electronic drummers who perform live represent the largest market for the Receptor, Lanser said. However, the device can also be used by guitarists as a simple effects box, or — with a MIDI-enabled guitar or MIDI converter — as a virtual instrument box capable of making the guitar sound like a B3 organ or whatever.
Additional markets cited by Lanser include "project studio owners who are running out of power on their desktop computer, as well as producers, worship music leaders, [and] guitarists." He said, "If you use virtual instruments or effects, chances are Receptor will benefit you in very substantial ways."
What's under the lid?
The Receptor is based on an MSI motherboard with an AMD Turion 64-bit processor clocked at 2.2GHz. Lanser said Muse chose Turion because as a mobile processor, it has low thermal output for quieter cooling. Additionally, the Receptor supports desktop motherboards, which enables PCI I/O expansion boards to be used. Finally, it has 1MB of L2 cache, "which the particular software we run really loves," Lanser said.
Muse populates the MSI board with its maximum of 2GB of RAM — probably a good choice given the 2.4-series kernel. The device boots from the hard drive, which could be 160GB, 400GB, or 750GB, depending on the model.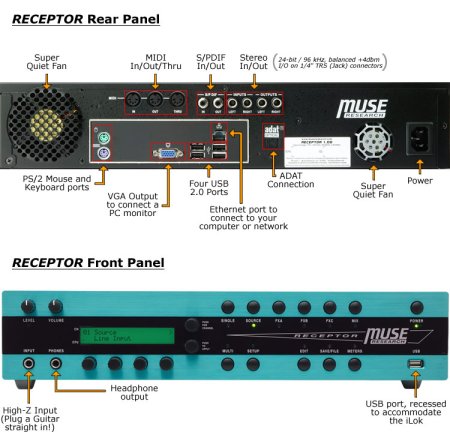 MUSE Receptor I/O
(Click to enlarge)
I/O includes five USB ports, an ADAT digital output, two quarter-inch balanced line level inputs, two quarter-inch balanced line level outputs, and S/PDIF out.
The Receptor also has an interesting array of front panel hardware, including multiple switches and knobs that are attached serially.
On the software side, the Receptor is based on a Red Hat Linux distribution, although the product is being migrated to Fedora. The user interface software is a proprietary application called "Muse Hot Spot." The application communicates serially with front-panel hardware, and also has an X Window interface that can be launched over the network on PCs with VNC clients. "All functionality of the product can be controlled over an Ethernet connection," Lanser said.
In addition to Linux, WINE, and VNC (virtual network computer), other interesting open source software includes customized ALSA drivers for the audio hardware.
Lanser said Muse chose Linux for a number of reasons, but that the company would not necessarily make the same choices again. He explained, "We chose Linux because we believed it would be more stable, and we'd be able to draw on a larger community of expertise to assist us in tailoring the OS to our specific needs. Whereas we like it, and it definitely works for us, the compatibility issues with trying to run Windows format DLLs has been a real challenge for us. I don't know if we'd use it again because of this fact, and we're also concerned about 64 bit support in WINE which might cause us to have to rethink future implementations."
Muse did much of the Linux port in-house, but also had assistance from others, according to Lanser. However, he declined to be more specific as to the company's Linux software development partners, due to proprietary considerations.
Asked about the project's biggest challenges, Lanser quipped, "Of course, software is easy and everything worked perfectly the first time. Ahem." He then added, "I seriously doubt you have enough space in the article to list all the tribulations of creating a brand new product that has the characteristics of a dedicated hardware device while maintaining its software compatibility with the established standards in the market, and having the requirement of networking seamlessly with both Macs and PCs. We've all gained plenty of grey hair during the development. This was not an easy project."
As for Linux's future prospects in the embedded market, Lanser said, "For application specific embedded appliances, I think it is the best choice by far. I think you 'll see it in a lot more products in the future. We're looking forward to looking at future products using Linux, since the OS continues to improve and that will make our lives as product developers easier."
Availability
The Muse Receptor appears to be widely available, priced between $2,000 and $2,500, depending on options.
---

This article was originally published on LinuxDevices.com and has been donated to the open source community by QuinStreet Inc. Please visit LinuxToday.com for up-to-date news and articles about Linux and open source.