Nov 21, 2003 — by LinuxDevices Staff — from the LinuxDevices Archive
Linux is being used as the embedded operating system platform for lottery terminals located at thousands of sporting arenas throughout Korea. The devices, called "Toto," leverage commodity hardware, open source technology such as X and Java, and, in recent models, Sangoma WAN cards to produce unobtrusive, inexpensive, and reliable gaming terminals.
Toto: networked betting terminals
Spectators at soccer matches or basketball games in Korea can use the Toto terminals to place bets on the expected results of the match before the match starts. Those who guess correctly receive cash prizes. The system was created to collect funds for sports facilities and events, and is managed and operated by the Sports Promotion Foundation. It has proven to be one of the most popular lotteries in Korea, especially since the country's hosting of the FIFA World Cup of Soccer in 2002.
The gambler buys a betting sheet, marks their prediction, and inserts the sheet into the terminal. The terminal reads the sheet with an Optical Mark Reader (OMR) and prints out a ticket. All user interface operations are via a touch screen LCD in combination with a simple calculator-like keypad.
What's inside?
The terminals are powered by commodity PC hardware, including an Intel 700MHz Celeron and 128MB of RAM. They boot Linux kernel 2.4.16 from a 48MB DiskOnChip Flash disk.
An efficient, reliable connection between the terminals and the main server is critical, for things such as stopping the machines from taking bets once a game has started. Therefore, both a primary and backup connection mechanism are provided, based on a synchronous digital 56K line and a 56K dial-up modem, respectively. The modem can communicate with the central server through the Public Switched Telephone Network (PSTN), or through a VPN. See diagram below.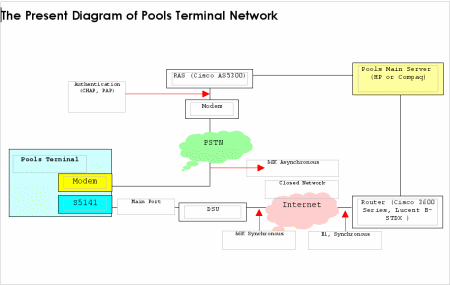 Toto network architecture
(Click for larger view)
The devices were initially implemented using external networking components from Cisco and U.S. Robotics, as shown in the following photo.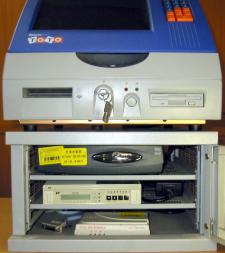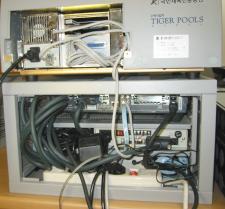 Toto gaming pool set-up using external WAN devices, front and rear
During a subsequent product revision, NSTek chose to simplify Toto's WAN interface hardware configuration by substituting an internal WAN controller card from Sangoma, which eliminated the need for an external router and hub.
"The original external box-type solution adopted by Sports Toto in 2002 was complicated and clumsy," recalls Yong-Ik Chee, CEO of NSTek. "Replacing the external devices with the Sangoma S5141 eliminated not just the external router and its power supplies and cables, but also a purpose-built steel case that was needed to house all the ancillary connection equipment."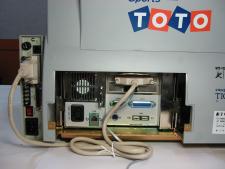 Toto gaming pool devices with Sangoma internal WAN and modem cards, and an external CSU/DSU. Rear view.
Sangoma CEO David Mandelstam notes, "To date our S5141 series of internal connectivity cards has been installed in about 2,000 [Toto] terminals throughout Korea, replacing Cisco's 1720 external routers."
Use of Sangoma card eliminates external components
Why Linux?
NSTek's Jiseon Yoo, Toto Project Manager, says that Linux was used as Toto's embedded OS because the customers, Korea Sports Promotion Foundation and Sports Toto, demanded it. "Probably, the main reasons were economical cost and security," notes Yoo. "Had Sports Toto selected Windows," he adds, "The initial cost would be twice."
Yoo says Toto's user interface is based on custom Java applications running on top of X. Linux was ported to the devices by NSTek staff, in a process made fairly simple by the commodity PC architecture, he adds.
In retrospect, Yoo says his company is happy with its choice to develop the devices using Linux, although it did face some obstacles, initially, in getting the Sangoma parts to interoperate with Cisco equipment in the central office. Fortunately, Sangoma was helpful in resolving the problems quickly. "We could not have developed the application related to network connection," says Yoo, or it would have taken twice as long, without Sangoma's help.
Yoo expects to use Linux on future projects, and believes embedded Linux enjoys "very bright prospects."

This article was originally published on LinuxDevices.com and has been donated to the open source community by QuinStreet Inc. Please visit LinuxToday.com for up-to-date news and articles about Linux and open source.