Sep 27, 2000 — by LinuxDevices Staff — from the LinuxDevices Archive
frontpath, inc. (Santa Clara, CA), a wholly owned subsidiary of S3 Inc., today announced ProGear, a wireless Linux-based portable information appliance targeted to vertical market segments. The device supports various rich media formats, includes a 10.4″ TFT display, and obtains user input via either virtual keyboard or handwriting recognition on its touchscreen. Its software consists of Linux 2.4x and Netscape 4.74, along with a complete set of utilities and diagnostics. Real Player, Macromedia Flash, Adobe PDF, and Java plug-ins are also included.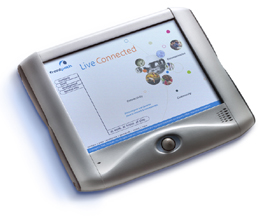 ProGear is powered by a 400 MHz Transmeta TM3200 ("x86") processor. The device includes soundblaster-compatible audio, with microphone/headphone support. An integrated USB hub allows use with an external keyboard, mouse, of other USB devices. System memory is either 64 or 128 MB, and the unit is offered either with a built-in 6.4 GB hard drive or in a thin client version. The standard battery pack consists of a three-cell, three-hour lithium ion battery. A six-cell, six-hour battery is available as an option, as is a cradle with integrated charging station. The unit weights three pounds and is packaged in a thin, ergomonic magnesium case. The display is based on X11, and supports both portrait and landscape modes. The unique 360° display rotation capability was facilitated by the use of a Silicon Motion Lynx 3M display controller IC, supported by an image rotation display driver for XF86.
According to frontpath Director of Product Marketing, Ward Williams, the ProGear was targeted for use in specific vertical applications in markets such as health care, real estate, restaurants, hotels, cruise ships, etc. Single-unit pricing of the most popular configurations will be around $1500, with the flexibility to upgrade/downgrade features such as batteries, memory, cradle, access points, keyboard, and mouse. Beta units are scheduled to become available during Q4, 2000, with quantity shipments beginning during Q1, 2001. Volume discounts are available.
Technical Specifications
Software

Linux 2.4x Operating System

Phoenix BIOS

Netscape Navigator v4.74 for Linux

Netscape – Linux Plug-ins

Real Player

Adobe PDF

Macromedia Flash

Java

Software Applications

X11 Server with support for screen rotation

Motorola Lexicus Handwriting Recognition

Touch screen virtual keyboard

Utilities

SW Update utility

ProGear Feature Control

Pop-Up Task Bar

ProGear Diagnostics

Screen control

Pen / HW calibration software


Hardware

High Performance 400Mhz Transmeta TM3200 CPU with integrated power management

LCD Flat Panel Display: 10.4″ 800×600 (SVGA)
TFT, standard; 10.4″ 1024×768 (XGA) TFT, optional

Removable/Customizable LCD Screen Cover

Touch Screen: Fault tolerant, 2kx2k, 5 wire resistive

Low gloss, Anti-reflective surface

64MB or 128MB system memory

Optional 6.4 GB 2.5″ slim hard disk drive

I/O ports:

One CardBus / PCMCIA Type 2 Slot

One USB "host" port

IrDA V1.1 Hi Speed Infra-Red Port

Microphone, speaker, and earphone, & microphone jacks

Varapoint scrolling device w/center select

Battery: Lithium Ion 3 cell 1600 mAh (3 hours); optional upgrade to 6 cell 3200 mAh (6 hours)

Optional ProGear Docking Station

Charging bay, for extra battery charging

four additional USB ports (ex. mouse and keyboard)

Physical specs

Size: 9″ x 11″ x 1″

Weight: 3.2 lb

Operating Temp: 0°-35° C

Humidity: Up to 95% at 30° C

Altitude: Up to 10,000 feet

This article was originally published on LinuxDevices.com and has been donated to the open source community by QuinStreet Inc. Please visit LinuxToday.com for up-to-date news and articles about Linux and open source.