Dec 20, 2005 — by LinuxDevices Staff — from the LinuxDevices Archive

Welcome to Round Four of the ultimate showdown between Linux and Windows in the arena of embedded and device computing! After three heated but inconclusive rounds, our combatants are pulling no punches in their all-out quest to dominate the hottest consumer electronics and industrial computing markets.
Our smack-down aims to set aside the marketing hype and pit Linux versus Windows where it really counts — devices on the street today. Later in this story, we'll update our tallies of successful Linux- and Windows-powered design wins across a dozen or so computing categories. But first, let's get started with some cutting commentary and market analysis to put all the fast-paced action to come into perspective.
Pre-game banter
There's no question that the embedded market overall has continued to explode since our last SmackDown Round in July. New technologies, alliances, and market trends have combined to push the pace of innovation to fever pitch.
Topping the list of hot embedded areas has to be mobile phones. Worldwide mobile phone shipments experienced their second-best quarter ever in Q2 of this year, according to Gartner, with 190.5M units shipped, a 21.6 percent jump year-over-year, and are projected to exceed a billion units shipped in 2009.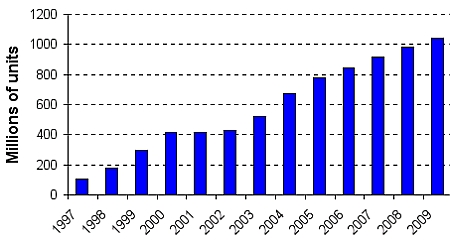 Unit shipments of "mobile terminals." Source: Gartner, July 2005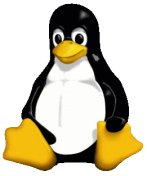 Embedded Linux heats up mid-range mobile phones
Replacement business now defines mobile competition according to low cost and/or feature differentiation, both arguably areas where Linux shines. Linux has fared especially well in high-end "smartphones," where it claimed 14 percent of the market in Q1, and 25 percent of the market in Q2, according to Gartner (as reported by the OSDL). In the broader "converged device" market, overall shipments soared 75 percent year-over-year, according to Canalysis, with Motorola achieving the most spectacular growth, attributed to Linux smartphone sales in Asia.

Feature phones will be the largest mobile phone market segment by 2010, but smartphones will be the fastest growing
Linux smartphone sales also skyrocketed in Japan, home of the world's most advanced mobile networks. NEC and Panasonic both shipped new Linux designs in Japan. Elsewhere in Asia, Trolltech's many Asian customers reportedly helped it significantly grow the customer base for its newly VoIP-enabled Qtopia Phone Edition stack. Chinese phone vendor TCL also shipped a new Linux smartphone, as did ZTE. Additionally, a reorg by Japanese consumer electronics powerhouse Matsushita (Panasonic) put 3G Linux phones first, while Siemens moved toward Linux for 3G phones, after selling off its 2.5G products to BenQ.
Another company that announced a Linux phones focus a year ago — PalmSource — fielded acquisition bids from Palm and Motorola, before settling on Japanese mobile browser vendor Access. Embedded software giant Wind River debuted its own consumer electronics Linux platform, with a strong focus on mobile phones, while Indian outsourcing giant Wipro threw its hat in the ring of Linux phone middleware stack providers. Early mobile Linux OS leader MontaVista, meanwhile, added support for OMAP chipsets from mobile phone chip leader Texas Instruments to its Mobilinux stack/ecosystem, and advanced its real-time Linux technology aimed at driving Linux into lower-cost phone hardware.
Additionally, a pair of apparently well-funded mobile industry coalitions sprang up, including the OSDL's 9-member Mobile Linux Initiative, and the Orange Telecom-led LiPS (Linux Phone Standard), with 11 founding members.
In short, it's been a busy six months for Linux on phones — and these are just the highlights.
Elsewhere, Linux design wins continued in personal/portable media players (PMPs), where 179 percent CAGR (compound annual growth) is projected through 2008. Linux continued to power essentially every network infrastructure product based on a complex OS, including secure console servers and KVM devices, network storage servers, media adapters, digital video recorders, security monitors and cameras, firewalls, and so on.
Additionally, Linux helped fuel innovation in completely new categories, such as robotic cow-milking machines, personal desktop servers, and miniature Webpads. Linux flexibility and customizability has continued to help it gain more than its share of wins in non-traditional device categories.
On the pure technology front, Linux reportedly gained substantial quality and security improvements, along with enhancements to nearly every architecture. Device-makers also gained two new windowing toolkit options, and a new embedded architecture — IBM/Toshiba/Sony's Cell processors, expected to bring Linux PlayStation 3 options next spring, appeared initially in Linux-powered blades from Mercury Computer Systems.
On the legal front, patent fears eased, with the creation of the open source patent holding company and plans to enhance the GPL with clauses dealing with the emergent threat posed by software patents.
In summary, the Linux juggernaut rolled on with seemingly ever-gathering momentum in 2006, posing some very real challenges to the ongoing credibility of proprietary OS technology in an increasingly broad range of device categories.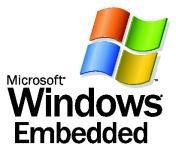 While Windows Embedded pushes the smartphone envelope
Microsoft's recently released Windows Mobile 5.0 mobile device OS lost no time garnering substantial third-party support, as well as designs wins from the likes of Sharp, which rolled out an exciting new VGA PDA-phone with a QWERTY keyboard. Interesting, two other Windows Mobile handsets sporting QWERTY keyboards also debuted — one from Sprint and one from i-mate.
Motorola, meanwhile, added the "Q," a Windows Mobile smartphone that the number two world-wide mobile phone-maker calls "the thinnest, lightest, coolest QWERTY [mobile phone] on the planet," to its growing family of Windows Mobile smartphones.
For its part, Taiwanese ODM (original design manufacturer) HTC continued building up its substantial portfolio of Windows Mobile phone platforms, preparing, as it were, for the impending scuffle over the rapidly emerging smartphone market segment. Smartphones represent the fastest-growing portion of the "mobile terminals" market, with sales expected to double year-over-year, reaching 200 million units by 2008, according to Gartner.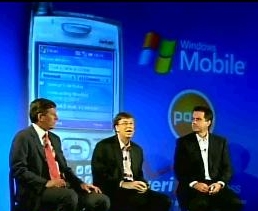 In a stunning bit of irony, the CEOs of erstwhile arch-enemies Palm and Microsoft appeared side-by-side on a stage in San Francisco (photo, right) to unveil a Windows Mobile version of Palm's signature Treo smartphone, described as offering the "Palm experience on top of Windows Mobile."
Intrinsyc made good on its previously announced plan to fill the lower-end gap in Microsoft's mobile phone strategy by developing a Windows CE based software platform for feature-phones, ringing up a substantial financial backing and then introducing its feature-phone software platform in November, followed by a hardware/software feature-phone reference design several weeks later.
Not content to rest on its laurels, Microsoft progressed along the path of countering the surging popularity of RIM's Blackberry device for mobile email — a market that is projected to grow to some 40 million users by 2008 — by beginning to roll out push email software for Windows Mobile handhelds.
Despite the apparent obsession of embedded OS vendors with the mobile phone market, however, Microsoft continued to post heavy gains in the PDA space, with Pocket PC maintaining its leadership as the top PDA software platform, ahead of Palm OS, according to Gartner.
Elsewhere, Microsoft's Windows Embedded OSes (Windows CE and Windows XP Embedded) continued their strong showing in the rapidly growing point of sales/service (POS) market. Set-top box (STB) successes included numerous STB devices and STB reference designs, as well as a set-top "video client." Numerous thin clients also surfaced, including an unusual one that fits inside a wall-mount LAN box.
One unusual handheld device deserves special recognition: the "cPC," set to debut at CES next month, which sports a 5-inch touch-screen and combines a Windows Mobile Pocket PC Phone with a Windows XP Tablet PC.
Other noteworthy Windows-powered device news included initial US shipments of the Gizmondo multi-entertaining gaming handheld, an assortment of handheld GPS devices, and, of course, the arrival of the exciting Xbox 360 on store shelves, complete with media center extender technology that can remotely display multimedia obtained from a Windows XP Media Center PCs on a TV screen.
On the technology side, Microsoft also rolled out Windows Automotive 5.0, which targets in-vehicle embedded computers, and announced that Windows XP Embedded has attained Common Criteria (CC) Evaluation Assurance Level (EAL) 4 + augmented with ALC_FLR.3 certification from the National Information Assurance Partnership (NIAP).
In light of all these accomplishments, it comes as no surprise that Microsoft reported record mobile and embedded segment quarterly revenue of $97 million in the fourth quarter of its 2005 fiscal year. Nonetheless, the division was still operating in the red, showing a quarterly loss of $14 million.
Let Round 4 begin!
Clearly, both heavyweights have their strongholds within the vast, multi-billion-unit "smart devices" arena. Server-like devices — from carrier-class systems for telecommunications infrastructure to SOHO firewall/routers and access points — are natural wins for Linux, with its strong server-OS heritage and Internet-access strengths. Graphical-user-interfaced devices that tend to interoperate with desktop PCs, on the other hand — including PDAs, web tablets, and mobile phones — are product categories where Windows-familiarity flexes its muscle.
Showtime is fast approaching, but before the action gets underway, let's take a quick look at how our combatants fared in the first three Smack-Down rounds . . .
Continued: Backgrounder
---
Story Navigation
---
Pre-game Banter

This article was originally published on LinuxDevices.com and has been donated to the open source community by QuinStreet Inc. Please visit LinuxToday.com for up-to-date news and articles about Linux and open source.