Nov 30, 2000 — by Rick Lehrbaum — from the LinuxDevices Archive
This week, three Korean organizations announced completion of a joint development project which resulted in what is claimed to be "the world's first Embedded Linux smart phone." The IMT-2000 Linux-enabled CDMA smart phone is the product of a team effort among PalmPalm Technology, SK Telecom, and the Seoul National University that began early this year. The three organizations held a press conference in Bundang, Korea, on November 29, 2000 at SK Telecom's central research facility to showcase the IMT-2000.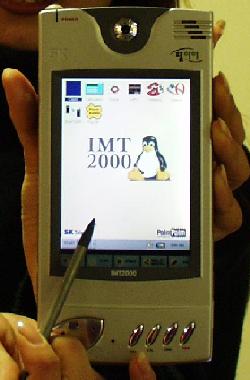 The device, which contains an Embedded Linux operating system, combines smart phone and PDA functionality within a compact handheld device, and offers multimedia capabilities that include animation, MP3, and video communication. Based on its built-in Bluetooth wireless interface, users can even play network games between devices.
A 206 MHz StrongARM processor, running an Embedded Linux OS that is optimized for wireless appliance applications, provides an Internet environment that rivals that of desktop PCs, say its makers. In addition to PalmPalm's Tynux OS, a handful of other technology partnerships contributed to the IMT-2000's system software stack. These included: games, from Mdream (Korea); pen-recognition, from Diotek (Korea); Bluetooth, from Zeen (Korea); QT/Embedded graphics subsystem, from Trolltech (Norway); and an embedded web browser, from Opera Software (Norway).
Besides implementing the functions of a state-of-the-art CDMA phone, the IMT-2000 also contains the equivalent of a high-end wireless-enabled Linux-based PDA. Specifications of the embedded computer include . . .
Hardware

Intel StrongARM SA1110 206MHz system-on-chip processor

32MB system RAM (SDRAM), plus 32MB solid-state disk (NAND Flash)

4-inch TFT LCD display

Touch panel

Built-in Bluetooth wireless interface

Built-in video camera

Voice codec for H.323

Serial and USB ports

Software


PalmPalm Tynux OS, based on Linux Kernel 2.4.0

Trolltech Qt/Embedded GUI subsystem

Opera web browser

Support for H.323 protocol, voice-over-IP (VoIP)

MP3 player

Games

Pen recognition support

PIM applications

This article was originally published on LinuxDevices.com and has been donated to the open source community by QuinStreet Inc. Please visit LinuxToday.com for up-to-date news and articles about Linux and open source.