Nov 14, 2006 — by LinuxDevices Staff — from the LinuxDevices Archive
Toshiba America Electronic Components (TAEC) is sampling its second-generation processors for mid-range and low-end digital TVs having single-chip designs. The TC90407XBG and TC90407XFG chips feature 64-bit MIPS-based host processors and dual DSPs, along with on-chip function blocks aimed at supporting the North American ATSC standard, and come with Linux support.
TAEC previously sampled its first-generation TC90400XBG and TC90400FG chips in April.
According to TAEC, the second-generation TC90407XBG and TC90407FG integrate new on-chip functional blocks that "reduce system cost and support new algorithms that improve picture quality significantly." Specific function blocks include VSB (vestigial side band) and QAM (quadrature amplitude modulation) engines, for demodulation of ATSC and cable streams.
The new TAEC SoCs (system-on-chip processors) will be available standalone, or in application-specific modules aimed at digital converter boxes or add-on modules that add digital ATSC-compliant tuners to existing analog CRT and LCD TV designs. A "DLVM-GC" module targets digital CRT TVs, while a "DLVM-GL" unit targets LCD TVs. Both will help TV vendors meet a U.S. mandate that broadcast TVs completely convert to digital terrestrial transmission by 2009, TAEC says.
Both the TC90407XBG and TC90407FG are claimed capable of decoding and displaying a single standard- (720 x 480) or high-definition (1960 x 1080) stream. Both have a pair of DSP cores, along with a RISC-based host processor.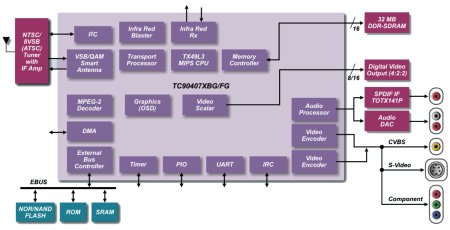 TC90407XBG function diagram
(Source: TEAC; click to enlarge)
Touted features of the second-generation processors include:
A 162MHz TX49/L3 64-bit RISC processor core with 8KB instruction cache and 8KB data cache, a unified memory system, a 16-bit, 162MHz DDR SDRAM controller, and NAND/NOR flash support
An integrated 8-VSB and 64/256 QAM demodulator for ATSC TV
A transport stream processor that is fully compliant to ATSC standards and cable transport streams
A video decoder for standard-definition decoding. It supports MPEG-2 decoding (MP@ML and MP@SL) and MPEG-1 decoding.
A video decoder for high-definition decoding. It supports MPEG-2 decoding for MP@HL for ATSC and digital cable. A high-definition decoded stream can be displayed in high-definition resolution up to 960 x 1080 and is 720p or 1080i compliant. It also has high-definition to standard-definition down-conversion for display in standard-definition resolution.
An audio processor with MPEG- Audio and Dolby AC-3 decoding plus an I2S and S/P-DIF transmitter (IEC-60958/61937)
A graphics engine with two planes for YUV/graphics, alpha blending, video scaling and progressive scan with I/P conversion through line-interpolation
Video output using a dual NTSC video encoder and 4 DACs that support two 480i analog outputs for standard-definition or one 720p/1080i output for high-definition. It provides 4:2:2 YUV digital-output (ITU R656/R601), VBI re-insertion with closed-caption and CGMS-A, and interlaced or progressive output.
A wide range of interfaces and peripherals — a 8/16-bit 40.5 MHz local bus for NAND/NOR flash and other I/O devices, a two-channel DMA controller, two sets of SIO interface (UART), ten PIOs, three 24-bit timer/counters, two sets of I2C interface, an IR-decoder and an IR-blaster
Has power-down and standby operations
A complete reference system with software and middleware support for quick product deployment
Software and middleware based on MontaVista Linux
Common application program interface support for middleware and application development
Packaging: TC90407XBG is housed in a 292-pin PBGA package while TC90407FG is offered in a 256-pin LQFP package
Shardul Kazi, VP of the ASSP (application specific standard product) business unit at TAEC, stated, "The introduction of the TC90407XBG/FG chips and DLVM-GC/DLVM-GL modules mark another major milestone in our strategy to offer complete platform solutions for the digital TV segment."
Availability
Both the TC90407XBG and TC90407FG are currently sampling. The TC90407FG is expected in Q1, 2007, while the TC90407XBG will ship in April, TAEC says. Pricing will range from $15 to $18, with a 100K/year volume commitment.
The DLVM-GC and DLVM-GL reference modules are available now, with Linux drivers.
---

This article was originally published on LinuxDevices.com and has been donated to the open source community by QuinStreet Inc. Please visit LinuxToday.com for up-to-date news and articles about Linux and open source.