Jun 9, 2006 — by LinuxDevices Staff — from the LinuxDevices Archive

Embedded boardmakers Advantech, Ampro, and Congatec have joined forces to promote a new computer-on-module (COM) standard for x86-based embedded devices. XTX, which offers one of several alternative upgrade paths to the popular ETX COM standard, adds PCI-Express, SATA, and LPC capabilities within an essentially ETX-compatible… framework.
Like ETX modules, XTX modules are highly integrated and compact SBCs (single-board computers) that plug into custom circuit boards containing additional application-specific functions and peripheral interface connectors.
The goal of XTX, according to the companies, is to provide an easy and cost-effective upgrade to ETX that allows companies to enhance their system designs without major redesigns of existing carrier boards.
"Our target for XTX is to provide customers a bridge between ETX and PCI Express," Gerhard EDI, CTO of German SBC (single-board computer) maker Congatec, which originated XTX (eXpress Technology for ETX), explains. "The XTX solution still allows the customer to utilize all the know-how and resources that they have accumulated over the years while designing ETX applications. This provides the customer with a solution that is fast to market and cost effective, which are two major points to consider when upgrading to new technologies."
XTX maintains the same four baseboard connector types and locations as ETX, but replaces the ISA bus on the "X2" connector with four PCI Express lanes, two Serial ATA ports, two additional USB ports, and the Low Pin Count (LPC) bus, as illustrated in the following diagram.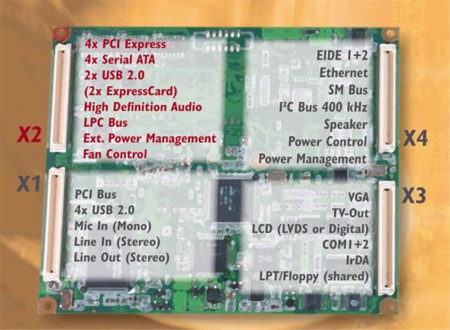 XTX connector allocation
(Source: Congatec)
For ETX-based system designs that do not make use of ETX's ISA bus signals, XTX modules can plug directly into existing application baseboards, Ampro points out. If ISA bus signals are needed, however, either a PCI-to-ISA or an LPC-to-ISA bridge can be added to the baseboard design.
The LPC bus, created by Intel, is used in PCs to connect low bandwidth peripherals such as the boot ROM, "legacy" PC-style I/O devices, and audio controllers to the CPU. LPC has largely replaced the ISA bus in current-generation PC chipsets, Ampro says.
The XTX Consortium currently lists nine "participating members" and eight "supporting members." Significantly, Kontron, inventor of ETX, is not listed.
Kontron, meanwhile, has adopted a different approach to next-generation COMs with ETXexpress, which is not compatible with ETX. ETXexpress, in turn, has morphed into COM Express, under the auspices of PICMG (the PCI Industrial Computer Manufacturers Group).
Additionally, Kontron recently rolled out ETX 3.0, which adds two SATA ports without changing any ETX board-to-board pins, keeping new modules 100 percent pin-compatible with previous versions, according to the company. This was accomplised by routing the signals for the two SATA ports to "slim line" connectors on the top-side of the module, rather than through the ETX connectors on the bottom.
Comparing ETX upgrades
Ampro recently provided LinuxDevices.com with the following comparison among ETX and its two PCI Express extensions, XTX and COM Express. We have updated the table in consideration of the recently introduced ETX 3.0.
ETX
XTX
COM Express1
Legacy2 support:
Full legacy
Legacy except ISA
No legacy
Ethernet support
10/100
10/100
10/100, GigE
IDE support:
2 IDE, SATA3
2 IDE, SATA
SATA
USB support:
4 USB
6 USB
6 USB
Notes:

Five incompatible COM Express pinouts make features difficult to compare, so only those commmon to all five pinouts are included here. Otherwise, interchangeability is sacrificed.
"Legacy" is defined as the older PC peripherals and bus, such as ISAA bus, RS-232 serial, IEEE 1284 parallel, floppy, and PS/2 keyboard & mouse.
ETX 3.0 adds SATA via a topside connector.
Ampro director of marketing for boards Colin McCracken told
LinuxDevices.com
that in addition to XTX, Ampro plans to support COM Express "as soon as it stabilizes a bit more. At the moment, there are five incompatible pinout definitions and two sizes (with a third on the way), making interchangeability and second-sourcing of modules an exercise for OEMs to determine." McCracken said that Ampro believes that "several of the 15 (5 x 3) types will settle out by the end of 2006, which would be a good time for OEMs to start designs."
As to preference, McCracken added, "Ampro does not prefer one over the other; they are both useful for different purposes. XTX is for OEMs who have existing ETX baseboards, since it reuses the mechanicals (same module size and same baseboard connectors) and replaces the ISA bus with PCI Express, Serial ATA, LPC bus, and two more USB ports. COM Express is useful for brand new designs that don't require legacy bus or I/O, since the mechanicals are different from ETX/XTX (different modules sizes and different baseboard connectors). XTX is a smooth migration, preserving legacy I/O and mechanicals, while COM Express requires a complete baseboard redesign. However, COM Express has up to 32 lanes of PCI Express and therefore it is well-situated for high I/O performance designs."
Open XTX invitation
"All embedded industrial platform providers are invited to join the new XTX alliance in order to help drive and develop the specification further," the companys said in a joint statement.
---

This article was originally published on LinuxDevices.com and has been donated to the open source community by QuinStreet Inc. Please visit LinuxToday.com for up-to-date news and articles about Linux and open source.