Jan 25, 2005 — by Henry Kingman — from the LinuxDevices Archive
A center for "open technology" startups will open in a Portland, Ore. suburb on February 1, the OSDL has announced. Funded by the City of Beaverton, the Open Technology Business Center will offer residencies to qualified early-stage companies, with the OSDL providing consulting around open source business models and opportunites.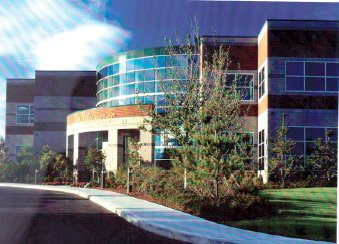 The Center is housed in Beaverton's Cornell Oaks Corporate Center
According to the OSDL, the Center will offer participants in its "ventures-in-residence" program office space, network facilities, and a variety of consulting services. The Center will also house an "Open Technology executive institute" for advisors, educators, consultants, and investors, who will enjoy "access to to industry thought leaders and domain experts," the organization says.
The OSDL is a global consortium that has taken a leadership position in the development of open source technologies such as Carrier Grade Linux, now widely used in the telecommunications industry. The OSDL is also well-known as the primary employer of legendary Linux kernel creator Linus Torvalds and kernel maintainer Andrew Morton. The OSDL last week extended a fellowship to Samba originator Andrew Tridgell.
According to the OSDL, the 15,000 square-foot Center was "envisioned and funded" by Portland suburb Beaverton, which has invested $1.2 million in the facility. Initial partners include the State of Oregon and the OSDL. Between three and five open technology companies will be onboard for the Center's opening on February 1, the OSDL says.
According to the OSDL, the "open technology" market is expected to reach $40 billion by 2008. The organization says the market for servers, desktops, and packaged software running on Linux will grow at 26 percent annually and reach $36 billion by 2008, according to an IDC study.
LaVonne Reimer, executive director for the Open Technology Business Center, said, "The Center will bring together the best minds to analyze business implications of the Open Technology movement, and conduct applied research to new business models. This distinctive support will enable Open Technology start-ups to play their important role in accelerating the adoption of Open Technology innovations and products worldwide."
OSDL CEO Stuart Cohen said, "The remarkable growth of Linux has created opportunity for all sorts of new businesses, from embedded solutions and servers to desktop computing, consumer electronics, and software applications. With Linux at the heart of the Open Technology movement, OSDL's support for the Center was a natural."
Additional details about the Center are available online.
An earlier rumor that the Center would be tasked with re-writing the Linux kernel to avoid patent infringements was refuted last week by the OSDL and others.
---

This article was originally published on LinuxDevices.com and has been donated to the open source community by QuinStreet Inc. Please visit LinuxToday.com for up-to-date news and articles about Linux and open source.