May 26, 2005 — by Henry Kingman — from the LinuxDevices Archive
<!-1 2 ->

This interesting presentation discusses a major company's experience creating a consumer electronics device based on Linux and open source software. It was presented yesterday by Nokia's Dr. Ari Jaaksi at LinuxWorld in New York, and looks at the Nokia 770 Internet Tablet unveiled yesterday.
(Click for larger view of Nokia 770 Internet Tablet)
The Nokia 770, announced yesterday and set to ship in Q3, 2005, is Nokia's first handheld device based on Linux and open source software. The device connects via Wi-Fi or via Bluetooth-enabled phones, and offers a task-oriented user interface with web, mail, RSS, Internet radio, and media players.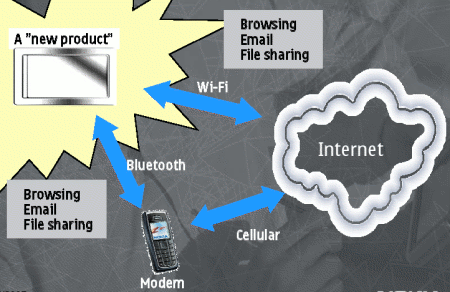 The Nokia 770 offers user-selectable least-cost Internet routing
Except for the hardware adaptation layer, certain user interface elements, and third-party software, the device is based entirely on open source software. The open source software component of the Nokia 770 can be downloaded from
Maemo.org
as a complete filesystem, or managed as a collection of Debian source and binary packages. This enables enterprise developers and ISVs to easily create and test software for the device. Applications developed with Maemo so far include ports of Abiword, an instant messaging client, an ebook reader, and various games.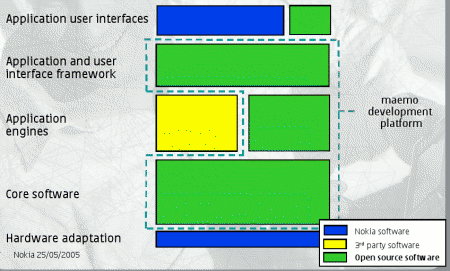 The Nokia 770 is based largely on open source software
Jaaksi says Nokia chose Linux as the best source for software that could be adopted, adapted, and integrated into an excellent consumer product. Nokia avoided "still fragmented" embedded technologies, Jaaksi says, in favor of standard desktop Linux components such as the X Window system, modifying them as needed to meet the footprint and performance requirements of an embedded device.
In the full presentation delivered yesterday at LinuxWorld, Jaaksi discusses the challenges involved in the project, the "give and take" of working with the open source community, opportunities and issues in commercial open source applications, key open source components in the Nokia 770, open source projects Nokia worked with in creating the device, the "gstreamer" multimedia framework used in the device, Nokia contributions to the OMAP Linux source tree and the JFFS2 filesystem, and how commercial components such as the Opera browser were integrated.
View Dr. Ari Jaaksi's LinuxWorld presentation in one of two sizes here:
Read full presentation (XGA version)
---
Read more about the Nokia 770 Internet Tablet here
---
Other Related Stories
---

This article was originally published on LinuxDevices.com and has been donated to the open source community by QuinStreet Inc. Please visit LinuxToday.com for up-to-date news and articles about Linux and open source.