Apr 4, 2006 — by LinuxDevices Staff — from the LinuxDevices Archive
Trolltech has launched a consumer electronics (CE) version of its Qtopia graphics framework and application stack for Linux. "Qtopia Platform" targets phones, media players, and set-top boxes, and will be integrated with Wind River's CE Linux distribution, Trolltech says. Trolltech additionally updated Qtopia Phone Edition (QPE), its specialized phone stack.
Qtopia "Platform"
Trolltech says Qtopia Platform is based on Qtopia Core, its general-purpose embedded application framework, formerly known as Qt/Embedded. It additionally includes features aimed at helping developers create "multi-application Linux-based devices," the company says.
Touted Qtopia Platform features include the open source SQLite database, which can be replaced with any other SQL database, the company says; a "Qtopia Safe Execution Environment," said to provide a secure application sandbox; and application management features that include multi-tasking and quick-launch start-up. Additionally, Java applications can be integrated, with native look and feel, Trolltech says.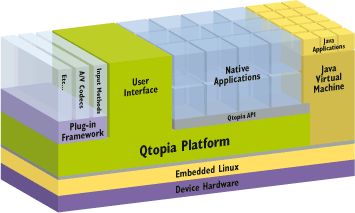 Trolltech's Qtopia Platform
Wind River partnership
Trolltech calls its partnership with Wind River "strategic," and says the relationship was cemented by the common goal of simplifying Linux device development. The partners plan to integrate existing products, and align their future product roadmaps, Trolltech says.
Initially, the partners plan to integrate "Qtopia" with Wind River's Platform for Consumer Electronics (PCE) Linux Edition, which launched last October. The combined technology will help device makers create "innovative, optimized, commercial-quality Linux-based products across a wide range of microprocessors," Trolltech says.
Trolltech CEO Haavard Nord stated, "As the market for Linux-based consumer devices expands, Trolltech and Wind River are an ideal match."
John Fanelli, VP of product planning and management at Wind River, stated, "Wind River's Platform for Consumer Devices, Linux Edition and partner solutions like Trolltech's Qtopia address the challenges raised in complex consumer device manufacturing."
Trolltech will present a session entitled "GUI DSO — developing graphical applications for PCE, Linux Edition" at Wind River's annual worldwide developer's conference, May 15-18 in Orlando, Fla.
Qtopia Phone Edition (QPE) 4
Additionally, Trolltech says it has updated its Qtopia stack for mobile phones. Qtopia Phone Edition (QPE) 4.0 supports multi-tasking, and offers enhanced graphical features such as transparencies, watermarks, and shadows. It also includes the open source Helix DNA multimedia client framework, and a "safe execution environment" (SXE) aimed at providing a sandbox for preserving device integrity during the download and execution of new applications.
The Helix DNA client was contributed to open source by Real Networks about five years ago. According to Trolltech, it allows developers to build "world-class media applications that support any format and any processor." It has shipped in about 60 million phones and other devices to date, Trolltech says.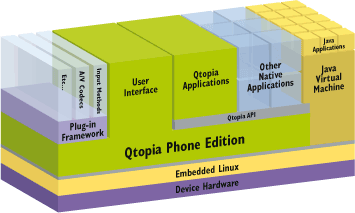 QPE architecture
Nord stated, "Qtopia now enables enhanced multimedia and graphics capabilities for device developers [building] multi-format devices."
Trolltech launched QPE in May of 2004, adding VoIP support last fall.
---

This article was originally published on LinuxDevices.com and has been donated to the open source community by QuinStreet Inc. Please visit LinuxToday.com for up-to-date news and articles about Linux and open source.