Sep 27, 2004 — by LinuxDevices Staff — from the LinuxDevices Archive

ACTIS Computer has dropped pricing and scaled up the processor on its VME-bus and CompactPCI-bus PowerQUICC II SBCs (single-board computers). The new VSBC-6872 (VME) and CSBC-6872 (CompactPCI) are based on a Freescale (formerly Motorola) MPC-88270 processor, and are available with optional Linux board support… packages.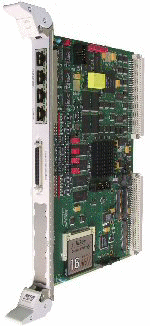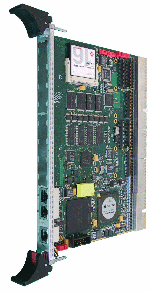 The VME- and CompactPCI-bus Actis boards
According to Actis, the new MPC-8270-based PowerQUICC II boards perform twice as well while costing 33 percent less than the MPC-8260-based boards that the company sold for more than five years. While the older boards were clocked at 200MHz, the new boards run at up to 450MHz, delivering up to 855 Dhrystone MIPS (millions of instructions per second).
VMS-bus VSBC-6872
The VMS-bus board features support for the 32-bit VME rev. C standard, and has an interface designed around a complex FPGA (field programmable gate array).
Additionally, the board has three fast Ethernet ports, two S-ATA (serial ATA) ports, and a CompactFlash socket, as well as a 32-bit PMC slot. Other I/O includes four serial RS-232 or RS 422/485/V.35 ports. It also includes 128MB of SDRM, 16MB of Flash, and 1MB of SRAM, along with 32KB of SRAM backed up with an on-board Lithium battery.
The VSBC-6872 is supplied with an on-board monitor ECMON.
Compact-PCI CSBC-6872
The CSBC-6872 features an interface designed around a PowerSpan chip for 64-bit bus support, according to Actis. The board provides two S-ATA ports, a CompactFlash socket, and two 32-bits PMC slots. It comes with 128MB of SDRAM, 16MB of Flash, 1MB of SRAM, and 32KB of SRAM backed up by an on-board Lithium battery.
The VSBC-6872 and CSBC-6872 are available now, priced around $3,125 and $2,083, respectively. Linux BSPs for both boards are available separately, priced at $3,333.33.
---

This article was originally published on LinuxDevices.com and has been donated to the open source community by QuinStreet Inc. Please visit LinuxToday.com for up-to-date news and articles about Linux and open source.