May 25, 2004 — by LinuxDevices Staff — from the LinuxDevices Archive

X-Digital Systems (XDS) has launched what it claimed is the first device to run Linux natively on a single-core digital signal processor (DSP). The FlikIt IP-STB (Internet protocol set-top box) runs Softier's "MediaLinux" on a Texas Instruments TMS320DM64x DSP. It targets corporate communications, and is available as either a reference design or a device.
Running Linux natively on a single-core DSP
We first covered Softier's DSP Linux port in November, 2003, and then followed up with a detailed whitepaper by Softier CTO Eatamar Drory and Sr. Programmer Or Sagi that describes the real-time capabilities of MediaLinux.
According to X-Digital CTO Larry Fish, XDS contracted with Softier in February, becoming one of their first customers. Fish says that XDS pushed Softier to meet code and memory size constraints, and to add needed features. He adds that XDS, which specializes in embedded development of all kinds, found MediaLinux stable.
Fish believes that single-core DSP solutions are best suited to applications with very low power requirements, such as in-flight entertainment systems. He says that in addition to their cost advantage over RISC+DSP solutions, or an off-chip DSP co-processor, they run considerably cooler. He estimates that the chip in the FlikIt STB draws about 1 watt, while delivering impressive video processing capabilities (see the previous MediaLinux stories to learn more about the specific capabilities of MediaLinux on TI's DSP).
Fish also notes that Texas Instruments apparently also believes in the future of single-core DSPs as standalone CPUs. In contrast to ADI's BlackFin DSPs, which were coaxed into running Linux by Metrowerks, the TI DM64x DSPs include an onboard Ethernet MAC.
And, Fish said, the impending release of a much more powerful DSP media processor from TI next year will cement the role of single-core DSPs in inexpensive, cool-running embedded Linux devices.
"The embedded and DSP space are converging," said Fish. "For certain applications, there's no other way to do it. The way things are going, the CPUs and their speed and architecture are working in favor of a single-chip solution."
At the same time, Fish acknowledged that RISC+DSP processors have advantages, too. "With two processors, the path is a little cleaner, because you don't have all the real-time constraints."
FlikIt
The FlikIt STB is available as a finished device or as a reference design. It can be implemented as a standalone STB, or integrated inside televisions.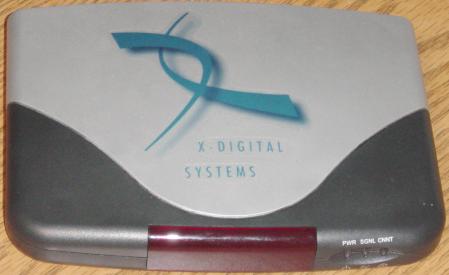 FlikIt is available as a finished device or a reference design
(Click to enlarge)
The FlikIt can multicast or supply on demand video, music, pictures, or data, via Ethernet or Wireless LAN. It supports MPEG2, MPEG4, and WMV formats for video, and MP3 (MPEG1 or 2 layer III) and WMA for audio. However, the presence of a DSP enables support to be added for other formats down the road.
"The benefit of using a DSP is that you can put any CODEC on it that you want," noted Fish.
FlikIt boots from 8MB or 16MB of non-volatile memory, and includes 32MB of SDRAM. The low power DM64x DSP provides a claimed 4800 MIPS of processing power, with excellent ability to process audio, video, and communication simultaneously, according to XDS.
XDS used development tools from Softier to create a multitasking application with audio-video streaming over IP network, A/V decoding and playback, graphic on-screen-display, remote control, and more.
Target markets and the Linux advantage
The FlikIt initially targets corporate communications applications such as walled garden video on demand systems in hotels and corporate training facilities. It is also targets live streaming applications, such as videoconferencing. Down the road, Fish also expects the design to reach consumers.
"We look at the consumer market as the deep end of the pool," Fish said.
Fish said that the first interest has come from large companies in the avionics and in-flight entertainment industries, where the fact that the device runs Linux is considered to be a big plus. "When we chose Linux, we thought that it would give us a development advantage. And it has. But the advantage it gives us in customer confidence is almost more important."
---

This article was originally published on LinuxDevices.com and has been donated to the open source community by QuinStreet Inc. Please visit LinuxToday.com for up-to-date news and articles about Linux and open source.