Aug 27, 2003 — by LinuxDevices Staff — from the LinuxDevices Archive

MIZI Research appears to be taking on the largest players in the emerging third-generation smartphone software market with an integrated solution based on its MIZI Linux 2.0 distribution. Furthermore, the Korean embedded Linux specialist is rumored to have a development deal with an unidentified major consumer electronics… powerhouse that, if true, could result in 3G smartphones based on MIZI Linux 2.0 receiving aggressive worldwide development, distribution, and marketing soon.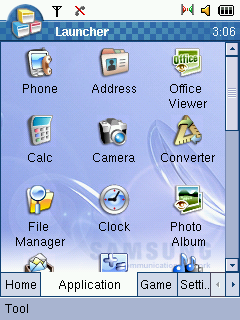 Application launcher, MIZI Linux 2.0 for 3G smartphones
While Motorola bases its just-released
A760
smartphone on MontaVista Linux and third-party applications, MIZI has apparently created an entire smartphone operating system and application stack similar in scope to Microsoft's "Windows Mobile" smartphone.
MIZI and its undisclosed partner or partners are likely racing another embedded Korean Linux specialist — PalmPalm — which has publicly disclosed its development deal with Korean phone manufacturer SK Telecom.
MIZI recently announced the release of a board support package for Samsung's S3C2410X mobile processor, leading to speculation that MIZI's development partner could be none other than consumer electronics giant Samsung.
However, the first MIZI-based smartphones to hit the market will likely run on Intel XScale processors. "For the moment," MIZI says, "MIZI Linux 2.0 is optimized on the Intel PXA255 processor. It also supports Samsung S3C2410, 24A0 and 2440 processors, and will be expanded to support most CPUs adopting the ARM core."
What's included in MIZI Linux 2.0? MIZI claims that "MIZI Linux 2.0 provides a total solution including Linux OS supporting CDMA 1x EV-DO corresponding to 3G, cross-development environment, graphic systems, and various applications so that it will be much easier to develop Linux Smart Phones."
MIZI Linux 2.0 and its "Smart Talk" phone program support a variety of wireless protocols including:
CDMA
802.11b
IrDA
Bluetooth
SDI/O
The operating system supports a multitude of functions needed for Smart handheld devices, including:
dynamic power management support through CPU scaling
power management support on more than ten different mobile devices
file systems supporting all NAND/NOR flash memories ensure reliability with fault recovery functions, according to MIZI
MIZI Linux 2.0 supports device interfaces including:
MIZI claims that its 2.0 Mizi Linux release can reduce Smart Phone development time 30% compared with products from competitors. Specific advantages touted by the company include:
IOM system management tool facilitating the control of handheld devices
system interrupts handling
application server controlling "interception among applications"
development environment based on USB Ethernet
MIZI says its 2.0 release provides a comprehensive SDK with functions supporting multiple languages and a themes-ready, high-quality user interface. The MIZI SDK supports the development of various smartphone applications such as:
phones
messaging clients
cameras
multi-media players/recorders
Smart PIMs
MIZI has supplied screen captures of the following applications:
Mark Johnston, director for the Communications Sales Organization of Intel Asia Pacific said, "We congratulate MIZI Research's progress in advancing applications for smart handheld devices. We worked closely with MIZI to optimize its applications on Intel PXA255 processors."
---

This article was originally published on LinuxDevices.com and has been donated to the open source community by QuinStreet Inc. Please visit LinuxToday.com for up-to-date news and articles about Linux and open source.