Oct 14, 2010 — by Eric Brown — from the LinuxDevices Archive — 5 views
Techsol announced an embedded computer touted for its jumper-selectable serial ports, optional Power over Ethernet (PoE), and sub-two-Watt power consumption. The Linux-based Gateway Express 2 (GWX2) Embedded Computer incorporates Techsol's ARM9-based SA2410 Medallion module, and offers up to 64MB of SDRAM, a microSD slot, an Ethernet port, and four USB ports, says the company.
Unike other recent Techsol computers — such as last December's TPC-43C, the Medallion TPC-43B the TPC-35B or the earlier TPC-43 — the GWX2 does not incorporate Techsol's Medallion SA2410-650 CPU Module. However, it offers all the same functionality of the module, says the company.
Also available separately, the Medallion module incorporates Samsung's ARM-920T-powered S3C2410 system-on-chip. The SoC is clocked at 200MHz in the standard GWX2 edition, but can also be ramped up to 266MHz, says the British Columbia based company.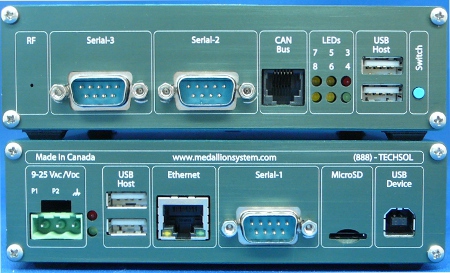 Gateway Express 2 (GWX2) Embedded Computer, front and back


(Click to enlarge)
Whereas the TPC (Touch Panel Computer) systems listed above are, as their names imply, equipped with touchscreens, the Gateway Express 2 is a headless embedded computer, without even a VGA port to its name. It updates the circa-2007
Gateway Express
, which used the same SA2410 module, but offered fewer interfaces.
The GWX2 ships with 32MB or 64MB of SDRAM, as well as 2MB NOR flash and 128MB NAND flash, says Techsol. A microSD slot is also said to be available. Communications are handled via a 10/100 Ethernet port, an RS-232 serial interface, and dual RS-485 or RS-232 serial interfaces, each of which offers jumper-selectable configuration, says Techsol.
Four USB host ports are provided, as well as a USB device port, says the company. Additional features are said to include a real-time clock and six LEDs, four of them user-programmable.
Sharp-eyed observers may also notice the existence of a CAN port and an RF interface on the photo farther above, also shown with dotted lines in the block diagram below. Neither of these hardware features are yet supported with software, however, said Techsol CEO Brian Empey in an email. The RF interface will be sold in a special ZigBee version by zPoint Products, he said.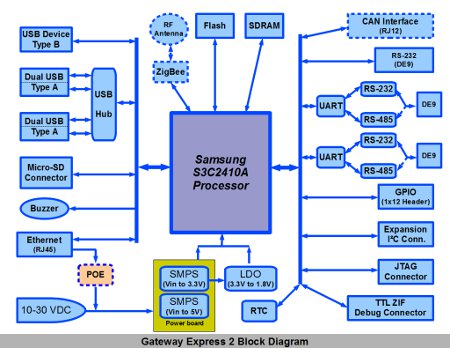 GWX2 block diagram — the CAN port and RF/ZigBee interface are not yet supported with software


(Click to enlarge)
Meanwhile, the GPIO and I2C interfaces shown on the block diagram are available as internal headers, says Empey. The GWX2 is available without an enclosure, and one customer is already using the computer in that configuration to control robots, with the I2C connection controlling robot motion, he added.
Many of the 10-pin GPIO interfaces are used for onboard power management, but some are available for users. For example, in the case of the robot customer, "One interface initiates a shut-down request," explains Empey. "When Linux has shut down, it triggers an output which kills the power supply, completing the shut-down process."
The GWX2 offers the same 5.7 x 5.5 x 1.5-inch aluminum enclosure as the old Gateway Express, and is still claimed to run on under two Watts at top speed, enabling Power over Ethernet (PoE) operation for a power supply that also supports 10-30 VDC or 7-24 VAC input. A dual SMPS (switched-mode power supply) design is said to reduce heat and power consumption, and the updated system has switched to a barrel jack for power.
Like other Techsol "Medallion" systems, the GWX2 ships with Linux 2.6+ drivers pre-installed. Numerous open source software packages are also said to be supplied royalty free, including Apache, HSQL, Perl, and Python.
Stated Empey, "The cost-savings from using Power over Ethernet are substantial, particularly in industrial environments and metal buildings. Compared to having your electrical contractor run power and communications lines to the location of each unit, with PoE you just run a single CAT 5 cable and you're done. And since it's 'low-voltage' per the NEC, you usually don't need a certified electrician. This has the potential to save hundreds of dollars per unit installed."
Availability
Single units of the Gateway Express 2 (GWX2) Embedded Computer are available now as development kits with full software development tools and support, says Techsol. Production volumes typically take six to eight weeks.
Per-unit costs are $249 (10 units), $209 (100), $189 (1,000) or $175 or better for 10,000 units, all with the standard 200MHz clock rate. More information may be found here.
---
This article was originally published on LinuxDevices.com and has been donated to the open source community by QuinStreet Inc. Please visit LinuxToday.com for up-to-date news and articles about Linux and open source.