Dec 15, 2009 — by LinuxDevices Staff — from the LinuxDevices Archive — 20 views
[Updated, Dec. 17] — Cherrypal has released a device touted as the "world's first $99 laptop" and announced an upgrade to a previously released netbook. The "Africa" has a seven-inch display and runs Linux on a 400MHz ARM or MIPS processor, while the "Bing" has an Atom N280 and offers five hours of battery life.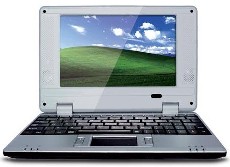 Cherrypal's claim that its new Africa (right) is the world's first $99 laptop is debatable, since there have been netbooks offered for as low as $73 by their Chinese manufacturers. (Admittedly, the aforementioned ARM9-based Sungworld device only ran Windows CE and does not appear to have been made available to U.S. consumers.)
Cherrypal offers few details of the Africa on its website, except to promise a seven-inch screen, 400MHz processor, and either Linux or Windows CE.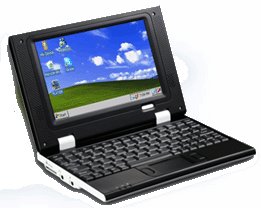 The netbook, however, appears to be identical in every respect except color to the Menq EasyPC E790 (left), released last month in China for a reported asking price of just $80. The Menq, in turn, is a version of the BestLink Alpha 400, a Linux netbook first introduced in 2008 for $250.
Whereas the Alpha 400 was based on a MIPSII-based XBurst processor from Ingenic Semiconductor, the Menq EasyPC E790 — and, possibly, the Cherrypal Africa — switched to an ARM9-based Samsung S3C2450 with a clock speed of 400MHz. Other specifications listed by Menq included a seven-inch, 800 x 480 display, Ethernet, WiFi, 128MB of RAM, and 2GB of flash storage.
According to a story by PC Magazine's Mark Hachman, those purchasing the device can't necessarily be sure what processor they'll get. Hachman quotes Cherrypal founder Max Seybold as saying, "We buy access inventory and package it up; that's why we are able to offer such a low price. In other words, we use XBurst and similar inexpensive processors in order to stay below the $100 mark, we reserve the right to make changes on the fly, that's why we didn't go into great detail on our site."
According to Cherrypal, its version of the device will be upgraded to 256MB of RAM. With fetching modesty, the company states on a blog entry about the Africa that it "is not a fancy system. It's small, just a seven-inch screen, no thrills and admittedly not exactly fast, though good enough to browse the web."
Specifications previously released by Menq for its EasyPC E790, and adapted to reflect the RAM upgrade included in the Cherrypal Africa incarnation of the device, include:
Processor — Samsung S3C2450 processor clocked at 400MHz (or Ingenic XBurst)
Display — 7-inch screen with 800 x 480 pixels
Memory — 256MB of RAM and 2GB of flash storage
Expansion — SD card slot accepts up to 32GB of RAM
Networking:

LAN — 10/100 Ethernet (RJ45)
WLAN — 802.11b/g

Other I/O:

3 x USB ports
Stereo headphone jack

Battery — 4,000mAh battery
Dimensions — 8.4 x 5.7 x 0.8 inches (213.5 x 145 x 32mm)
Weight — 1.8 lbs (0.8k)
Operating system — Linux or Microsoft Windows CE
Max Seybold, Cherrypal's founder, stated, "We're extremely conscious of the so-called 'digital divide.' We're constantly looking for ways to bridge that gap, and the Cherrypal Africa is a huge step in the right direction. Plus, everyone who has tried it has absolutely loved it!"

Cherrypal Bing
In January, Cherrypal announced the Bing, a standard Intel Atom N270-based netbook that was mostly notable for a claimed battery life of five hours, plus the availability of the company's custom "Green Maraschino" Linux distribution. Now, according to the company, the Bing has been revised to include not only a 13.3-inch screen (still with 1024 x 600 resolution), but also an Atom N280 CPU.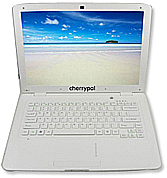 On its blog, Cherrypal charges that "N270-based systems have issues," and calls the revised Bing "much more stable [and] very robust." The second-generation device (left) retains the earlier claimed five-hour battery life, 1GB of DDR2 RAM, 160GB hard disk drive, and 1.3 megapixel webcam, according to the company.
Cherrypal did not list the Bing's dimensions, but says the device weighs just three pounds. The Bing has three USB 2.0 ports, an SD/MMC/Memory Stick card reader, a microphone, and dual speakers, the company added.
According to Cherrypal, the Bing now comes with Windows XP Professional as its standard operating system (OS). Presumably the device will yet again be offered with Green Maraschino, since the company's website still alludes to the Linux-based OS and touts a "relaunch" of the "Green Maraschino Cloud" in February 2010.
Availability
Cherrypal says the Africa is available now for $99, while the Bing is available for $389. Further information may be found on the company's online store, here.
The blog entries alluded to earlier in this story regarding the Africa and the second-generation Bing may be found here and here, respectively.
The PC Magazine item quoting Max Seybold may be found here.
---
This article was originally published on LinuxDevices.com and has been donated to the open source community by QuinStreet Inc. Please visit LinuxToday.com for up-to-date news and articles about Linux and open source.