Nov 4, 2008 — by Eric Brown — from the LinuxDevices Archive — 44 views

A MIPS-based system-on-chip (SoC) popular in ADSL modems and IADs (integrated access devices) has gained fresh Linux kernel patches and a port of the OpenWRT Linux router distribution. The developments should help owners of gear based on Broadcom BCM63xx SoCs to update and maintain their systems.
According to "Goundoulf le Blanc," who contributes to several open source router software projects, the list of routers and IADs based on BCM6348 or BCM6358 SoCs includes:
3Com 3CRWDR200A-75
Asus AM200g / AM604 / AM604G / WL600G
Belkin F5D7633-4B / F5D9630-1/2/3/5
Comtrend CT536/1+ / CT638/1
D-Link DSL2640B / DSL2740B / DSL2741B
Davolink DV201AMR
Dynalink RTA1046VW
Hitachi AH4021 / AH4222
Huawei HG520 / HG550
Linksys WAG54GS / WAG54GX2 / WAG300N / WAG325N
Netgear DG834G / DG834GT / DG834N / DG834PN
T-Com Speedport 500V / W500V
Thomson ST585 / ST780
USRobotics USR9107 / USR9108 / USR9113 / USR9114
Zhone 6218 / 6228 / 6238
Additionally, according to the OpenWRT website, the BCM63xx parts are used in IADs and other "ISP boxes" such as Freebox, the Orange Livebox, and Neuf Cegetel's Neuf Box 4.



Freebox IAD, Orange Livebox, and Neuf "Neuf Box 4"
According to Goundoulf, the fresh kernel patches were developed and posted to the Linux MIPS mailing list several weeks ago by Maxime Bizon, who works for Freebox. His employer, together with Broadcom, reportedly agreed to let Bizon publish the patches under the GPL.
Subsequently, Florian Fainelli merged the patches into OpenWRT. Touted features of the resulting OpenWRT port include:
New core support (arch/mips/bcm63xx)
Integrated Ethernet MAC and PHY
OHCI and EHCI USB host controllers
BCM6348 and BCM6358 board support
Additionally, the OpenWRT project plans to add support for the BCM6338, BCM6345, BCM6368, and BCM6816 SoCs. Also planned is a merging of master SPI and watchdog drivers.
OpenWRT
Originally developed for the Linksys WRT54G WiFi access point, OpenWrt now supports lots of low-powered networking appliances, such as the ever-popular Linksys NSLU2 (i.e., the "SLUG"). Designed for low-memory devices and specializing in support for wireless communications and "sophisticated routing," OpenWrt uses the slimmed-down uClibc C libraries. It has a writable filesystem with package management tools. The current active release is 7.09 ("Kamikaze").
BCM63xx SoCs
The Broadcom BCM63xx parts combine a 32-bit MIPS core with an ADSL2+ transceiver. The transceiver includes an AFE (analog front end) and hardware ATM SAR (segmentation and reassembly) unit. Other integrated peripherals include dual 10/100 Ethernet, dual USB ports with 2.0 host and 1.1 device modes, and a multichannel 8/16-bit TDM/PCM (time-division-multiplexed / pulse-code-modulated) bus. The SoC also integrates a 16/32-bit parallel expansion bus supporting CardBus, PCMCIA, and mini-PCI.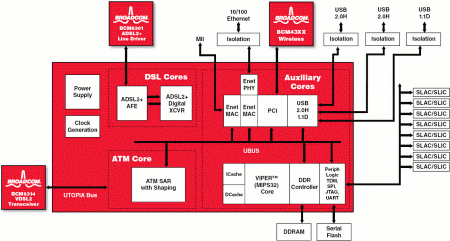 Broadcom BCM6358 block diagram
(Click to enlarge)
Availability
The OpenWrt changeset, including the latest patches supporting the Broadcom BCM63xx SoC should be available here. The original Maxime Bizon patch submission may be found here. Additional details can be found on the OpenWrt homepage, here.
---

This article was originally published on LinuxDevices.com and has been donated to the open source community by QuinStreet Inc. Please visit LinuxToday.com for up-to-date news and articles about Linux and open source.