Sep 2, 2008 — by Eric Brown — from the LinuxDevices Archive — views

Google and the Open Handset Alliance (OHA) have announced the final winners for part one of the Android Developer Challenge. The OHA granted ten $275,000 awards and ten $100,000 awards for the best applications created for the Linux- and Java-based Android mobile phone platform.
(Click for larger view of party location app, Wertago)
In May, the OHA chose 50 finalists out of a field of 1,788 submissions, awarding each team $25,000 and a chance to compete for the final awards. A second round of the challenge will be opened for submissions "after the first handsets built on the platform become available," the search giant said.
Most of the winners reflected the general focus of the finalists on GPS location awareness and Google Maps. Others put the camera to work as a barcode scanner, or focused on social networking.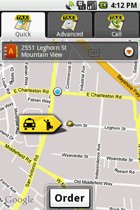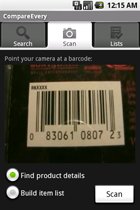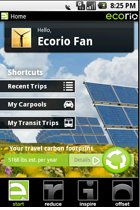 Cab4me, Compare Everywhere, and Ecorio (left to right)
Here are brief descriptions of the ten $275,000 winners, based on the winners's more extensive descriptions posted on the Android Challenge site:
Cab4me — Using Google Maps and Android's GPS or cell-based location awareness technology, Cab4me enables users to call a cab to any location without knowing the cab phone number or exact address. Users can select their cab destination by scrolling the map, and Cab4me offers overlays showing locations where cabs typically wait. Geocoding extensions help find and display addresses. Developers: Konrad Huebner, Henning Boeger.
Compare Everywhere — This barcode-based app lets users scan a product with Android's camera to bring up price comparisons, reviews, and direct connections to local stores. Users can tap Android's GPS to find nearby stores, and they can find driving directions using Google Maps. Developer: Jeffrey Sharkey.
Ecorio — Users can calculate their travel carbon footprint and then view three potential actions for each source of carbon output: Reduce, Inspire, and Offset. The Reduce section offers carpooling and public transit alternatives, while Inspire provides online sharing of tips or stories for reducing energy consumption. Offset offers access to specific carbon reduction projects. Ecorio makes use of Android's GPS-based location awareness tech, as well as Android's maps and locations API. Developers: Jeff Kao, Gary Pong, Robert Lam, Taneem Talukdar.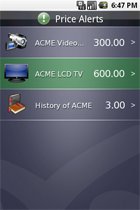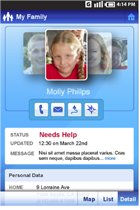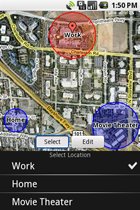 GoCart, Life 360, and Locale (left to right)
GoCart — Like Compare Everywhere, GoCart lets users scan a product's barcode with the Android camera and compare pricing with similar products at online outlets and nearby brick-and-mortar stores. Other features include online reviews, the ability to create price alerts to monitor price drops, and product wish lists that can be shared on a social networking profile page. Developer: Rylan Barnes.
Life 360 — This emergency alert app offers a multi-channel messaging system and a neighborhood-centric social network to keep users up-to-date and in contact with family members. Users receive warnings of fires and other emergencies, and they can post a request on a map for others to see, such as finding a missing dog. Users can also use Life360 to track family members using a map-based interface. The accelerometer is put to work detecting collisions, automatically displaying emergency data onscreen after a crash. Developers: Chris Hulls, Dilpreet Singh, Luis Carvalho, Phuong Nguyen, Steve Potell.
Locale — This "settings manager" automatically changes a phone's settings such as ringer volume based on conditions such as location or the person calling. Users specify settings to trigger based on changing locations, times, and other conditions, with the location conditions making use of Android's GPS and mapping interface. Developers: Carter Jernigan, Clare Bayley, Jasper Lin, Christina Wright.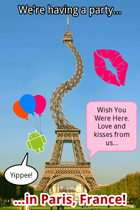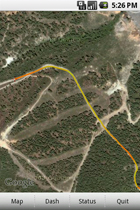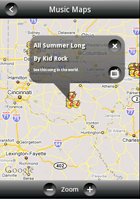 PicSay, Softrace, and TuneWiki (left to right)
PicSay — With the PicSay image editor, users can personalize photos and automatically post them to photo sites. Users can annotate pictures with word balloons, titles, and props, and enhance them with color correction, highlighting, and distortion effects. PicSay uses the reverse geocoding in Android's locations API to enable users to integrate address information. Developer: Eric Wijngaard.
Softrace — This competitive sports app lets users set up online races by making use of GPS tracking and a map interface. Races can take place in real time along a set course or can be organized to let users run anywhere in the world, in any direction. A stats page uses Android's SQLite database to provide information about racers and races. Developers: Staffan Kjellberg, Thomas Kjellberg.
TuneWiki Social Media Player — Part mobile Karaoke, part social network for music lovers, TuneWiki plays audio and video while displaying synchronized lyrics or lyrics translated using Google Translation. Users can share music information online, as well as sync and translate lyrics, all using the Android interface. Once again tapping Android's GPS, TuneWiki displays music maps of TuneWiki participants "that show songs playing in the same GPS location." In addition, the app creates music charts that shows top songs in particular locations, countries, or state. Developer: TuneWiki Inc.
Wertago — Finally, an app that's all about the party. According to the Wertago team, the app displays "up-to-the-second information about what venues are hot, helps you coordinate plans with all your friends, lets you share content and influence the social scene, and enables you to connect with socialites all across the city." Features include location-based searches, map interfaces, and personalized profiles. Developers: Kelvin Cheung,Teresa Ko, Peter Ree, Robert Sarvis, Douglas Yeung.
The ten $100,000 Android Challenge winners include:
BreadCrumbz — Picture-based navigation
Cooking Capsules — Quickie recipes and foodie content
Maverick — A Google Talk-compatible IM app and Google Blogger publishing tool
PebbleBox — Location-based information exchange and sharing
PhoneBook 2.0 — A contextual, location-aware, and "social" address book
Piggyback — Real-time carpool scheduling
Pocket Journey — A personal, multimedia-enabled tour guide app
Rayfarla — Music based games and music creation using virtual instruments
ShareYourBoard — Captures and shares whiteboard data
Teradesk e-Storage — Cloud computing app offering virtual storage and remote file access
In-depth developer-provided profiles of the winning applications should be available here.
---

This article was originally published on LinuxDevices.com and has been donated to the open source community by QuinStreet Inc. Please visit LinuxToday.com for up-to-date news and articles about Linux and open source.