Dec 6, 2011 — by Eric Brown — from the LinuxDevices Archive — 6 views
Logic PD announced a modular prototyping and demonstration platform for Android, showcasing the company's customization and integration services as well as components from third-party partners. Aimed primarily at long life-cycle customers, the "Catalyst" platform is built around a seven-inch multitouch "proof-of-concept" device loaded with wireless radios, running Android 2.3 on TI's DaVinci DM3730 Cortex-A8 processor.
Logic PD's Catalyst program is one of several integration, customization, and pre-certification programs from embedded consultants and vendors, ranging from Wind River to Mentor Graphics. A longtime Texas Instruments (TI) partner and member of the TI Developer Network, Minneapolis-based Logic PD is aiming Catalyst at companies lacking in embedded development expertise. It is specifically looking at companies designing Android-based touchscreen products with five-to-seven year life-cycles.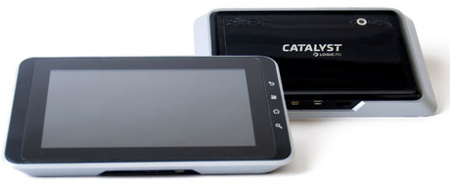 Logic PD Catalyst proof-of-concept device
Designed to help customers "innovate for all phases of a product's lifecycle," the modular Catalyst platform ensures components won't become obsolete or support won't dry up during the life of the device, Logic PD says. Services include rapid customization, integration, and pre-certification services.
Although Logic PD does not call out medical devices specifically, some of the Catalyst images as well as the conceptual diagram farther below seem to point to this sector as a key target.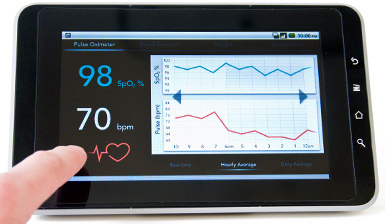 Medical app running on Catalyst
The seven-inch multitouch "proof-of-concept" device appears to be designed as a conversation starter with potential customers, who are encouraged to work with Logic PD to customize the device and try out new ideas. The prototype is equipped with TI's
DaVinci DM3730
Cortex-A8 processor, which also powers the BeagleBoard-xM hobbyist prototyping board. The Catalyst device appears to be currently available with Android 2.3 ("Gingerbread") support, with Android 4.0 ("Ice Cream Sandwich") scheduled for the future.

Because the Catalyst device is not offered as a standalone product, but requires a contract with Logic PD for consulting and integration services, the company has not revealed detailed specs. However, it might have been based on Logic PD's DM3730-based Torpedo System on Module (SOM), pictured at right, which was announced in May as the industry's smallest embedded module. Measuring less than one square inch, the module is available with Android, Linux, and Windows CE BSPs.
The Catalyst device could also use the larger DM3730 SOM-LV module announced at the same time, which adds features including Ethernet, CompactFlash, Wi-Fi, and Bluetooth. In September, Timesys announced embedded Linux development support for both modules. That company is not included, however, in the list of ecosystem partners cited in its Catalyst announcement.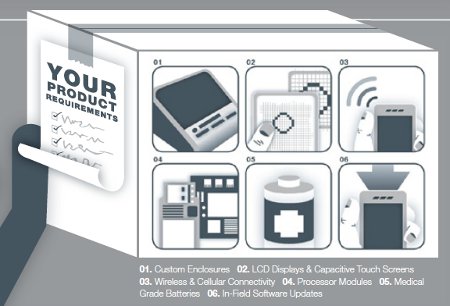 Catalyst conceptual diagram showing modular components
(Click to enlarge)
Wireless integration is a key focus of Catalyst. The device offers a variety of radio options, including 802.11 (Wi-Fi), Bluetooth, GPS, and 3G and 4G cellular radios, says the company.
Wireless expertise also defines many of Logic PD's ecosystem partners.As detailed in a podcast posted on the Logic PD site interviewing Scott Nelson, the company's executive vice president and CTO, wireless partners include Wyless (network integration services) and LS Research (wireless certification and antenna design). Meanwhile, Roke Manor offers wireless expertise in addition to acting as the program's European contact.
TI brings its processor and wireless expertise to the program, while Arrow provides supply chain services, according to Nelson. Touch Revolution is said to offer multitouch integration, and Exosite supplies cloud data management services.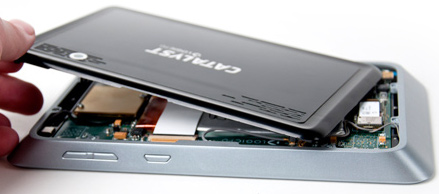 Inside the Catalyst
One of the first Catalyst customers is Geissler Corp., which has used the platform in the early development of its Whisper Respiratory Diagnostic Stethoscope for veterinary sciences and animal management markets.
Stated Randolph Geissler, CEO, Geissler Corp., "The Logic PD team used Catalyst to quickly demonstrate how we could deploy a cloud-based architecture for our new Whisper Respiratory Diagnostic Stethoscope product, thereby allowing us to store and access our data directly on our database without having to use a portable PC at the site."
Stated Logic PD's Nelson, "Logic PD is working with its network of partners to demonstrate our unique ability to not only create custom products but also provide complete business solutions from concept to reality."
Availability
The Catalyst program and device appears to be available now. More information, including the podcast interview with Scott Nelson, may be found at the Logic PD Catalyst page.
---
This article was originally published on LinuxDevices.com and has been donated to the open source community by QuinStreet Inc. Please visit LinuxToday.com for up-to-date news and articles about Linux and open source.