Jan 29, 2010 — by Eric Brown — from the LinuxDevices Archive — 26 views
Movidius announced an Android version of a new "Myriad" multimedia coprocessor designed for real-time video editing on mobile phones. The MA1110 offers eight proprietary "Shave" processing cores delivering up to 20GFLOPS of processing power, says the company.
According to a spokesperson from Movidius (formerly Movidia), the Myriad coprocessor may support a variety of operating systems in the future, but initially targets Android phones. The MA1110 will enable in-phone video applications that let users capture, edit, view, and share their content through mobile social networks, says the venture-backed fabless semiconductor start-up.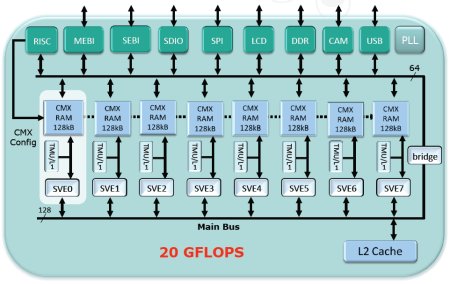 Movidius Myriad architecture
(Click to enlarge)
The MA1110 coprocessor is designed to work alongside a standard host processor, and communicates independently with cameras and power sources, says Movidius. Equipped with eight proprietary Shave processing cores, each with 128KB of RAM, the processor can deliver up to 20GFLOPS of processing power, claims the company.
Movidius has not yet offered detailed specs on the MA1110, but it does offer more details on three other models that are similar: a MA1100 video editor model, a MA1101 video editing processor with AV decoder aimed at the Japanese market, and an Android-ready MA1102 "rich media social networking" model that appears to be the closest to the announced MA1110.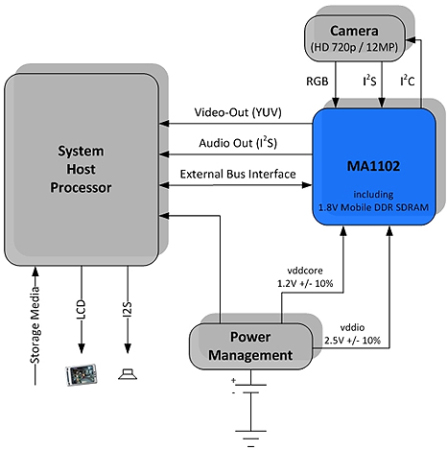 Typical usage diagram for the MA1102 model, which is similar to the MA1110
The MA1102 model offers a host memory bus (master and slave) with 8-, 16-, and 32-bit interfaces, as well as I/O including I2C, UART, SDIO, SPI, and GPIO, says Movidius. HDMI support is said to be available via an external HDMI driver chip. The processor also offers multiple I2S (Master/Slave) stereo audio channels, supporting independent sampling frequencies. The MA1102 ships in an 8x8mm BGA package, and supports voltages as follows: Core (1.2V), I/O (2.5V), DDR memory (1.8V), and LVTTL-compatible interface (3.3V/2.5V/1.8V).
720p video, 12-megapixel photos
The MA1110 supports 720p-quality, 30fps video recording and playback, real-time video editing, inline video, and 12-megapixel photo capture, says Movidius. The coprocessor's video and photo processing algorithms can help to compensate for the typical sub-optimal optics found in handsets, and supplies video enhancements for improving low-bitrate Internet video, says the company.
Video-editing features enabled by the MA1110 are said to include real-time image stabilization, super resolution zoom, slow motion, color matching, and color transfer. Editing features and effects include trim, crop, zoom, transitions, slow motion, color effects, low-light noise reduction, and audio cleanup, says Movidius. Additional features are said to include frame-rate upscaling, as well as resolution upscaling and downscaling. The MA1110 supports high resolutions of "all standard audio and video CODECs and APIs," says the company.
Future Myriad products: 3D and mobile TV
Future versions of the Myriad platform will leverage phones with dual cameras to create 3D imaging effects, says Movidius. Specific dual-camera 3D techniques will include high dynamic range capabilities, super resolution imaging, and depth-keyed effects. Other future Myriad capabilities include support for mobile TV formats like DVB-T, ISDB-T Full-Seg, and One-Seg. Additional plans for Myriad iterations include support for 2D graphics, TV-Out, additional audio processing features, gaming, and ISP functions.
Movidius is based in Dublin, Ireland, with offices in Hong Kong, and has a substantial software development center in Romania. The company is backed by investors including Celtic House Venture Partners, Capital-E, Emertec Gestion, AIB Seed Capital Fund, and Enterprise Ireland.
Stated Sean Mitchell, CEO of Movidius, "Network operators and phone manufacturers are queuing up to release 'Facebook phones', or offer individual video features like slow-mo. Yet until now no phone has been able to perform complex video editing on a phone in real time. The MA1110 puts an editing studio in your pocket."
Stated Will Strauss, president of Forward Concepts, "Movidius's MA1110 looks remarkable. This is the only in-phone, post-production product that I've encountered … Forward Concepts sees a huge potential market for mobile social networking and a lot of excitement around the area of user generated content."
Availability
Movidius will be demonstrating the MA1110 at the Mobile World Congress in Barcelona at Hall 2.1, Stand A10, on Feb, 16-19. Customer samples of MA1110 will be available in the summer, with mass production commencing later in the year, and resulting products should appear by year end or early 2011, said a Movidius spokesperson.
More information on Myriad may be found here.
---
This article was originally published on LinuxDevices.com and has been donated to the open source community by QuinStreet Inc. Please visit LinuxToday.com for up-to-date news and articles about Linux and open source.