Apr 14, 2010 — by Eric Brown — from the LinuxDevices Archive — 49 views
Texas Instruments announced an updated version of its DM36x DaVinci video processor family that supports multi-format HD video, including 1080p H.264 encoding. The Linux-ready TMS320DM368 cranks up its ARM926EJ-S core to 432MHz, while offloading the video encode/decode functions to DSP-driven HD video accelerators, and is available with a new DVR reference design.

Texas Instruments (TI) tipped its TMS320DM368 (DM368) back in October when it announced an HD-ready DM368IPNC-MT5 IP camera reference design based on the processor, offered by Appro Photoelectron (pictured). As we estimated then, the DM368 processor is a faster, higher-resolution version of the 300Mhz TMS320DM365 SoC (system-on-chip) available with the DM365 IP camera design.
Indeed, as TI now reports, the two processors are pin-to-pin and software compatible, enabling a full line of video products from D1, 720p, and now with the DM368, 1080p at up to 30fps (frames per second). TI has also announced a new DVR reference design based on the DM368 (see farther below).
The DM368 is designed for applications including HD video cameras, real-time digital video recorders (DVRs), HD video communications systems, and digital signage, says TI. The ARM core is 40 percent faster than that of the DM365, enabling advanced application programming interfaces (APIs) for HD video processing, as well as more "sophisticated user experiences," says the company.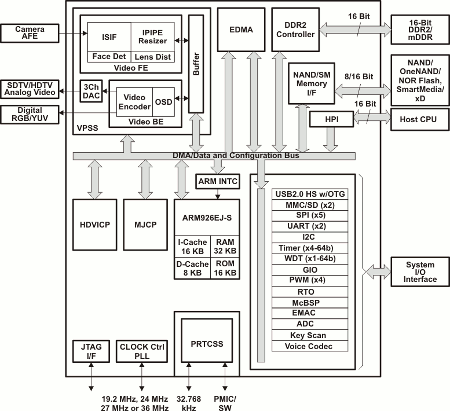 DM368 block diagram
(Click to enlarge)
Like other DaVinci processors, the DM368 combines an ARM core with a DaVinci digital signal processor (DSP) that offloads video processing tasks. There are also dual video image co-processors, called the HDVICP and MJCP. All these chips help the DM368 provide MPEG2, MPEG4, MJPEG and H.264 video encoding, says TI.
The processor also supports multi-format decode, multi-rate multi-stream, and HD multi-channel capabilities, says the company. Audio, speech and other HD video codecs are also said to be available.
Peripherals include interfaces for EMAC PHY, USB 2.0 OTG, 16-bit DDR2 memory, and MMC/SD/SDIO flash memory, says TI. The processor also includes five SPIs, three 10-bit DACs, two UARTS, and more, says the company. A 16KHz voice codec is also said to be supplied.
The DM368 is available with royalty free, production-ready, audio and speech codecs, including MP3, WMA, AAC LC, G.711, and an acoustic echo canceler, says TI. Extended temperature versions are available for the DM368, enabling a temperature range of -40 degrees to 185 degrees F (-40 to 85 deg. C).
Specifications for the DM368 processor are said to include:
Processors — ARM926EJ-S @ 432MHz; DaVinci video DSP; 2 x video image co-processors (HDVICP, MJCP)
Memory:

32MB RAM
16KB ROM
8/16-bit EMIFA; 16-bit mDDR @ 168Mhz/DDR2 @ 340Mhz
Supports external memories including async SRAM, mDDR, DDR2 SDRAM, OneNAND, NAND flash, NOR flash, and SmartMedia/xD
64-ch. EDMA

Video processing subsystem:

HW face detect engine
Resize engine from 1/16x to 8x
16-bit parallel AFE (Analog Front-End) interface up to 120MHz
4:2:2 (8-/16-bit) interface
3 x DACs for HD analog video output
Hardware On-Screen Display (OSD)
Capable of 1080p 30fps H.264 video processing

I/O:

1 x EMAC PHY
1 x USB 2.0 OTG
1 x 16-bit HPI
2 x MMC/SD
3 x DAC (10-bit)
1 x ADC
1 x McBSP
1 x I2C
5 x SPI
2 x UART
4 x PWM

Audio — 16KHz voice codec
Other features — Timers; real-time clock; 8 x boot and power-saving modes; debug interface support
Operating temperature — Standard temp. not listed; extended temp. version -40 to 185 deg. F ((-40 to 85 deg. C)
Power — 3.3-V and 1.8-V I/O; 1.35-V core
Dimensions — 338-pin ball grid array; 65nm process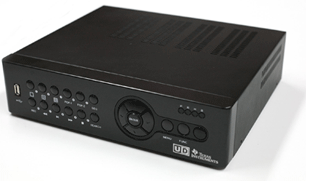 UDWorks DM368 DVR reference design
Along with the aforementioned, Appro-built
IP camera reference design
based on the DM368 announced in October, TI is also offering a DVR reference design based on the new processor, developed by UDWorks. The design is an upgrade to an earlier DM365-based DVR design, offering simultaneous record, playback, live view, storage, streaming and display, says TI.


DM368 DVR reference design, rear view
Advanced features include auto contrast and white noise filtering, thereby reducing the need to add a host processor, says TI. The design is said to include multi-channel support, including four D1 encode enabling four-channel DVS, and eight CIF decode at 30fps, enabling eight channel DVR.
Other touted features include Windows PC-based video management software and a royalty free Linux-based DVR application, including source code. The design is also said to enable integration with TI's TVP5158 video recorder to capture multi-channel video inputs. The DVR design is available with and without a hard disk drive (see link below for more details).
In addition, TI is prepping Linux-compatible video communication and camera software development kits (SDKs) for the DM368. Nearing release, the SDKs include camera applications, such as video-conferencing, web cameras, interactive signage, and other low-cost embedded video communications products, says the company. Until the SDKs ship, developers can use the software- and pin-compatible TMDXEVM365 EVM, available for $595, which ships with the TMS320DM365 DVSDK v. 3.10 with open source Linux code, adds TI.
Availability
The TMS320DM368 DaVinci video processor is available for sampling, priced at $29 in 1,000 unit quantities (1ku) from TI and TI authorized dealers, says Texas Instruments. The new DM368-based DVR reference design is now available for $1,195 with a hard disk drive, says the company.
More information on the DM368 may be found here, and more on the DVR reference design should be here. More on the previously covered DM368-based IP net camera design should be here.
---
This article was originally published on LinuxDevices.com and has been donated to the open source community by QuinStreet Inc. Please visit LinuxToday.com for up-to-date news and articles about Linux and open source.