Nov 13, 2009 — by Eric Brown — from the LinuxDevices Archive — 16 views
Avalue announced two Linux-compatible, ARM-architecture computer-on-module (COMs). The RSC-W910 is based on a Nuvoton W90P910 ARM9 CPU, and the RSM-MX515 SoM is based on a Freescale Cortex-A8-based i.MX515 system-on-chip (SoC), says the company.
The two modules appear to be the first of a line of Avalue ARM/RISC embedded computing modules incorporating ARM9, ARM11, and Cortex-A8 SoCs. Supporting Linux and Windows Embedded CE, the module family will ship with "packaged tools/software" for applications including industrial automation, measurement and test, medical, remote surveillance, and point-of-sale equipment, says Avalue.
The customizable platforms are said to offer processors ranging from 200MHz to 1GHz, with up to 256MB of flash memory, and connectivity including USB OTG, SDIO, SPI, I2C, UART, and PATA.
RSC-W910
The module that appears to be closest to shipping is the RSC-W910, which unlike the i.MX515 module, is detailed on a web page of its own. The RSC-W910 is based on a Nuvoton W90P910 ARM9 SoC clocked to 200MHz, according to Avalue. This appears to be the same as (or at least appears to be related to) a processor Nuvoton refers to as the NUC910ABN, which features an ARM926EJ-S core (PDF link here). The NUC910ABN is said to offer 8KB "I" and "D" caches, an MMU, a 10/100 Ethernet MAC, a 2D graphics engine, and controllers for TFT LCD and ADC touchscreen displays.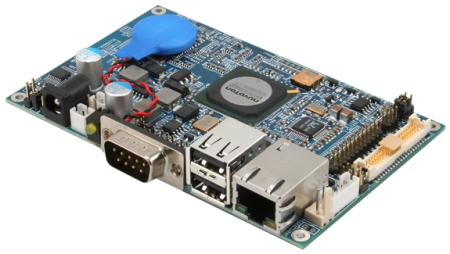 Avalue's ARM9/Nuvoton based RSC-W910


(Click to enlarge)
On the RSC-W910 module, the Nuvoton processor is backed up with 64MB or 128MB of SDRAM, and 128MB or 512MB of flash memory, with support offered for SD expansion, says Avalue. The module supports a single-channel 16/18-bit, 800 x 600 TTL LCD, and support for a touchscreen is offered as an option, says the company.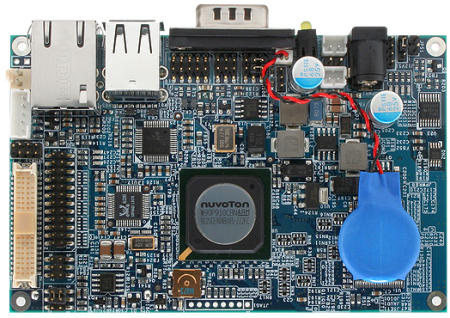 RSC-W910 (front view)


(Click to enlarge)
I/O for the module includes a 10/100 Ethernet MAC + PHY, RS-232 and RS-232/485 interfaces, and three USB ports, says Avalue. There is also said to be 16 DIO and an optional PS2 interface. The Realtek ALC203 AC97 codec is supported by line-out and mic-in interfaces.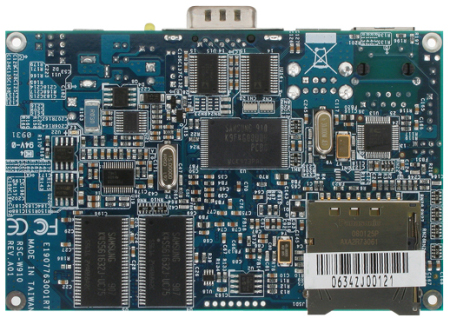 RSC-W910 (rear view)


(Click to enlarge)
The RSC-W910 is said to accept a wide voltage input of +9V to +24V, and is offered with an optional onboard battery charger. Although touted as being a 2.5-inch module, it actually measures 4.3 x 4.7 inches (110 x 120mm). The module supports both Linux 2.6.17 and Windows CE 5.0/6.0, says the company.
RSN-MX515 SoM
The company did not offer much information on the RSM-MX515 SoM, which is based on Freescale's "smartbook" processor, the i.MX515. Now shipping in volume, the ARM Cortex-A8 based SoC is the first of a family of Cortex-A8-based i.MX51 SoCs, including the newly announced, automotive-focused i.MX514 and i.MX516 SoCs, as well as the i.MX512 and i.MX513, which target various industrial and consumer devices.
Built around a Cortex-A8 core, the i.MX515 offers a dedicated, hardware-based video acceleration block that "enables extended battery life and eliminates the need for fans or heat sinks," says the company.
The SoC offers graphics cores for both OpenGL and OpenVG, with the latter enabling Flash and SVG. Freescale touts the i.MX515 for its flexible memory interface, which supports DDR2 as well as the mobile DDR1 memory type.
Avalue's RSN-MX515 joins the i.MX515 with 128MB DDR2 SDRAM and 256MB NAND flash, says the company. The SoC is also mated with an onboard "Audio/Touch/PWM" companion chip, and is said to support Open GL ES 2.0, OpenVG 1.1, and hardware video codecs.
I/O on the module is said to include two SDIO, one ATA, one USB host, and one USB OTG interface, as well as three UARTs (on SODIMM slot).
Availability
Avalue did not post pricing or availability information on the RSC-W910 or the RSM-MX515 modules, although the RSC-W910 appears to be shipping, or is at least is closer to reality than the RSM-MX515. More information on the RSC-W910 module may be found here.
---
This article was originally published on LinuxDevices.com and has been donated to the open source community by QuinStreet Inc. Please visit LinuxToday.com for up-to-date news and articles about Linux and open source.