Feb 3, 2010 — by LinuxDevices Staff — from the LinuxDevices Archive — 1 views
Broadcom announced broad adoption of Bluetooth 3.0 across its silicon, software, and combo chip solutions. Separately, Samsung is set to release what appears to be the world's first Bluetooth 3.0-equipped phone, according to the Bluetooth SIG (special interest group).
Bluetooth 3.0, which allows file transfers at up to 24Mbps, was approved last April by the Bluetooth Special Interest Group SIG. A key element of the new specification is AMP (alternate MAC/PHY) Bluetooth, a revision targeting devices that have both Bluetooth and WiFi (802.11) radios on board.
According to the Bluetooth SIG, AMP works by taking Bluetooth's protocols, profiles, security, and other architectural elements and allowing them to "jump on top of an already present 802.11 radio." In other words, a pair of devices discover each other and shake hands using Bluetooth, but file transfers take place using the WiFi hardware layer.
AMP's promoters say the technology means users gain speed, without needing to know how to set up an ad hoc WiFi network. Once a file transfer is concluded, the WiFi radio falls silent and control passes back to Bluetooth, saving power, according to the SIG.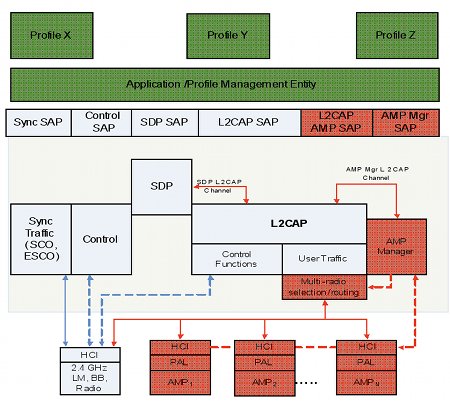 AMP can hand off file transfers from Bluetooth to 802.11 and other radios
Source: Bluetooth SIG
(click to enlarge)
Broadcom says it has adopted Bluetooth 3.0 — also known as Bluetooth v3.0 +HS (high speed) — across all of its Bluetooth products, increasing potential transmission speeds by a factor of ten. Several Broadcom silicon, software, or combo chip solutions have already achieved Bluetooth 3.0 qualification, the company adds, including:
The BCM2070, BCM2075, BCM43225, and BCM4325 chips
The BCM94312 PCI Mini Card Bluetooth + WLAN solution
Bluetooth software including BTE-Mobile 3.15.2, BTW 5.6, and BTW 6.3
Broadcom adds that it has upgraded its "InConcert" technology, reducing the interference that can occur when Bluetooth and 802.11 coexist in the same device. Bluetooth 3.0 will allow data to be transferred at high speed even while a Bluetooth headset is being used for music or voice, the company says.
Reports last year suggested that some of Broadcom's Bluetooth chips already supported the 3.0 spec and would require only a software upgrade to implement it. The company's announcement today appears to confirm this, stating that "Bluetooth v3.0 +HS is currently shipping in PCs and smartphones."
Separately, the Bluetooth SIG revealed what appears to be the world's first Bluetooth 3.0-equipped phone. The Samsung GT-S8500 features a 3.1-inch OLED (organic light emitting diode) touchscreen along with the manufacturer's TouchWIZ user interface, according to the organization. No picture of the phone was provided, however, nor was there any word of what operating system the GT-S8500 will run.
OUR VERDICT:
Faster, easier phone-to-PC connections at last
Ultimately, the AMP technique will not be limited to 802.11, but will also be able to piggyback on higher-bandwidth, shorter-range UWB (ultra-wideband) connections, according to previous reports. It's said that Bluetooth 3.0 features an "Enhanced Power Control" feature. This will increase the robustness of connections, and prevent unwanted disconnects caused by movements such as placing a phone in a pocket or purse.
Further information
To see the Bluetooth SIG's listing of the Samsung GT-S8500, go here.
---
This article was originally published on LinuxDevices.com and has been donated to the open source community by QuinStreet Inc. Please visit LinuxToday.com for up-to-date news and articles about Linux and open source.