Apr 21, 2006 — by LinuxDevices Staff — from the LinuxDevices Archive — 4 views

A Chinese company is touting an inexpensive Linux-based computer as a way to close the "digital divide." YellowSheepRiver's $150 "Municator" appears to be available now, with a three-month leadtime, suggesting it could reach market well ahead of MIT's $100 "One Laptop Per Child" (OLPC) device.
(Click for larger view of the Municator)
The OLPC project was announced last fall, with laptop manufacturer Quanta Computer of Taiwan stepping forward to offer its manufacturing services shortly afterward. However, no specific delivery commitments appear to have been reached.
Additionally, the performance potential of the OLPC's $100 laptop design has drawn taunts from Microsoft chairman Bill Gates, as well as Intel Chairman Craig Barret, who called the design a "$100 gadget." If the Municator lives up to YellowSheepRiver's promise of Pentium III-like performance, the Chinese device could enjoy a performance edge, in addition to its apparent time-to-market lead.
Chinese chips inside
YellowSheepRiver says it saved cost in its Municator YSR-639 design by sourcing the CPU, RAM, and other key chips from Chinese companies. China is now the world's third-largest producer of new semiconductor designs, according to research firm iSuppli.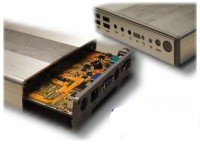 According to YellowSheepRiver, the Municator is based on a 64-bit Godson-2 CPU from BLX Semiconductor. The Godson-2 chip, codenamed "Dragon," uses an instruction set based on the MIPS architecture; however, BLX is not a MIPS licensee. The Microprocessor Report suggested last summer that BLX could face legal challenges from MIPS if its chips reach the U.S., although some other sources suggest that the Godson chips do not include patented portions of the MIPS ISA (instruction set architecture), such as unaligned 32-bit load/store support.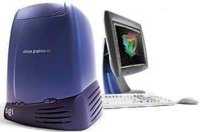 SGI's O2
(Click to enlarge)
The Municator's Godson-2 processor offers performance similar to a Pentium III, YellowRiver claims; however, a more useful comparison might be to MIPS's four-way superscalar R10000 processor, which shipped in 1995, and powered Silicon Graphics Unix workstations such as the O2, pictured at right. The Godson-2 also has a four-way superscalar design.
The Godson-2 chips in YellowSheepRiver's YSR-639 are clocked at 400MHz or 600MHz. They connect to a Marvel MV64420-BDM1C133 northbridge via a 133MHz FSB (front-side bus). The Marvel northbridge supports DDR RAM at 166MHz, via an SODIMM slot, and offers a 32-bit, 33MHz PCI bus. A VIA VT82C686B southbridge with 133/100/66MHz ATA bus completes the chipset.
YellowSheepRiver says it hopes one day to use an "SoC" (system-on-chip) version of the Godson-2 chipset that will integrate the processor and northbridge into a single chip, and save additional cost and power.
Other features
The OLPC design eschews a hard drive, to keep cost down, but has an LCD display. The Municator, in contrast, offers an S-video port, in order to support television displays, and comes with a 40GB external USB drive. The Municator also has rear-mounted IDE and power connectors that support the attachment of optional optical drives.
Other interfaces, according to YellowSheepRiver, include four front-mounted USB 2.0 ports, IrDA, and audio I/O. Additional rear-mounted interfaces include S-video, VGA, 10/100 Ethernet, serial, PS/2 keyboard/mouse, and IDE.
The Municator measures 7 x 5.7 x 1.5 inches (180 x 145 x 37mm), and weighs one pound, six ounces (0.65kg). It requires five amps of 12-volt power, and comes with a 45-watt auto-sensing 110/220 adapter. A lithium-ion battery pack is optionally available. Other options include WiFi and a modem.
The Municator runs "Thinix 3.0," a Linux variant that features support for user interfaces based on a keyboard, mouse, or both, according to YellowSheepRiver. Thinix is based on RPLinux, a distribution created by the China Software and Integrated Circuit Promotion (CSIP).
Availability
YellowSheepRiver says orders for its "Fitness Computer," possibly a codename for the YSR-639, can begin production within three months of order confirmation.
A video demonstrating the Municator is available here.
---

This article was originally published on LinuxDevices.com and has been donated to the open source community by QuinStreet Inc. Please visit LinuxToday.com for up-to-date news and articles about Linux and open source.