Dec 1, 2010 — by Eric Brown — from the LinuxDevices Archive — 4 views
Coby Electronics announced a seven-inch Coby Kyros Tablet MID7015 Android tablet for $250, and Linsay's seven-inch Tablet A-1A tablet is selling on Amazon.com for approximately $200. Meanwhile, a rash of negative reviews of low-cost Android tablets has led pundits to worry that the tablets' bad reputation could stifle more compelling Android competitors due in 2011.
The Coby Kyros Tablet MID7015 is named for the Greek word for "Lord," and its moniker also evokes the underpowered mobile Internet devices (MIDs) that tried and failed to win our hearts and wallets two or three years ago. Post-iPad, the MID makers are trying again with devices that are thinner, larger, and run Android instead of Moblin or Windows CE. Yet, most still give off the familiar MID aroma of impermanence (see farther below.)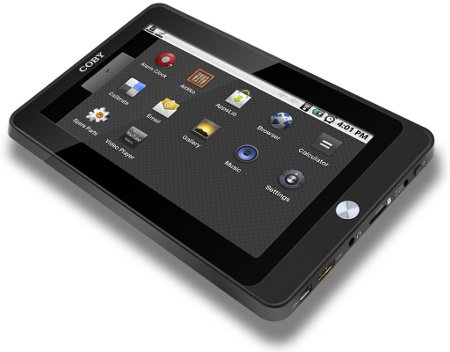 Coby Kyros Tablet MID7015


(Click to enlarge)
Coby Electronics' Kyros appears to be a slight cut above, running Android 2.1 on an 800MHz
Telechips TTC8902
processor. The Telechips SoC has appeared on Android tablets including Cherrypal's
CherryPad America
, as well as Smartbook AG's
Smartbook Surfer
.
Although the Telechips is only an ARM11 processor, it includes a GPU (graphics processing unit), a DSP (digital signal processor) for video acceleration, and an OpenGL 2.0 3D graphics accelerator. (See TTC890x block diagram below.)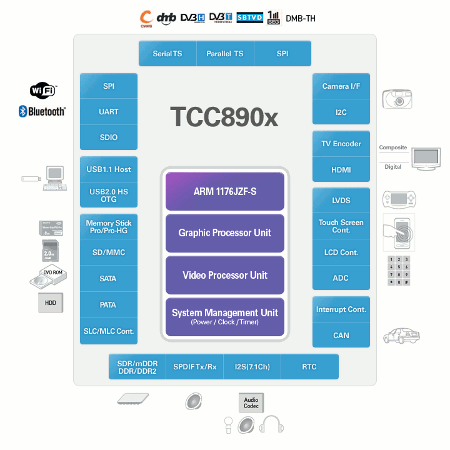 Telechips TTC890x block diagram
(Click to enlarge)
The Kyros is further equipped with 256MB DDR2 of RAM, 4GB of internal flash memory, and a microSD card slot for upgrading to 16GB of storage, says Coby. The seven-inch resistive TFT LCD screen offers 800 x 480 resolution and an accompanying stylus pen.
The 0.9-pound tablet can output via a mini-HDMI port, offering support for watching 1080p videos on a connected TV, Coby claims. Other features on this $250 tablet include Wi-Fi, a USB 2.0 high-speed port, speakers, and a 3.5mm headphone jack with earphones. No duration claims are made for the rechargeable Li-poly battery.
Pre-installed apps are said to include an alarm clock, browser, calculator, email, video gallery, and YouTube and audio players. An Aldiko E-Book player supports the ePub standard, and an AppsLib icon links users to the AppsLib marketplace, a new third-party Android applications store targeting tablets.
Stated Michael Paladino, senior marketing manager, Coby Electronics, "Tablets are a highly-sought-after gift this holiday season, and we are thrilled to bring the MID7015 to market and give consumers a stylish, affordable and user-friendly option."
Linsay Tablet PC A-1A
With its right-mounted trackball, Linsay's Tablet PC A-1A reminds one even more of a circa-2009 MID. The seven-inch, 800x 480-pixel resistive touchscreen tablet runs the aged Android 1.6, and Linsay's YouTube demo below gives an idea of the performance. (Hint: do not flip the device over on its side, as you may fall asleep waiting for the accelerometers to kick in.) Then again, did we mention it only costs $199.50 on Amazon?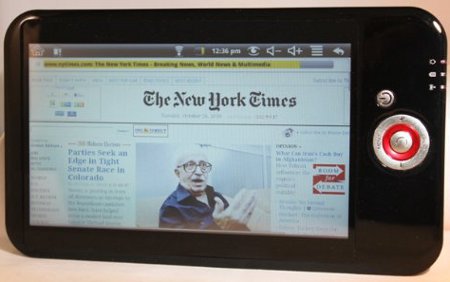 Linsay Tablet PC A-1A
The Linsay tablet is said to ship with 2GB of internal flash, says Linsay. A microSD slot is said to be available to store up to 32GB. The Linsay A-1A provides Wi-Fi, of course, and a USB port and audio port are also said to be available.
Apps are said to include music, video, and photo players, a web browser, an ebook reader, and Skype.
No processor is listed for the tablet, but a customer review on Amazon says it has a 600MHz CPU. For the record, this sole reviewer also said the device was "extremely slow, nearly unresponsive. Video sucked, touch screen unresponsive, no access to android market."
We were unable to locate a Linsay company website, but they really should put one up to capitalize on people misspelling Lindsay Lohan in their search engines.

Linsay demo of A-1A on YouTube
Source: Linsay
(Click to play)
Plague of the Android Craplets?
As we wait for Android 2.3 and Android 3.0 running on tablets such as Acer's upcoming Android models, or another compelling Android alternative to the iPad — the Droid to Apple's iPhone, as it were — most Android tablets available for the holidays will be low-cost models.
Built by mostly unknown, mostly Chinese, manufacturers, these $100 to $300 tablets typically have resistive screens, ARM9 or ARM11 processors, typically no 3G or GPS, and limited pre-installed Android software.
Meanwhile, the negative reviews of Android tablets keep mounting up. These include a review of the $160 Elonex/Next 7-inch Media Tablet ("the worst tablet PC we've yet seen," says PCPro) or Walgreen's $99 Maylong M-150 ("worse than mediocre, it barely functions at all," writes ZDNet's Jason Perlow.
This has led a number of pundits such as Adrian Kingsley-Hughes to wonder whether all these incredible bargains might not be harming Android's reputation in a way that very few Android phones have done. In short, by the time true iPad competitors arrive, consumers may well have concluded that Android equates with cheap and cut-rate.
In a subsequent post, Perlow was even inspired to write a Dr. Seuss poem about the threat of el cheapo Android tablets called "How the iPad stole Android's tablet Christmas."
Zenithink ZT-180


Source: Crave
Others such as
Crave's
Leonard Goh have come to the defense of the cheap Android tablet. In a fairly favorable
review
of a new
Zenithink ZT-180
seven-incher he found in Shanghai, he writes, "I knew what I was getting into: Quirky resistive touchscreen, frequent forced close of apps, and shoddy build quality."
Goh continues, "However, considering that I was only going to use the tablet for simple Web browsing, e-book reading and media playback, the downside didn't daunt me."
That's about as good as it gets on the "pro" side of the argument these days. Others, such as CrunchGear's Devin Coldewey, referring to the aforementioned Coby Kyros, writes, "Are you thinking about picking up an Android tablet for Christmas? Stop. Stop right now. It's a bad idea."
It does not appear that Coldewey actually tested the Coby Kyros, but based on the specs, apparently, he writes that the tablet "doesn't impress" and that it appears to be just another "cut-rate, beta products that will be obsoleted shortly by Android 2.3 and 3.0 devices." He adds, "Sorry for souring the milk with this little editorial, Coby, but you know it's true."
Coby can take comfort in the fact that even the higher profile — an

d considerably more expensive — capacitive-screen, Cortex-A based Android tablets such as the Samsung Galaxy Tab (pictured), have received mixed reviews. Today, for example, Clint Boulton, writing at our sister publication eWEEK, reviewed the Galaxy Tab and concluded that it was nice, but too pricey.
Availability
The Coby Kyros Tablet MID7015 is available now at major retailers with a suggested retail price of $250, says Coby Electronics. More information may be found here.
The Linsay Tablet PC A-1A may be found at Amazon.com for $199.50, here.
---
This article was originally published on LinuxDevices.com and has been donated to the open source community by QuinStreet Inc. Please visit LinuxToday.com for up-to-date news and articles about Linux and open source.