Mar 30, 2009 — by Eric Brown — from the LinuxDevices Archive — views

C Data Solutions has developed a new motherboard for its customizable CompactFlash (CF)-based Compact Computer (CoCo). Designed for use in an upcoming data acquisitions system, the tiny motherboard offers a databus via the FPGA built into its uClinux- and 500MHz Blackfin-based CoCo processor module.
(Click for larger view of a data acquisition computer based on updated C Data mobo, with CoCo processor module in front)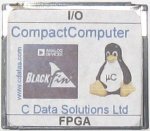 CoCo processor module
(Click to enlarge)
British systems integrator C Data Solutions shipped its original Compact Flash Computer in 2004, and followed up in December 2007 with a more powerful "CoCo" model based on a 500MHz Analog Devices, Inc. (ADI) Blackfin DSP (digital signal processor) and an integrated Lattice field-programmable gate array (FPGA). Like the original Compact Flash Computer, the CoCo module (pictured at right) is designed as a CF card that can plug into any host's CF slot, or alternatively control C Data's optional CF bus motherboard, which developers can populate with other CF-based peripherals.
With the CoCo design, developers can quickly build and modify a variety of tiny, power-sipping Linux systems, says C Data. The CoCo is being used for rapid prototyping and conceptual proofs by aerospace, defense, and consumer electronics companies, says the company. (For more on the unique design of the CoCo, see this special LinuxDevices article written last summer by C Data's Founder Paul Zawalnyski, here.)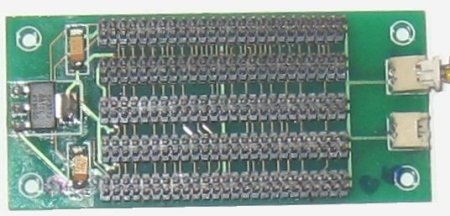 New CoCo motherboard
(Click to enlarge)
The new data acquisition version of the CoCo motherboard (pictured above) uses the same Blackfin CoCo module, with 32MB SRAM and 8MB flash, along with any mix of third-party CF cards for I/O such as Ethernet, wireless, storage, GPS, or GSM/GPRS. Additional Blackfin peripherals are said to be available via a 50-pin top connector, including interfaces for RS232, SPORT, SPI, and PPI/LCD/Video.
The key difference with the new mini-mobo is that it provides a databus via the Lattice FPGA, and can therefore be programmed to be eight bits wide. The previous motherboard offered a fixed 16-bit bus, which, in order to provide similar data acquisition support, required a separate FPGA — either on a bus expander card, or placed directly onto the carrier board (see diagram below).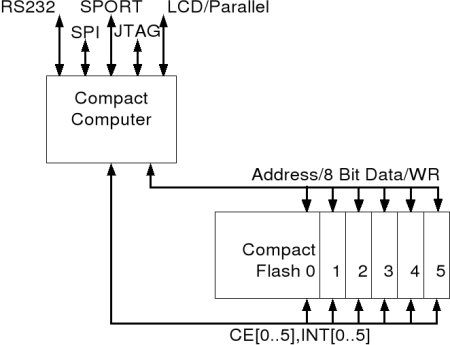 CoCo motherboard block diagram
(Click to enlarge)
"While [the new design] reduces data throughput, it allows the board select lines and interrupt controller to be integrated into the FPGA in the CoCo and use the spare data lines D15 to D8," explained Zawalnyski in an email. "This design reduces the system cost and size, and increases reliability by allowing the card interrupt controller and card selection logic to be placed within the FPGA and not on the motherboard."
Measuring 0.9 x 2.2 inches (25 x 55mm), the motherboard can accommodate four Type II CF cards, along with the CoCo processor card, says C Data. It contains a 5V to 3.3V regulator, and can be run using standard AAA or AA cells.
The new motherboard is available as a standalone product, or as part of a development kit for motherboard-based designs, said Zawalnyski. The CoCo development kit with the new board includes:
CoCo processor module with 500MHz Blackfin DSP, Lattice FPGA, 32MB SRAM, and 8MB flash
Five-slot motherboard with four Compact Flash Type II expansion slots
RS232/JTAG header board for accessing RS232/JTAG on the Blackfin and JTAG on the FPGA
"All source" U-Boot, uClinux, and VHDL
Gcc/gdb/Insight tools; FPGA tools available as a free download from Lattice
The new motherboard will form the basis for a standard product aimed at the data acquisation/logging market, says Zawalnyski. The data acquisation system incorporates a 24-bit, four-channel DAQ card that is said to sustain 1.25kHz on all four channels, or 38kHz on one channel. It also provides two DIO and two DAC outputs.
A "major European research organization" is now using a data acquisition system based on this technology, says C Data. The system (pictured at top) is said to integrate four CF cards: a D-Link Air 802.11b WiFi card, a 2GB storage card, a 24-bit, four-channel, 1KHz ADC card, and the CoCo processor card. One slot is left open for expansion with an additional ADC card.
Availability
The CoCo development kit with the new data acquisition-friendly motherboard is available now for $400 US, says C Data Solutions.
---

This article was originally published on LinuxDevices.com and has been donated to the open source community by QuinStreet Inc. Please visit LinuxToday.com for up-to-date news and articles about Linux and open source.