Jan 26, 2012 — by LinuxDevices Staff — from the LinuxDevices Archive — 15 views
E-con Systems has announced a five megapixel camera add-on designed to work with the Texas Instruments (TI) OMAP3530 or DM3730 evaluation modules (EVMs). The e-CAM52_35x snaps onto the EVM boards and connects to the high-speed CMOS sensor interface on TI's DM37xx or Sitara AM37xx processors, providing five megapixel video capture as well as stills, the company says.
E-con has produced e-CAM modules for a variety of platforms. For example, it launched a 3.2-megapixel camera module known as the e-CAM32_OMAP35x for TI's OMAP35x EVM in 2009, and upgraded this to the 5.0-megapixel e-CAM50_OMAP35x version in 2010.
Last April, the company released a five-megapixel camera module called the eCAM50_DM37x, designed to work with TI's DM3730 EVM board. (For more on the EVM and the processors it supports, see later in this story.) That module used an Omnivision OV5642 CMOS image sensor, allowing not only the capture of five megapixel stills, but also 720p video at up to 30 frames per second, according to E-con.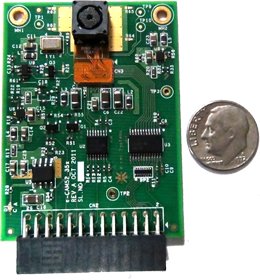 The E-con eCAM52-35x
Now, E-con has announced the eCAM52-35x (pictured above on its own and below on the DM3730 EVM) module, featuring an upgrade to the Omnivision OV5640 sensor. According to the company, this module is still five-megapixel, but it provides enhanced image quality.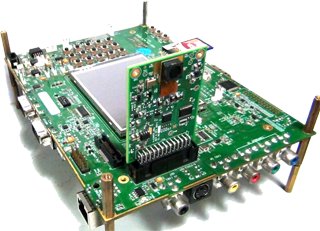 The eCAM52-35x and DM3730 EVM
E-con says the eCAM52-35x is supplied with Linux and Windows CE drivers, while software for Android is under development. Maximum image transfer rates are said to be as follows:
VGA — 55fps
720p — 30fps
five megapixel — 10fps ("needs special driver, default is 5-7fps")
According to E-con, the OV5640's automatic image control functions include autofocus, automatic exposure control (AEC), automatic white balance (AWB), automatic band filter (ABF), 50/60Hz automatic luminance detection, and automatic black level calibration (ABLC). This functionality is all supported via a sample application provided with the eCAM52-35x module, the company adds.
Background on the DM3730 EVM and TI processors
The DM3730 EVM (pictured) — or TMDXEVM3730, to use its full name — was designed by Mistral Solutions and is marketed by TI, supporting four different ARM Cortex A8-based processors. These are the Sitara AM3517 and AM3703, announced in June 2010, plus the DM3730 and DM3725, leaked at the same time but not formally announced (for reasons known only to TI) until the following August.
The AM37x and DM37x are pin- and software-compatible with one another. Compared to TI's earlier DM35x and AM35x processors, also Cortex A8-based, they offer increased CPU and graphics performance while using at least 40 percent less power, the chipmaker says.
Available in 1GHz, 800MHz, and 600MHz versions, the AM37x processors lack video acceleration DSPs, but the AM3715 includes an OpenGL ES 2.0 2D/3D graphics accelerator. The DM3725, meanwhile, gets a C64+ DSP, while the DM3730 includes both this and the Imagination Technologies PowerVR SGX-based OpenGL accelerator.
In addition to the AM37x or DM37x processors, the DM3730 EVM provides 256MB of RAM, 512MB of flash storage, and a 3.7-inch touchscreen display available in 640 x 480 or 320 x 240 resolutions. The board also includes an SD/MMC slot and real-world ports for Ethernet, serial, USB host and On-the-Go, plus audio and video output, TI adds.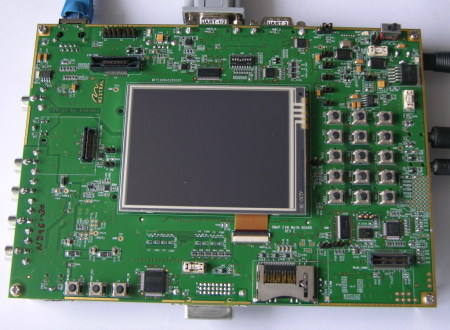 TI's OMAP3530 EVM
According to E-con, its e-CAM52_35x can also work with TI's earlier OMAP3530 EVM, pictured above, and hence with the DM3530. In that case, however, not only is power consumption higher, but video encoding is slower: For example, the DM3730 can do 30fps encoding at 720p whereas the DM3530 can do 30fps only at VGA resolution, the company warns.
Further information
E-con Systems says the e-CAM52_35x for Windows CE is available now. The Windows CE version costs for approximately $300 exclusive of shipping, and the Linux version is half the price at approximately $150. More information may be found on the company's website, here.
Jonathan Angel can be reached at [email protected] and followed at www.twitter.com/gadgetsense.
---
This article was originally published on LinuxDevices.com and has been donated to the open source community by QuinStreet Inc. Please visit LinuxToday.com for up-to-date news and articles about Linux and open source.