Oct 1, 2010 — by Eric Brown — from the LinuxDevices Archive — 15 views
E-con Systems announced a 5.0-megapixel autofocus camera module designed to interconnect with the Gumstix Overo computer-on-module (COM). Aimed at handheld imaging and video devices, the e-CAM50 OMAP Gstix module is based on Omnivision's OV5642 CMOS image sensor, and plugs into the Texas Instruments (TI) OMAP35x-based Overo, E-con says.
Offering JPEG compression, image stabilization and autofocus, the e-CAM50 OMAP Gstix is designed to form the basis for consumer and industrial handheld imaging functions, says E-Con. Specific applications are said to include 1D/2D barcode scanning, facial recognition, text processing, and video streaming.
Using an Omnivision OV5642 CMOS image sensor, the e-CAM50 OMAP Gstix is a successor to the similar, 3.2-megapixel e-CAM32 OMAP Gstix released last December. (E-con previously employed the OV5642 in its e-CAM50_OMAP35x camera add-on for the TI OMAP35xEVM.)


e-CAM50 OMAP Gstix
(Click to enlarge)
The e-CAM50 OMAP Gstix connects via a 27-pin flex connector (see image below) to any of the
four variants of the Gumstix Overo
: the Overo Earth (OMAP3503), Overo Air (OMAP3503 with WiFi), Overo Water (OMAP3530 with OpenGL graphics), and Overo Fire (OMAP3530 with OpenGL and WiFi).
All Overo modules incorporate either the low-end (OMAP3503) or high-end (OMAP3530) versions of TI's Cortex-A8-based OMAP35x system-on-chips (SoCs), and are supported by Gumstix with a variety of expansion boards and development kits.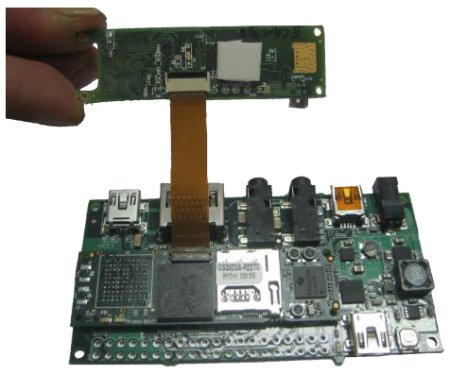 The e-CAM50 board (top) connects via a 27-pin flex connector to the Gumstix Overo module (bottom), shown here plugged into a Gumstix Summit expansion board
The four Overo modules are all clocked at 600MHz, and gain an extra boost from the Cortex A8 core's superscalar capabilities. In addition, the OMAP3626 and OMAP3530 offers a multimedia-accelerating TI digital signal processor (DSP), said to be fully exploited by the e-CAM50 OMAP Gstix.
The e-CAM50 camera board shares the same dimensions as the Overo modules, and the two boards can be screwed together for extra mechanical stability, says E-Con. The combined unit attaches to Gumstix's Summit expansion board for development purposes (see images above and below).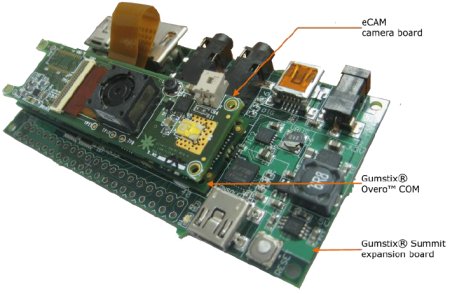 e-CAM50 with integrated black Omnivision OV5642 sensor, plugged into Overo module and Summit board (detail)
(Click to enlarge)
On the reverse side of the board, the e-CAM50 connects to the 8-bit parallel interface of the OMAP 35x processor, supporting up to 100MHz for camera data, according to E-con. While the previous e-CAM32 OMAP Gstix module offered still images up to 2048 x 1536 pixels, with 30fps (frames per second) video capture available up to XGA (1024 x 768 pixels), the e-CAM50 provides 2592 x 1944-pixel stills, and 30fps video at up to 720p (1280 x 720 pixels), the company adds.
The 0.67 by 2.28-inch (17 x 58mm) camera board provides a viewfinder option offering 30fps video preview, as well as handheld-oriented features like autofocus and anti-shake technology, says E-con. Offering a 65-degree diagonal view angle and 10cm-to-infinity range, the 8.5 x 8.5mm sensor has a quarter-inch lens and outputs in YUV/YcbCr 4:2:2 format, according to the company.
The e-CAM50 OMAP Gstix is said to include Linux camera drivers, with full source code. The drivers include support for the V4L2 (Video for Linux 2) buffer management interface, as well as close integration with TI's IVA 2.2 (Image, Video and Audio Subsystem) accelerator subsystem on the OMAP35x SoCs.
The subsystem integration enables full utilization of advanced OMAP35x features such as color correction, gamma correction, and resizing, says E-Con. Thanks to Gstreamer support, the device permits saving video to a flash drive at 30fps in VGA resolution, using H.264 compression, the company adds.
Further information
The e-CAM50 OMAP Gstix is available now, according to E-con Systems, though pricing was not disclosed. More information on the camera module may be found on the company's website, here.
---
This article was originally published on LinuxDevices.com and has been donated to the open source community by QuinStreet Inc. Please visit LinuxToday.com for up-to-date news and articles about Linux and open source.