Aug 25, 2005 — by LinuxDevices Staff — from the LinuxDevices Archive — 51 views

A high-end British loudspeaker vendor is prepping a wireless Internet table radio based on embedded Linux for the holidays. Acoustic Energy's prosaicly code-named "Wi-Fi internet radio" will support "all three major streaming formats," it says, to tune in a claimed 99 percent of online radio stations.
Acoustic Energy
Acoustic Energy (AE) loudspeakers command up to $7,000 per pair, and are sold in 50 export markets. An online reseller serves markets without local dealerships. AE began in 1987 in the pro audio market, but introduced a budget line in 1995 after forming a partnership in the "Far East," it says.
The AE WiFi radio was designed in the UK, however, by Reciva, a Cambridge-based firm specializing in Internet radio modules. A 2002 startup, Reciva recently enticed Warren East, CEO of embedded processor IP giant ARM Ltd. to join its advisory board.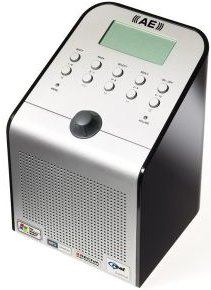 AE says its WiFi radio will support stations broadcasting Real Audio, WMV, and MP3 streams, giving it "unrivalled choice of content, from London's BBC Radio1 to Sao Paolo's Radio Calypso!" Unsurprisingly, given the BBC's July, 2001 decision to cease free shortwave broadcasts in the Americas and elsewhere, AE also advertises, "No subscription to pay, no signal coverage problems, and no international content boundaries."
The AE radio establishes an 802.11b/g WiFi connection to the user's broadband-connected wireless router. It downloads station lists each time it is powered on, from a private Internet gateway maintained by Reciva. The gateway currently boasts 2,500 stations, each tested daily and sorted by country and genre, Reciva says.
Reciva's channel listings also include on-demand audio sources, "such as the BBC's popular 'listen again' feature," it says. And, the AE Wifi radio can also be used as a media adapter — that is, to sort, access, and play audio content stored on networked PCs.
AE says its WiFi radio can deliver better clarity than DAB (digital audio broadcasts), when used with high-bitrate stations. The plain, modern-looking device incorporates twin full-range AE stereo drivers in a ported enclosure for efficient bass reflex. It also has a 3.5mm stereo headphone jack.
What's under the hood?
AE had not replied to inquiries by press time, but a recent Reciva press release heralding East's advisory board seat strongly associates the AE WiFi radio with Reciva's "Barracuda" Internet radio module: "East joins Reciva just as the first volume orders are being placed for the Barracuda Internet radio module. Acoustic Energy has just announced that it is adopting Reciva technology as it enters the Internet Radio product market," the release says.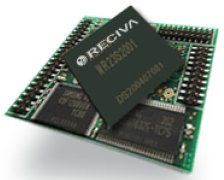 The Barracuda module (pictured at right) appears to be based on a processor of Reciva's own design. The company discloses little information about the chip. However, it seems possible that in addition to an ARM core, the chip may incorporate a media acceleration engine based on ARM NEON, a suite of media processing instructions introduced in October of 2004. A processor supporting NEON instructions requires only 10MHz to decode an MP3 stream, ARM claims.
Additionally, when ARM introduced NEON, VP of marketing Mike Inglis said "most customers" would combine it with OptimoDE, a data engine IP module based on VLIW technology that can be refreshed with microcode to support, for example, emerging media streaming protocols. "[Neon and OptimoDE] will deliver desktop-quality audio, video, and 3-D graphics using a solution that can be reprogrammed for changing industry standards," Inglis said at the time.
AE makes no claims that its WiFi radio will support future streaming protocols. However, it does say the WiFi will support commercial Internet radio. According to AE's FAQ about the WiFi radio, "Future 'subscription-based' internet radio services will be available on a pre-pay or pay-per-access basis as they come on-line." VLIW DRM, anyone?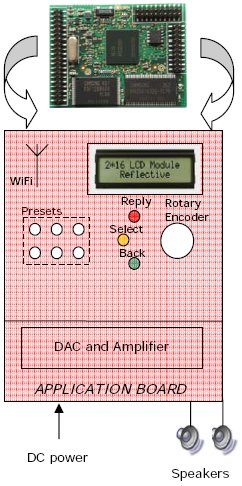 The Barracuda module measures 2.4 x 1.8 x 0.24 inches, putting it among the very smallest of the many tiny SBCs (single-board computers) capable of running Linux. Yet, Reciva says only a few components are required to create a wireless Internet radio based on the Barracuda, as shown in Reciva's diagram, at right.
The Barracuda supports I2S DACs (digital-audio converters), and supports wired and wireless network modules via a USB 1.1 host port.
Reciva supplies its Barracuda module configured with a 2.4.26 Linux kernel, along with a filesystem based on Familiar Linux, an open source distribution that originally targeted PDAs, such as the HP iPAQ h3600. The Barracuda supports a display module with 32 x 126 pixel resolution, slightly smaller than typical PDA displays.
The Barracuda's Linux environment supports dynamic or static IP address assignment, WEP, Hidden SSIDs (entered through a rotary dial), and WPA (the AE WiFi radio seems to support only 128-bit WEP, however). Codec support includes MP3; Real Audio 4, 5, and 8; and WMA 2, 7, and 8. Supported playlist formats include ASX, RAM, M3U, RPM, and PLS. Supported audio stream protocols include RTSP (real-time stream protocol), MMS, and HTTP. Supported WiFi chipsets include ZyDAS's ZD-1211 and Atmel's AT76C50x.
Hardware controls include a rotary dial for volume and stationlist navigation, support for up to 10 station presets, a "reply" key that AE says will allow WiFi users to "respond to internet radio station competitions, adverts, or opinion polls — as and when they become available," and a "standby" key.
Additional details about the Barracuda can be found in a specifications sheet.
Availability
The Acoustic Energy WiFi radio will be "in stores in November," the company says, priced at 200 GBP (currently about $360). Interested consumers can register to receive updates.
---

This article was originally published on LinuxDevices.com and has been donated to the open source community by QuinStreet Inc. Please visit LinuxToday.com for up-to-date news and articles about Linux and open source.