Nov 7, 2002 — by LinuxDevices Staff — from the LinuxDevices Archive — 21 views
IBM and Consumer Direct Link, Inc. (CDL; Costa Mesa, CA) have co-developed the Paron MPC, a unique handheld PC which combines the functions of a PDA, Bluetooth wireless access, cellular telephone, and biometric fingerprint recognition, along with a security-oriented hardware/software architecture. In particular, IBM and CDL claim that the Paron represents the world's first handheld wireless device with built-in biometric user authentication.
Although PDAs and other wireless devices are increasingly being used for corporate and personal applications, adoption of handheld computers for use in high-value transactions or for exchange of highly sensitive information has lagged, largely due to wireless data transmission security and user authentication concerns. To enable its use in security-oriented applications, the Paron includes various security functions, including hardware encryption which safeguards biometric user data as well as wireless transmissions. Additionally, CDL supports the device with customized software packages that target secure government and commercial applications.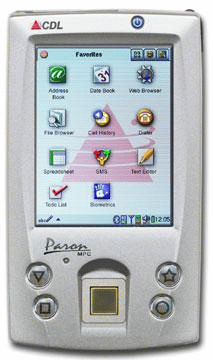 One expected application for the Paron is in authenticating employee access to offices, government facilities, manufacturing sites, or warehouses. Instead of swiping a badge through a reader, the employee would place his/her thumb on the Paron's small fingerprint recognition screen, and a wirelessly connected server would read the fingerprint, identify the person, and grant access if a match is found between the person making the request and the data in the server.
The Paron is already being used for security applications by the Hong Kong Air Cargo Terminal, and the U.S. Air Force, Department of Defense, and National Security Administration are all said to be considering various uses of the device. Other target customers for the device include agencies and organizations requiring secure networking and/or mobile authentication/verification.
The design of the Paron is the result of a collaboration between CDL and IBM's new technology services unit located in Rochester, MN. CDL had already developed an encryption chip, the CDL-82, when it approached IBM looking for assistance in integrating the chip into a handheld product.
Features and specs
Here is a summary of the key features of the device . . .
Hardware-based encryption — based on CDL-82 secure processing, storage functions, and IPSec VPN over Bluetooth wireless connections
Secure biometric user authentication — biometric data stored locally on the device is protected using encryption and tamper resistant technologies. Data on server is protected using proprietary authentication and anonymous database technologies
Bluetooth wireless technology — allows wirelessly connecting the device to an enterprise LAN or to another Paron MPC
Cellular communication — dual band GSM/GPRS (900/1800 and 900/1900)
Large, full-color display — 320×240 pixel LCD display with touch screen
Open platform — based on a powerful and reliable embedded Linux operating system implementation
Applications include PIM, HTML browser, email
Software development kit (SDK) to develop custom applications
And here are the main hardware and software specs . . .
Hardware:
206MHz Intel SA-1110 StrongARM system-on-chip processor

Memory: 32MB or 64MB RAM; 32MB Flash

16-Bit color, 320×240 pixel LCD with backlight

RS232 serial port

USB port, configurable as either 'host' or 'client' device

Bluetooth wireless LAN

GSM/GPRS cellular communication

Biometric fingerprint sensor

Size: 5.4 x 3.1 x 0.8 in.

Weight: 8.8 oz.

Software:

Linux operating system (2.4.x kernel)

GUI environment and PDA app suite based on Trolltech Qtopia and Opera browser

IPSec VPN protocol & security algorithms

IBM DB2E database and Websphere software

Power management to extend battery life
Use of Embedded Linux
CDL selected Linux because "it is an open source and open platform," said Dr. Cuong Do, CDL's chief executive officer.
IBM and CDL co-developed the Linux-based software platform starting from a 2.4.x Linux kernel. The project required IBM and CDL to develop a Linux-based software stack that supported CDL's unique encryption chip and provided fingerprint authentication, GSM communications, and Bluetooth support.
"We feel that Linux will continue to grow its acceptance in the embedded market because of the flexibility that open standards offers customers," Do added. "Linux's cost effectiveness, and Linux's popularity with the next generation of programmers."
---

This article was originally published on LinuxDevices.com and has been donated to the open source community by QuinStreet Inc. Please visit LinuxToday.com for up-to-date news and articles about Linux and open source.