May 22, 2001 — by Rick Lehrbaum — from the LinuxDevices Archive — views
Two years ago, French startup Future Sound Technologies (FST) set about creating "the ultimate music appliance" for today's wired music enthusiasts. Founders Martin Guerin and Eric Morisset envisioned a device that would make it easy for people to fully enjoy their favorite online and downloaded titles anytime, anywhere — without the hassles of being tethered to a PC. At the recent MIDEM 2001 global music trade show in Cannes, France, FST unveiled the outcome of the company's two-year quest: the "Hi-Muse".
The Hi-Muse is an innovative Linux-based entertainment gadget that offers a combination of both standalone and Internet-based music and sound functions. Basically, you can use the Hi-Muse to record, play, and store your music from CDs and other sources; it also provides a simple means by which you can locate, listen to, and store music from Internet radio stations, music portals, and other online sources — without the use of a PC.
"With prototypes of the Hi-Muse operational, FST is now ready to begin licensing its software technologies to device manufacturers and online service providers," says FST product manager Pierre-Antoine Grison. Through this technology licensing business model, FST plans to establish itself as the leader in next-generation digital music solutions.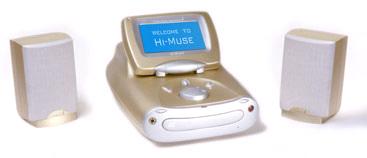 What exactly is a Hi-Muse?
You can get a good idea of what this device is from it's name. Grison says the "Hi" in Hi-Muse comes from hi-fi (i.e., high fidelity); and "MUSE" is an acronym for "My Ultimate Sound Experience".
The Hi-Muse lets you do just about everything possible with digital music files: listen, record, mix, save, and create/edit a library. Essentially, it's an audio product that's based on digital technologies and embedded software. It has the look and feel of a stereo system, but contains an embedded Linux computer which drives a (11 x 6 cm) touch screen LCD display, stores music and other data on a large hard drive, and provides the capability for direct Internet access.
The device can be used three ways. With its built-in CD player and active speakers, the Hi-Muse can be used as a self-contained music system; or, it can be connected to a stereo system like an ordinary audio system component; or, it can be used as a peripheral to a computer, connected via either USB or Ethernet.
Although the Hi-Muse is most in its element when connected to the Internet, it's also quite powerful when offline, thanks to its embedded intelligence and large capacity internal storage. Also, although a broadband connection is nice to have, it's not actually required since the downloading of music can be programmed to take place during night-time hours.
— Continued —
---
Story navigation . . .

This article was originally published on LinuxDevices.com and has been donated to the open source community by QuinStreet Inc. Please visit LinuxToday.com for up-to-date news and articles about Linux and open source.