Apr 13, 2004 — by LinuxDevices Staff — from the LinuxDevices Archive — 30 views
Rio de Janeiro, Brazil start-up Ponto-i has developed a jukebox for public venues that runs on sophisticated embedded Linux technology, but has a retro look reminiscent of jukeboxes from the 50s. The "Digipop" jukebox runs a custom Linux distribution based on Debian, along with LinuxBIOS, and uses a mix of custom and commodity PC hardware.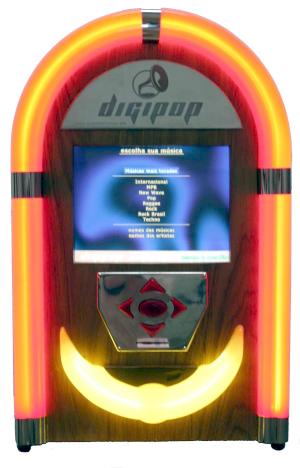 The Ponto-i Digipop Jukebox has a traditional Retro Jukebox look
(Click to enlarge)
Digipop can store up to 20,000 tunes (compressed in Ogg Vorbis or MP3) and soon will deliver video-clips, according to Ponto-i owner Andre Dias. Sound and video ports enable venues to connect Digipop to existing sound and TV systems.
The jukebox includes a wired, remote serial pinpad that can control the machine remotely. For example, a bartender could use the pin pad to add credits to user accounts, which are identified by cards with barcode stickers. Ponto-i sells barcode cards for 50 cents each, printed with the venue's logo.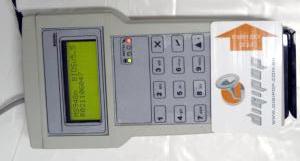 A pin-pad lets cashiers add credits to customer cards, and remotely control the Jukebox
(Click to enlarge)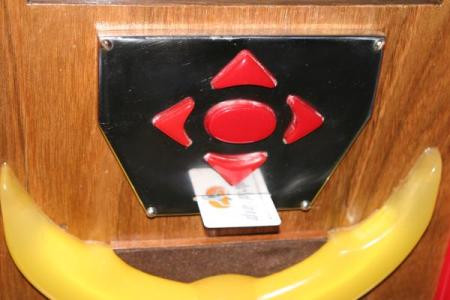 A barcode reader enables the Digipop to track users and remember their preferences. The five buttons let users flip between albums and select songs
Digipop tracks the most popular song selections, and keeps a Top 30 list.
Music can be added to the machine using normal CDs or, in the near future, be downloaded from Ponto-i's server through ADSL.
Digipop includes software to normalize the volume of each song to a constant volume. An equalizer can store venue tone setting preferences. The display can produce visuals that move in time with the music. The jukebox can also display video or still images when idle.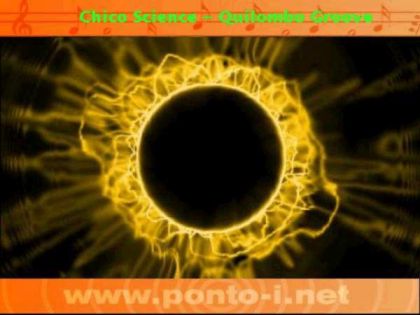 Digipop graphics react to music
Ponto-i expects to deploy 1,000 Digipop machines in the next two years. The five-year old company also sells a home version of Digipop, and listening stations for music stores.
What's inside?
The Digipop measures 31 x 19 x 18 inches. It uses a commodity PC motherboard with an AMD Duron processor running at 1.4GHz. The system includes 256MB of RAM, and boots from 8MB of DiskOnChip with LinuxBIOS.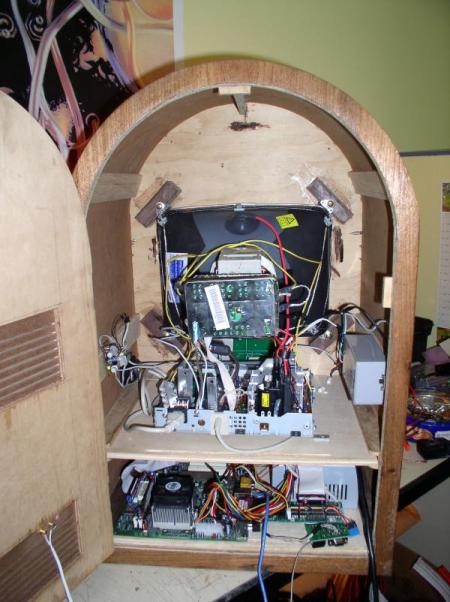 The Digipop's back door
(Click to enlarge)
According to Dias, LinuxBIOS was "not easy too, until we used a third party SDK."
The Digipop's Linux implementation is based on Debian 3.1, and Linux kernel 2.4.21. It includes a tiny login environment based on busybox 0.6.0, "so we can provide maintenance when the harddisk fails," says Dias.
The device uses the parallel port for button I/O, and the keyboard port for barcode reader input. An Ethernet port provides a broadband connection over which songs can be downloaded (in a version coming soon). A serial port with an RS485 port connects a Pinpad, used by the cashier to add credits to customer barcode cards. The jukebox also includes sound and video-out ports.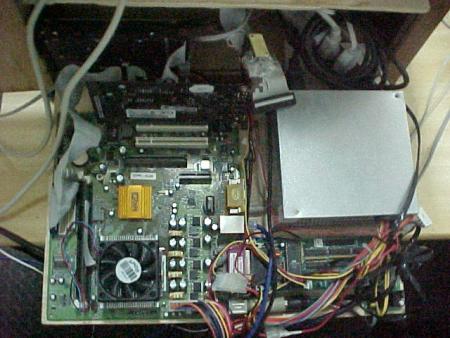 Digipop's Linux system
(Click to enlarge)
The custom graphics system uses Simple DirectMedia Layer (SDL) on top of a framebuffer, and processes XML description pages sent by the applications, "Like a CGI and HTML, but producing 60 frames per second," says Dias.
Why Linux?
According to Dias, "At the time we started the company (1999), we considered DOS and FreeBSD. Windows was not an option, as it was very unstable and there was no Windows CE yet. We chose Linux for its drivers. It was the best choice. In fact, Linux has evolved so fast that whatever advantage any other OS could provide has been equaled or surpassed by Linux. Sometimes we had to start making kernel and Xfree changes just to discover later on someone had made it, and better! I think if we started now with Linux, it would take less time to achieve the same results. Linux is just more mature."
Dias, who describes his title at Ponto-i as " Manager/Product Manager/Owner (jack of all trades)," says the company handled the Linux port and software development in-house because, "We had no money at all to contract someone else."
Dias adds "And, because we thought it was an important knowledge for the company in the long run, and because we could. But it has consumed a lot of time. If I had the money, I would contract."
According to Dias, drivers and kernel issues poses the biggest development headaches. However "Most of them have been solved by the community with time."
Dias predicts a bright future for Linux in embedded systems. "I guess anyone starting out in the field will consider Linux THE choice."
Availability
The Digipop is available now in Brazil for about $2,800. Ponto-i may reduce the price and export pending additional funding.
---

This article was originally published on LinuxDevices.com and has been donated to the open source community by QuinStreet Inc. Please visit LinuxToday.com for up-to-date news and articles about Linux and open source.