Aug 16, 2004 — by LinuxDevices Staff — from the LinuxDevices Archive — 1 views
The Qorvus Qnode+ Wireless Mesh Router is a Linux-based 2.4GHz wireless access point and mesh node/repeater suitable for indoor or outdoor use. The $1,000 units are said to be self-configuring and self-healing, and can be distributed through a community to enable pervasive Internet access through a single Internet gateway.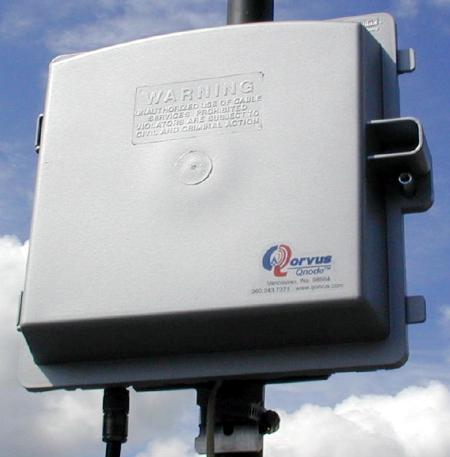 The Qnode+ can serve as a NAT/DHCP Internet gateway or WDS/AODV mesh repeater
According to Qorvus, the Qnode+ provides seamless roaming Internet connectivity, with data packets able to hop "1000s of feet" from one Qnode+ to the next, until reaching an Internet gateway. The device is said to enable rapid deployment of wireless networks that feature consistently high signal strength.
Qorvus President Tom Sharples explains, "The mesh network, once installed, is self-configuring and self-healing. However prior to setup and installation, the Qnodes themselves are not self-configuring (although for basic applications we have a set of defaults that work in many situations). We gather as much client info as possible at the time of the order, and ship the Qnodes out pre-configured so that they are reasonably close to plug-and-play to the client's specifications. Their easy remote manageability via the net allows us to complete the mesh setup from our headquarters in almost all cases."
The Qnode+ supports centralized management using SNMP, or using a sophisticated web based configuration tool developed by Qorvus. In addition to serving as a NAT/DHCP AP (access point) and repeater, it can be used in VoIP (voice over Internet protocol) networks thanks to IP tunneling and QoS (quality of service) support.
According to Qorvus president Tom Sharples, the Qnode+ powers mesh networks in "townships and small ISP's" in seven US states and several foreign countries, including a representative "pervasive-to-laptop" installation in Stevenson, Wash.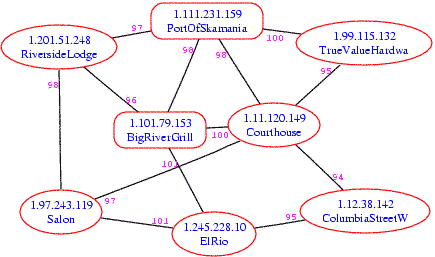 Laptop users can access the Stevenson, Wash. mesh network anywhere in the 1-mile historic downtown — with all traffic routed through the Internet gateway at the Big River Grill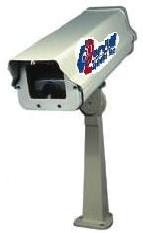 In addition to the Qnode+ mesh AP/repeater, Qorvus also sells mesh cameras (pictured at right), which can be used along with Qnode+ repeaters in non-Internet connected applications. According to Sharples, "Our systems are being tested to provide video of operating oil-well pumps and 'intelligence at the edge' for updating older SCADA and industrial control devices located near the oil jacks, in a large Southern California facility."
What's under the hood?
The Qnode+ is housed in a rugged, 12 x 12 x 4.5-inch mini-ITX case with Faraday-cage RF (radio frequency) shielding. The mounting plate and bracket for the CPU and case are machined-aluminum, and the mounting screws are aluminum and stainless steel. The case itself is high-impact polyethylene (auto bumper material) which has been coated with conductive material inside and silver reflective coating outside. Sharples says the entire system is "not only weather and waterproof, it's light (5 lbs) and will float for quite some time if accidentally dropped into e.g. a lake or river. This makes them great for marina use, in sharp contract to commonly used heavy-metal NEMA cases that not only corrode, but pick up the sun's heat and winter cold to an extreme degree and pass it on to the interior electronics."
The case also includes an "enclosure-traversing heat sink," and is sealed with conductive, weather-resistant gaskets "designed to meet FCC Class A and European CE regulations for emissions and high reliability."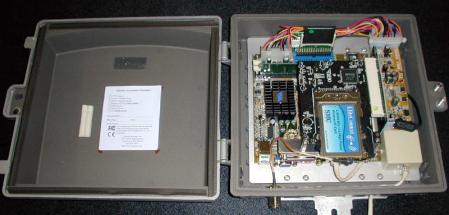 The Qnode enclosure is so weathertight, it floats
(Click to enlarge)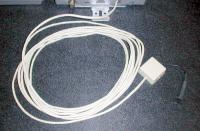 The device connects to a 12VDC power injector and optionally to an Internet gateway through a single supplied 25-foot PoE
(power over Ethernet)
cable. The device includes a cable stress relief feature.
The Qnode+ is available with client-specified components and radios, but the standard configuration uses a VIA Eden mini-ITX board with a 64MB CompactFlash IDE boot device and 128MB of SDRAM. The stock radio is a 200 mw part from SMC.
Despite the use of relatively inexpensive commodity PC components, rather than ruggedized embedded parts, the Qnode+ has proven itself reliable in harsh outdoor environments, according to Sharples. "[One] area on the Columbia River Gorge can have heat and humidity up to 102 F and cold down to around 17 F, with glace ice and 50 mph wet wind and rain squalls. Even in this rough environment, our Qnodes have held up very well, mainly due to their inherent high quality and the care we took in designing the case for proper shielding, weatherproofing, mounting, grounding, and ventilation. We've only lost one at a customer site (actually just the PCMCIA radio) due to lightning nearby. That unit had been installed on a 200 ft. tower without a lightning protector."
Software side
The Qnode+ is based on modified implementations of:
The National Institute of Standard's AODV (ad hoc on-demand vector) routing technology, which is available as a loadable Linux kernel module
Locustworld Linux, a software stack that also powers the Meshbox access point.
The device also supports WDS (wireless distribution system) mesh networking, in which devices can be configured to act solely as repeaters for increased throughputs. "With respect to WDS, we use it but not in its standard 'bridging' mode, where it halves the throughput with each hop by creating collision domains. When wds is combined with AODV routing and hostAP mode, the throughput decreases by only about 15% for each hop," notes Sharples.
According to Sharples, the Locustworld Linux mesh software was "anayzed in excruciating detail, heavily bug-fixed, and finally branched with the addition of our management tools" before being deployed in the Qnode+.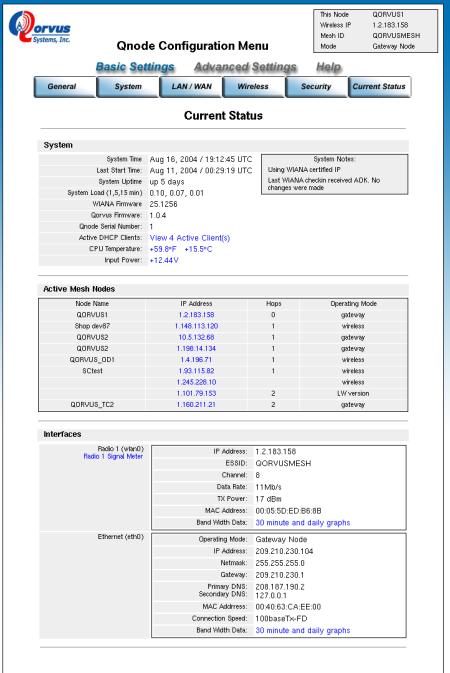 The Qnode+ administration interface
Qorvus developed its management system in-house, according to Sharples. It is backwards compatible with Wiana "for clients who want to use that service as a statistics gathering tool," says Sharples. However, it provides much additional functionality. "Unlike Wiana, it lives in the Qnode itself, and supports complete real-time management of each device via http to the public gateway IP, VPN, or vtun initiated from within the mesh network through the gateway firewall for ultimate security. In addition, it includes several capabilities Wiana doesn't offer, such as frequency-agile fail-over to multiple gateways (see the Prefered Gateway function), stand-alone built-in Radius, true Walled Garden and programmable splash-redirects and advertising stream support, and so on," adds Sharples.
Availability
Complete Qnode+ systems are available now for about $1,000.
---

This article was originally published on LinuxDevices.com and has been donated to the open source community by QuinStreet Inc. Please visit LinuxToday.com for up-to-date news and articles about Linux and open source.