Sep 5, 2003 — by LinuxDevices Staff — from the LinuxDevices Archive — 1 views
Quorum Tools Ltd has shipped its first product, an elegant electronic group whiteboard for collaboration based on embedded Linux.
What it does
Quorum is a very simple-to-use electronic tool that helps people work together in a meeting room. It gives everyone a tablet to write on, and then combines what everyone draws into one image which it displays on a projector. Quorum's Senior Software Engineer Simon Poole describes the product as "an electronic-whiteboard made more personal and democratic."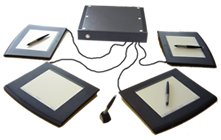 Quorum's "Quorum" collaboration tool
"Everything you write on Quorum is saved, and can be accessed afterwards through the built-in web-server," says Poole. "You can review what you drew or wrote in a much simpler way than, say, having to refer to flipchart sheets."
Quorum also pretends to be a network printer, according to Poole. "Anything you 'print' to it from a PC is saved and can be called up during a meeting. You can then draw or write over the top of the image, and Quorum will save your (and everyone else's) annotations."
Finally, Quorum's Web interface provides a live view to remote partipants using web browsers, enabling them to draw and point with their mouse.
Under the hood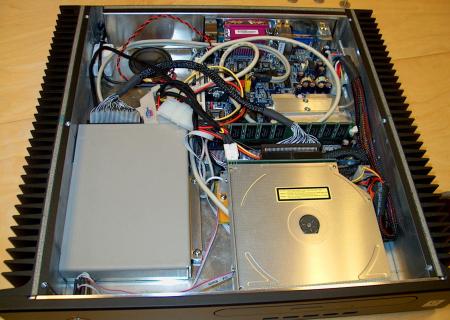 Quorum, inside view
"Quorum is relatively high-spec'd for an embedded device," according to Poole, "Due to the intensively graphical nature of what it has to do."
CPU details

VIA EPIA-M10000 motherboard (mini-ITX)
1GHz VIA C3 (Nehemiah) CPU
silent fan-less cooling

RAM
boot device
I/O

Front Panel:

Five front-panel USB connectors for supplied Wacom Tablets (208x175mm active area)


Quorum, front view

Back Panel:

Quorum, back view
Software
Quorum runs SignOS Linux, a custom implementation developed internally using Linux Kernel version 2.4.21. SignOS Linux is targeted at network-connected display appliances and was first used in the Steelcase RoomWizard also developed by the Appliance Studio. Poole says that SignOS provides a robust platform for single-function devices, with simple web-based administration and configuration.
The Quorum's GUI is implemented in Java (Sun JRE 1.4.1), according to Poole, and runs without a window manager on XFree86 4.1.0 running on the framebuffer. Additional interesting software includes an Interbase SQL database and Apache Tomcat 4.0.1 web server (with Java servlets).
Why Linux?
Poole says Quorum chose Linux because, "We need the flexiblity to control exactly what the user experiences. That's how we achieve great ease-of-use. We chose Linux as the most versatile and customizable OS on the market and the most cost-effective solution for low-volume manufacturing."
Poole says his internal staff began four years ago with very little Linux experience, and managed to port SignOS to the target hardware platform and develop Quorum's Linux applications without paying external consultants. He emphasizes that Linux continues to be central to Quorum's appliance engineering strategy.
"We are very pleased with the choice of Linux as the base for our work," says Poole. "We have had a number of very positive experiences getting help from generous individuals, and been able to solve a number of problems ourselves, contributing our fixes back to the open-source community."
"Linux's recent rapid advance in the embedded market speaks for itself, and it is clear to us that the advance will continue," Poole adds.
Quorum Tools Ltd is a recent spinoff from The Appliance Studio, itself a spinoff from Hewlett-Packard. Quorum Tools' first product (called simply "Quorum") is the result, Poole asserts, of years of research and development at the Appliance Studio into how people work together.
"Our strategy is one of extreme simplicity of use," Poole notes, "Allied to a very accurate fit to user needs. We don't believe in superfluous features or functions!"
Quorum is available now direct from Quorum Tools.
---

This article was originally published on LinuxDevices.com and has been donated to the open source community by QuinStreet Inc. Please visit LinuxToday.com for up-to-date news and articles about Linux and open source.