Apr 5, 2007 — by LinuxDevices Staff — from the LinuxDevices Archive — 16 views

SysMaster used embedded Linux to build a set-top box with a dizzying array of audio, video, networking, communications, and data capabilities. The Tornado M10 Digital Media Center runs Linux 2.6.19, and targets phone and IP network operators wishing to offer a wide range of services.
The M10 is meant to attach to consumer TV screens, an Ethernet-based Internet connection, and a standard telephone line. It can optionally be controlled via an infrared wireless keyboard.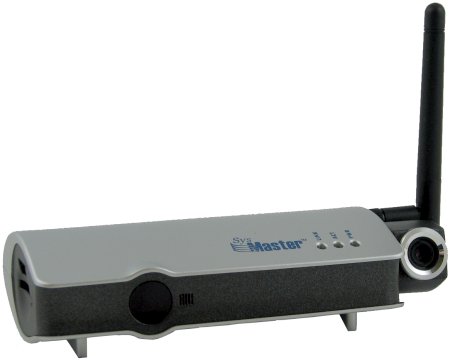 SysMaster M10: it slices, it dices…
(Click to enlarge)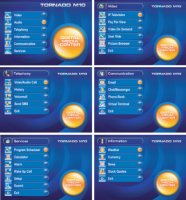 M10's GUI screens
(Click to enlarge)
SysMaster lists key M10 features as follows:
IPTV and video-on-demand support

"High-quality" video requires 1Mbps bandwidth

Digital music and Internet radio delivery
VoIP SIP phone with peer auto discovery

Devices on same LAN can talk directly without a gateway

MPEG4 video and MP3 audio compression
Video conference H.263 support
Media extension center functionality

Access PC on TV screen
Scan PCs for media files

Enhanced voicemail system with unified messaging

Up to 80 messages can be retrieved via phone or web

Online chat and email clients

ICQ, AIM, MSN chat while watching TV

News and weather reports delivery
And that's really just the beginning. The M10 has a built-in mic and speakers, and can function as a speakerphone. With an SD memory card or optional hard disk connected to its USB port, it can record scheduled programs or pause live TV, according to the company. Additionally, the M10's USB port supports X10 devices — although to what purpose is not clear.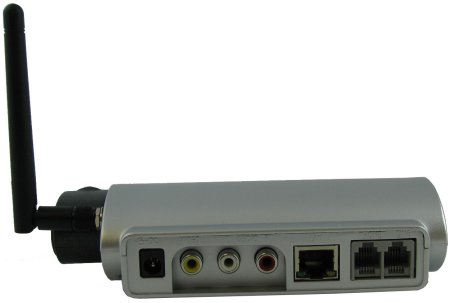 M10 I/O
(Click to enlarge)
I/O ports include:
One FXS Port (RJ-11) (input for external phone)
One FXO Port (RJ-11) (for external phone line)
One Ethernet Port (RJ-45)
802.11b WiFi
One USB 1.1 Port (Type A)
One SD (Secure Digital) card interface
One Video RCA Analog Port
Stereo RCA audio out ports
IR receiver
Webcam
The device measures 6 x 3 x 1.5 (152 x 76 x 38mm), and is powered by a 2-amp, 5-Volt external power brick.
What's under the hood?
The M10 is based on a TI TMS320DM320, which combines an ARM9 application processor clocked at 180MHz with a TI DSP (digital signal processor). The M10 comes standard with 32MB of RAM, and 32MB of Flash.
On the software side, the M10 is based on Linux 2.6.19. The display environment is based on a kernel framebuffer and the Microwindows graphics framework. Other interesting open source software includes FreeType, SSL, PNG, and JPEG libraries.
A range of voice and video decoders and/or codecs are available for the M10, including MPEG4/SP, MP3, G.711 (A-law and Mu-law), G.726 (16/24/32/40 kbps), and G.729. Supported data networking protocols include IPv4 (upgradeable to IPv6), ARP, DNS, DHCP, ICMP, TCP UDP, RTP, DiffServ, and SNTP.
Why Linux?
The company's director of marketing, Martin Yosifov, said SysMaster chose Linux because of its nearly 10-year history of developing under Linux. "We are very glad we used Linux, and will always use it again whenever possible," Yosifov said.
SysMaster achieved its Linux port primarily in-house, with "very limited" commercial support, according to Yosifov. Additionally, it had help from a third-party hardware development partner. Yosifov said, "We heavily relied on their expertise to help us develop low-level device drivers and chip-specific code."
Yosifov predicts a bright future for Linux in the embedded device market. "We believe Linux will be the major OS used in embedded system development because of its small footprint, reliability, power, and available software code," he concluded.
Availability
Tornado M10 Digital Media Center is available immediately, with suggested retail pricing of $170, or $200 with WiFi.
SysMaster was founded in 1998. The company says it uses Linux in all its products — which include VoIP (voice-over-IP) devices, IP-TV set-top boxes, and wireless products.
---

This article was originally published on LinuxDevices.com and has been donated to the open source community by QuinStreet Inc. Please visit LinuxToday.com for up-to-date news and articles about Linux and open source.