Dec 7, 2007 — by Eric Brown — from the LinuxDevices Archive — 110 views

Veracity UK Ltd used Linux to build a tiny, rugged, low-powered master reference clock server primarily aimed at surveillance camera networks. Based on an embedded computer little larger than an Ethernet connector, the TimeNet runs a GPS-synchronized Stratum-1 NTP Ethernet server, for "evidential-level" timestamping… accuracy, the company claims.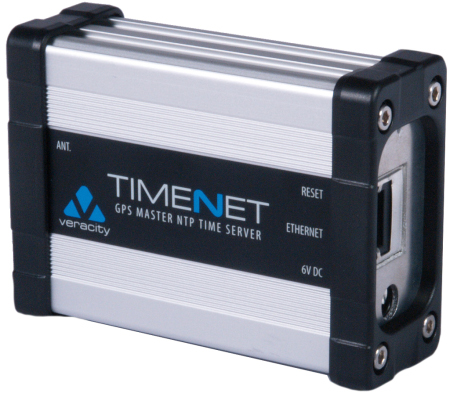 Veracity's TimeNet
(Click to enlarge)
Officially, the TimeNet targets CCTV (closed-circuit TV) surveillance and digital video recording (DVR) applications where sub-second accuracy may be required, yet standard computing equipment may be too delicate or costly. However, the device is useful for any application where Stratum 1 reference time signals suffice for the synchronization of system clocks, says U.K.-based Veracity.
Veracity claims the TimeNet module is far cheaper than traditional timeservers, which typically comprise a high-end rackmount server serially connected to a separate WWV shortwave or GPS receiver. The TimeNet integrates both receiver and server into a tiny, rugged, inexpensive unit suitable for deployment in harsh environments, the company claims.
According to Veracity, many cheap PC-based timing systems used for DVR tend to drift by several seconds a week. The TimeNet, in contrast, is said to continually track the current time signals broadcast by GPS satellites.
Like GPS satellites, and per NTP specifications, TimeNet broadcasts time in UTC (universal coordinated time) format, leaving it up to client devices on the network to account for time zone offsets, daylight savings time policies, and any other regional differences. UTC was formerly called "Greenwhich Mean Time," or GMT, named for the Greenwich observatory near London where pioneering research on longitudinal surveying originated. UTC is occasionally adjusted by adding or subtracting leap seconds to accommodate for anomalies in the Earth's rotation and orbit, with the TimeNet and other Stratum-1 time devices following close behind.
The device ships with Windows client software that can be used to configure its IP address. Once that's done, the device can be accessed via telnet.
What's under the hood?


Digi ConnectME
(Click for details)
The TimeNet is based on Digi International's ConnectME (pictured at right), an off-the-shelf computer squished into a case about the size of an Ethernet connector. The ConnectME used in the TimeNet server has 8MB of RAM, and 2MB of Flash, and is powered by Digi's NetSilicon NS7520 chip, a 32-bit network-attached ARM7 microprocessor.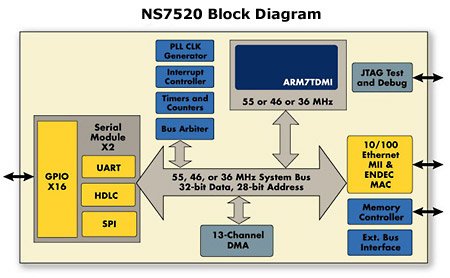 NetSilicon NS7520
Within the TimeNet device, the ConnectME module rides on a custom carrier board designed by Veracity. The processor module appears to share the board with a Sequoia JP13 GPS reciever module.

TimeNet under the hood
(Click to enlarge)


Included antenna
(Click to enlarge)
I/O includes an RJ45 port with LEDs for network connection and activity, and a mini-coaxial connector for the attachment of the included GPS antenna (pictured at right). There's also a power supply jack. The TimeNet's rugged case measures 2.6 x 3.6 x 1.3 inches, and can be wall-mounted, the company says. The device draws less than one Watt, Veracity claims.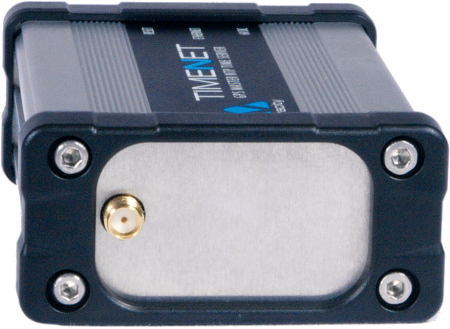 TimeNet (rear view)
(Click to enlarge)
The TimeNet's specifications include:
Processor — Digi Connect ME with 32-bit ARM (55, 46, or 36 MHz)
Memory - 8MB RAM; 2MB Flash
Connectivity — 10/100BaseT Ethernet; RJ45
Time Source — GPS Satellite
Protocol — NTP Stratum 1 Time Server
Accuracy — Ethernet NTP ±100ms overall GPS source ±0.1µs
Antenna — GPS sensor on 3m cable (included)
Status indicators — Green LED (OK or No Lock); Amber LED (network connectivity)
Power — 0.9W; 6V DC External power supply (included)
Dimensions — 2.6 (w) x 3.6 (h) x 1.3 (d) inches (67mm x 92mm x 33mm); with wall mounting brackets width is 86mm (3.4 inches)
Temperature Range — -15C to 75C (5F to 125F)
Relative Humidity — 95% non-condensing
Approvals — CE, FCC, RoHS
Warranty — 3 years
On the software side, the TimeNet runs a 2.4.27 uClinux kernel. The NTP server is based on open source software from ntp.org. A rudimentary Linux shell is provided by Busybox, along with a telnet daemon.
Why Linux?
Selecting Linux was an easy choice, said Chris Sprucefield, Veracity's senior design engineer on the TimeNet project. "Linux provides a well-known and well-behaving platform that gives us all the 'bread and butter' functions, with the flexibility that comes with having the source code," said Sprucefield. "The fact that it works across such a wide range of hardware is a big bonus. It is becoming a standard operating platform, due to its ability to run on almost anything, including the toaster. It will be used again in our upcoming products."
Asked whether using Linux posed any special challenges, Sprucefield replied, "Any problems have not really been with Linux itself, but rather with the lack of supporting documentation from third party component suppliers, a common problem in the Linux industry."
Alastair McLeod, Veracity's managing director, noted Linux benefits such as widespread support in the Internet community and freedom from expensive licensing fees. "It's a real-time OS which is stable and reliable, and we don't need to keep updating the thing," said McLeod. "It's totally under our own control — we can strip down the OS to incorporate only the elements we need. Also, we were lucky enough to have some really good Linux people on our engineering team."
According to McLeod, Veracity is working on some PowerPC-based embedded Linux devices, including an "innovative storage system concept for massive storage applications, especially designed for surveillance storage but also ideal for virtual tape libraries." He added, "Devices like the Digi Connect generate loads of ideas where tiny Linux networked devices could be used to make a lot of systems cheaper."
Availability
TimeNet is shipping now, priced "under $1,000" for end users, said Sprucefield.
---

This article was originally published on LinuxDevices.com and has been donated to the open source community by QuinStreet Inc. Please visit LinuxToday.com for up-to-date news and articles about Linux and open source.