Oct 21, 2003 — by LinuxDevices Staff — from the LinuxDevices Archive — 20 views
G.Mate's $450 Yopy YP 3700 PDA is a flip-open PDA with retro-futuristic styling that features an X windows GUI and fairly ample system resources, making it possible to use a wide variety of open source programs on the device. The device runs an embedded Linux distribution called "Linupy," which comes stock with a Personal Information Manager (PIM) suite and applications for file management, web browsing,… multimedia, office, and game playing. The Yopy has been described as the "most Linuxy" PDA in a review at BargainPDA.com. In this device profile, we provide an overview of the features, functions, and internals of the Yopy YP 3700 based on information provided by G.Mate.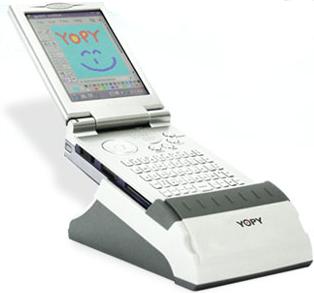 Yopy YP 3700 features retro-futuristic styling
Software
Yopy's PIM suite comprises Task, Schedule, and Contact programs, with Memo, Diary, and Backup programs as well. The Backup utility stores PIM data in non-volatile Flash memory, keeping it safe even if full battery discharge erases all data.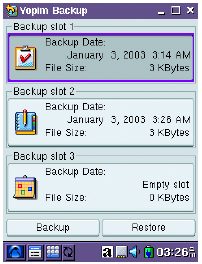 Linupy can back up PIMs data on non-volatile RAM
Additional applications include:
Multimedia (MP3 Player, Recorder, Painter)
YOPY Office (Text Edit, YOPY Word, YOPY Sheet, YOPY Viewer)
Games (Sokoban, Solitaire, Freecell, Xrick, Doom)
Utility (Package Manager, Wallpaper, Xterm, Calculator, IrDA)
Network (Internet Browser, E-mail)
File Manager, MYPIMS (Desktop Connection, PIMS & File Transfer)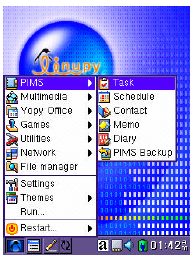 Linupy's launch menu
The Yopy offers three text input modes. There's a miniature qwerty thumb keyboard, a touchscreen keyboard, and handwriting recognition software. The latter supports character, unistroke, and gesture modes. Character mode can be toggled between "continuous" and "separate writing," where three boxes help the program distinguish letter boundaries.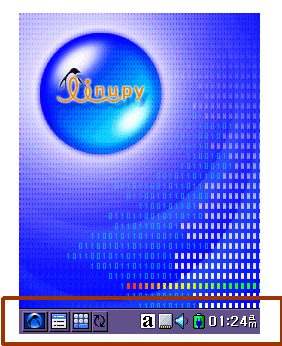 Linupy's task bar features a launcher,
current aps menu, and various utilities
The screen wallpaper can be easily changed using the Paint program or a downloaded image file, but the stock image features the Linupy Linux Logo icon. The "start" button and a launch button on the keyboard are also adorned with the Linupy penguin.
Docking and use with Windows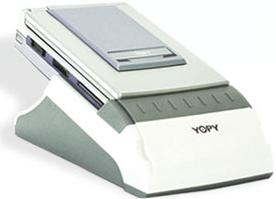 The Yopy docking cradle
The Yopy's cradle uses USB, but the Yopy cannot use the USB power to recharge. Instead, the cradle has a "wall wart" power supply that must be plugged in. A simple recharger sans cradle is sold separately. The Yopy must be powered down, placed in cradle, and rebooted, and cannot be used except through the PC while docked.
In order to connect the Yopy with a Windows PC, a driver must be installed as a network adapter on the PC. The driver is accessed through the "Network and Dial-Up Connections" folder, and is used to establish TCP/IP networking between the devices via a non-Internet-routable address space.
A MyPIMS Windows application is supplied that includes FTP client, backup and restore software, as well as views of Yopy's PIM data such as addresses and calendar. Files can also be transferred using the ftp clients built into the Windows Explorer and command shell.
An OS Update application for Windows can be used to upgrade or modify the Yopy's Linupy operating system.
What's inside?
They YP 3700 runs on a 206MHz 32-bit Intel StrongARM RISC processor. It boots from 32MB of Flash and has 128MB of system RAM memory.
The 3.5-inch front-light reflective TFT touchscreen runs at 320×240, and is lit from the bottom.
A Multimedia Card slot offers convenient file sharing with digital cameras and portable music players that use MMC cards. The Yopy also has a Compact Flash II slot, which supports CF memory cards as well as wireless network cards (a WLAN config program is included). The Yopy has also been reported to work with an Embition GPRS/GSM card.
A scroll button on the side of the case assumes different roles according to the application in focus, serving as a scroller for the browser and file viewer and a volume control for the mp3 player. The device has an external speaker jack, microphone jack, and a 3.5mm ear phone plug. Additional interfaces include RS-232C/USB (client) and an IrDA port supporting 115Kbps transfers.
The Yopy measures 2.7 x 4.1 x 1.0 inches and weighs 7 oz. It includes a non-replaceable 2300mAh Lithium Ion Polymer battery, providing battery life up to 7 hours, G.Mate says.
---

This article was originally published on LinuxDevices.com and has been donated to the open source community by QuinStreet Inc. Please visit LinuxToday.com for up-to-date news and articles about Linux and open source.