Sep 24, 2008 — by Eric Brown — from the LinuxDevices Archive — 60 views

Yamaha has added embedded Linux to the electronic "player piano" add-on it offers with some models. With version 3.0 of the Mark IV firmware, MontaVista Linux controls the 333MHz AMD Geode-based piano, enabling new interface possibilities, acoustic recording, and interaction with Web-based… services.
The Disklavier is an add-on available for a variety of Yamaha piano models, including uprights and grands. A small controller box mounted underneath the keyboard runs a proprietary RTOS (real-time operating system) on a custom LSI (large-scale integration) processor. The RTOS gathers data from sensors claimed able to "continuously trace the hammer position from the time a key is pressed until it's released." By recording hammer and damper positions, the device is able to capture a live musical performance in a special musical data language not altogether unlike the perforated holes that once powered player pianos, except for having obviously much greater dynamic resolution.
Besides sensing hammer and damper positions, the RTOS is also able to control them, and thus can reproduce performances from the data files it captures. The system has an optical drive, and users can purchase classic performances by the greats, as well as recording and playing back CDs of their own performances.
With the Mark IV Disklavier, released in 2004, Yamaha added a second computer running the open source Linux operating system. The Linux system enables the addition of web-based and client/server remote control interfaces, freeing users from having to walk over to the piano to manually load and start playback from optical disks. It also adds acoustic recording, editing, and playback features, as well as integration with several online music service offerings.
The Mark IV Disklavier's Linux system is based on an AMD Geode clocked at 333MHz. It has 250MB of RAM, and an 80GB hard drive. I/O includes Ethernet, WiFi, dual USB ports, serial ports, audio I/O, video in, and stereo speakers. There's also a PCI expansion interface.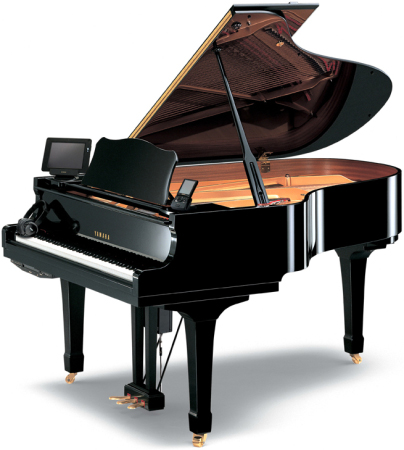 Disklavier Mark IV (mid-range DC3M4 model)
(Click to enlarge)
Thanks to the Linux system, Disklavier Mark IV users can interact with the system using three interfaces:
Disklavier Media Center (DMC) — includes touchpanel display positioned to the upper left of the keyboard, serial-connected function buttons and LEDs, and a USB-linked CD/floppy drive
Pocket Remote Controller (PRC) — WiFi-connected handheld controller based on a Sharp Zaurus running Linux and a Java UI, with 320 x 240 display and built-in QWERTY keyboard
Tablet Remote Controller (TRC) — WiFi-connected tablet based on a Hitachi Tablet PC, running Linux OS and offering Flash playback
Higher level network and sequencer functions of the Disklavier are now controlled by a customized version of MontaVista Linux 3.1, using a Linux 2.4.20 kernel, said Yamaha's Taro Kawabata, Software Group, Piano Division, in an email interview. Additional open source software components include Samba, as well as a PostgreSQL database engine, he added.
"This was the first time we introduced Linux to our products," said Yamaha's Kawabata, adding, "We plan to use Linux in future systems."
Linux software adds recording and Internet radio downloads
The latest version 3.0 release of the Disklavier Mark IV firm, available as an online update, adds several interesting alternative music recording and playback capabilities. With the new firmware, users can capture multichannel audio recordings, and add effects such as room, stage, hall, and reverb. Song lyrics can be displayed on a connected TV monitor or on the TRC tablet controller. Users can transfer recordings in MP3 format to networked PCs or Macs, or burn an album directly onto a CD.
Other new features include:
Download MIDI files via WiFi and play them back on the piano's stereo speakers
Download MP3 music from a Yamaha site
Connect to Yamaha's DisklavierRadio Internet radio service
Playback of DisklavierRadio, and "immediate" purchase and download of live content
Audiophiles may care to know that the Disklavier's piano voice and performance tone are controlled by Yamaha's new Advanced Wave Memory 2 (AWM2) technology, which is said to incorporate its Articulation Element Modeling (AEM) tone generator. AWM2 offers 64-note AWM2 digital stereo sampling (90MB wave memory, 16 bit linear), as well as 6-note AEM polyphony, says Yamaha. The AWM2 technology is also said to provide for 32-note ensemble tone, which offers 16 ensemble parts, XG and GM voice modules modes, 676 "normal" voices, and 21 drum voice kits.
Stated Bill Brandom, Yamaha's Disklavier marketing manager, "The instrument is effectively blurring the line between home theater and live entertainment."
Availability
The version 3.0 upgrade is available now and comes standard with all new Mark IV Disklaviers sold, says Yamaha. Current Disklavier Mark IV owners can upgrade in exchange for filling out a survey, or purchase it for $90. More information may be available here.
---

This article was originally published on LinuxDevices.com and has been donated to the open source community by QuinStreet Inc. Please visit LinuxToday.com for up-to-date news and articles about Linux and open source.