Dec 17, 2010 — by Eric Brown — from the LinuxDevices Archive — 45 views
Applied Micro Circuits (AppliedMicro) announced the first member of a new "PacketPro" family of single and dual-core embedded PowerPC system-on-a-chips (SoCs). Aimed at network and industrial equipment, the Mamba APM86190 and APM86290 feature up to two 1.5GHz PowerPC 465 cores, a DDR3 memory controller, plus advanced power management, security, and concurrency functionality, says the company.
Mamba devices are optimized for multifunction printers, enterprise control planes, consumer network-attached storage (NAS) devices, wireless access points, and industrial applications, says AppliedMicro (formerly AMCC).
Operating system support is not detailed, but previous PowerPC (Power Architecture) SoCs from the company (see farther below) have supported Linux, and the Mamba support ecosystem is said to include Wind River, VxWorks, Free BSD, Enea, and NetBSD. Since VxWorks is an RTOS offered by Wind River, the separate listing here for Wind River would suggest Wind River Linux support.
AppliedMicro's Mamba APM86190 single-core

devices and APM86290 dual-core SoCs feature up to two 1.5GHz PowerPC 465 processing cores with floating point units, says AppliedMicro. Each processor core ships with 32KB I- and 32KB D-cache, as well as 256 KB L2 cache, and offers hardware cache coherency, says the company.
The Mamba SoCs integrate a 1600Mbps DDR3 memory controller with optional ECC, says AppliedMicro. Expansion is supported via one x4 PCI-Express Gen2 and two x1 PCI-e Gen 2 interfaces, and dual SATA 2.0 interfaces are also provided.
Additional interfaces are said to include dual gigabit Ethernet ports with classification and TCP/IP offload. There are also two USB 2.0 hosts with integrated PHYs, as well as a USB 2.0 OTG with integrated PHY, says the company. Operating temperatures are said to offer a wide range of -40 to 230 deg. F (-40 to 110 deg. C).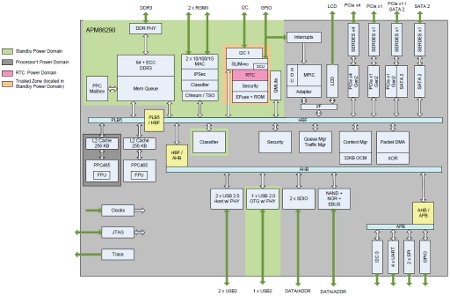 APM86290 (dual-core) block diagram


(Click to enlarge)
So far, the Mamba seems to be a pretty typical PowerPC SoC, not unlike a recent Freescale PowerQUICC or a
mid-range QorIQ SoC
. However, AppliedMicro also adds its Scalable Lightweight Intelligent Management Processor (SlimPro) coprocessor, which provides advanced power management, security, and concurrency features, according to the company.
With SlimPro, Mamba devices can scale down the frequency of one or both cores into doze, nap, sleep, and deep sleep states, with the latter dropping power to as little as 200mW, says AppliedMicro. Typical full operating power consumption is estimated to be less than 10 Watts.
Specific SlimPro features are said to include:
power management with four hibernation modes
asymmetric multiprocessing (AMP)
inline packet processing
look-aside hardware offloads
tamper detection and response circuitry for low-power operation
end-to-end security
RTOS concurrency
regulates peripherals with Wake on LAN, USB, GPIO, or RTC
meets Energy Star compliance, Power over Ethernet (PoE) standards
SlimPro is also said to enable true asymmetric multiprocessing on the Mamba SoCs, with partitions created on each processing core running multiple operating systems independently.
Each partition is said to have its own on-chip resources for I/O, memory, and processing bandwidth and is protected from interference from other partitions. If a partition crashes, a recovering reboot starts while other partitions continue to operate normally, says the company.
A Secure Boot feature, meanwhile, "is fenced off by a cryptographic boundary," allowing manufacturers to store security parameters for authorizing access to a boot loader, associated operating system, or applications. The SlimPro Trusted Management Module is said to protect this runtime code from being copied.
AppliedMicro background
In June, AppliedMicro announced its APM 821xx processor, a Linux-ready 1GHz SoC for NAS devices and media servers. The APM 821xx is said to use just 3.5 Watts, providing RAID 5 acceleration and a TCP/IP offload engine for networking applications.
A month before, AppliedMicro announced what it claimed was the world's smallest PowerPC SoC. The APM801xx costs only $10 in volume, uses a PowerPC core clocked at 400MHz, 600MHz, or 800MHz, ships with a Linux evaluation kit, and enables networked embedded consumer devices that run on less than a single Watt, said the company.
Previous AppliedMicro PowerPC SoCs offering Linux support include the industrial-focused 460EX SoC, which clocks from 667MHz to 1.2GHz.
Stated Vinay Ravuri, VP and general manager of AppliedMicro's Processor Products Division, "Our close collaboration with tier-one customers on PacketPro's abilities has been instrumental in securing design wins for Mamba prior to silicon availability."
Availability
Sample quantities of the Mamba APM86190 single-core and APM86290 dual-core SoCs are available now, and production quantities are expected in the second quarter of 2011, says AppliedMicro. More information may be found on AppliedMicro's PacketPro website.
---
This article was originally published on LinuxDevices.com and has been donated to the open source community by QuinStreet Inc. Please visit LinuxToday.com for up-to-date news and articles about Linux and open source.