Mar 3, 2003 — by LinuxDevices Staff — from the LinuxDevices Archive — 1 views
In a recently concluded survey of embedded developer preferences, Evans Data Corp. (EDC) found that Embedded Linux remains the top embedded OS choice among developers, but that developers are not particularly satisfied with the available Embedded Linux toolsets.
Embedded Linux remains the #1 embedded OS . . .
EDC found that Embedded Linux remains in the #1 position, with more than 50% of respondents indicating that they would be targeting embedded Linux on their current project, their next project, or both — up 5 percentage points from the July 2002 survey results.
"No other OS was even close to 50% (the rating of Embedded Linux) — two were in the 40%'s and then there was a sharp dropoff," commented EDC PR manager Erik Orgell.
. . . despite dissatisfaction with Embedded Linux tools
However, despite the large and growing popularity of embedded Linux among developers, the new survey found that fewer than 20% of developers rated Embedded Linux toolsets "good" and only 5% rated them "excellent". More than 60% indicated that their toolsets are "not very good" or "adequate" thus showing a need for better tools.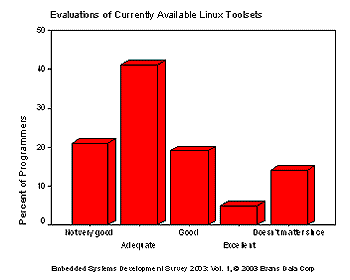 "This [result] is not surprising since the current offerings [for Embedded Linux] lag well behind the development tools and IDEs with graphical user interfaces that are available for embedded development using other operating systems," said Tom Williams, EDC's embedded systems analyst.
"A good part of [the] favorable opinion [of Embedded Linux tools] comes from the availability of the GNU tool chain, which is popular with a large segment of the embedded development community," continued Williams. "While not specifically developed for Linux, the GNU tools have long been popular with UNIX programmers and do form a solid basis for getting real work done in Linux. The status of graphical IDEs still lags the offering for other OSs, but that can be expected to change rapidly."
"Recently, a number of graphic-oriented IDEs have been introduced for Linux, but it is probably too early for them to have made an impact on developers," noted Williams.
Growing number of military/defense related projects
In terms of targeted industries, the survey found military/defense topped the list, with an increase of 26% over the previous survey's results.
"This new survey shows that there has been a renewed emphasis on embedded development by government contracted development shops," Williams said. "Another surprising development is serial switched fabric interconnects which have tripled since the last survey and, although the number of adopters of this new technology is small, this growth might indicate a big future for embedded development."
Other findings
Other findings from the survey of more than 400 embedded systems developers included . . .
Top difficulties developers face when migrating from an in-house OS to an off-the-shelf OS were licensing costs being too expensive, at 24%, and no compelling reason to change, at 17%.

The most important consideration in selecting an embedded operating system was real-time capabilities of the OS, at 33%, which was twice the next closest, royalty-free licensing, at 15%.
The most critical hardware design issues are: performance, at 27%, and cost, at 25%.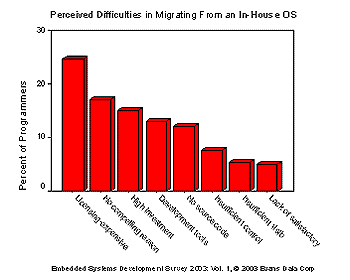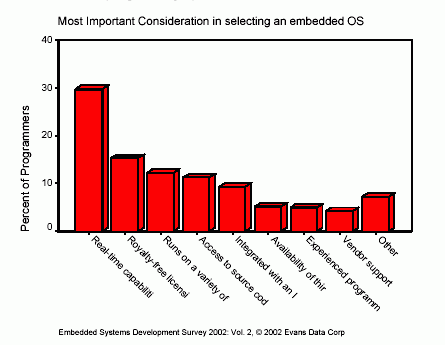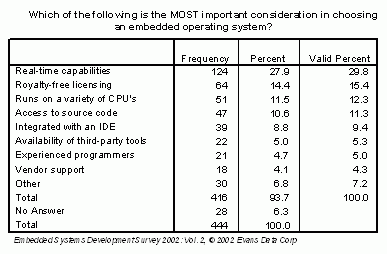 Charts and quoted text above are Copyright © 2003, Evans Data Corporation. All rights reserved. Reproduced by LinuxDevices.com with permission.
---

This article was originally published on LinuxDevices.com and has been donated to the open source community by QuinStreet Inc. Please visit LinuxToday.com for up-to-date news and articles about Linux and open source.