Aug 28, 2000 — by Rick Lehrbaum — from the LinuxDevices Archive — 119 views
In a few months, Screen Media will begin shipping a sleekly designed, easy-to-use wireless web-pad device called the FreePad. Like Ericsson's Screen Phone, the FreePad will offer web browsing and cordless telephone functions.
Another important similarity between the two devices is that both use Embedded Linux as the internal operating system software platform. However, unlike Ericsson's device, which relies on the relatively new Blue Tooth wireless technology to communicate with its base station, the FreePad takes advantage of the more mature DECT technology (for European models, at least) which is used by most European cordless phones.
The FreePad mission
Screen Media's founder and CEO, Carl Henrik Janson, describes his company's vision for the FreePad this way: "Our initial goal for the FreePad, is for it to become a new type of media channel for the kitchen or living room, that allows ordinary people to use the Internet and the services available there. Not only that, but we want to provide additional services that will enhance its usefulness, so that we can replace paper-based services, such as banking, with electronic services. The mission is to provide a device, together with a suite of Internet and telephone services, that takes care of the everyday needs of ordinary people — to check bank balances, play games, read newspapers . . . useful services."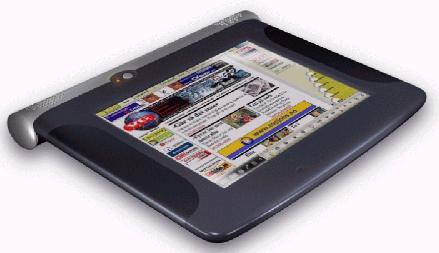 Janson contends that, one of the keys to being successful in marketing the FreePad to "ordinary people" is that it pass the "grandmother test." In other words, "it must be so easy to use, that your grandmother can use it," says Janson. To this end, Screen Media has conducted a series of focus groups to learn how to simplify the FreePad's user interface so that ordinary users can have a successful (and pleasant) experience using it.
What does it do?
From an applications perspective, the FreePad is, in essence, a Linux PC. Itit could, therefore, run any Linux software. However, to meet the company's top priority — ease-of-use — Screen Media has developed a consistent and intuitive user interface which extends across all of the device's application programs. That, plus a suite of basic applications that are expected to provide the most commonly desired capabilities.
Tuning the user interface for ease-of-use was greatly facilitated by availability of source code for both the browser (Opera) and the graphical windowing system (Nano-X). Other critical requirements, which Janson says have all been achieved, include:
Fast startup — the FreePad is ready to access the 'net within 6 seconds of turning on power, and 1 second is "coming soon".

Quiet, fanless operation — there are no fans, and no spinning hard disks inside. The FreePad uses Flash memory (M-Systems DiskOnChip) instead of a disk drive, and Screen Media has invested significant R&D efforts in minimizing power consumption and, therefore, internal heat generation.

Decent speed — since high processor speed and low power consumption are mutually exclusive, Screen Media worked hard to come up with highly efficient software that would run fast on a modest speed processor. Embedded Linux, the Opera browser, and the Nano-X windowing system were important parts of the solution.
Within that framework, Screen Media and third party service providers are creating a growing family of basic applications that provide commonly desired services for everyday users. Built in applications will include:
Web browsing

Advanced telephone appliance functions

email, fax, and voicemail (answering machine) functions

Personal assistant functions, including contact list, address book, etc.

Smartcard terminal, which will enable secure on-line banking or purchasing

Wireless printing
Future applications and options will include:
Video conferencing with a wireless "FreeCam" camera

Using the FreePad as a home control center

An executive model with a cordless handset
. . . and more.
As mentioned already, Screen Media placed top priority on having all of the FreePad's apps present the user with a consistent screen interface. Here are some sample screenshots that show the general look and feel of the FreePad's user interface: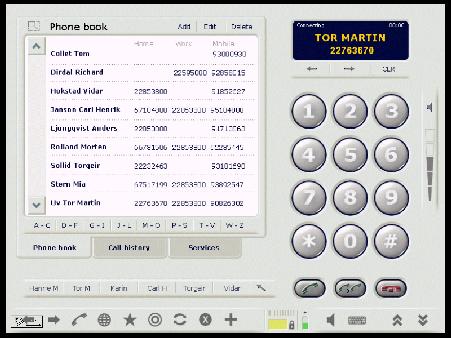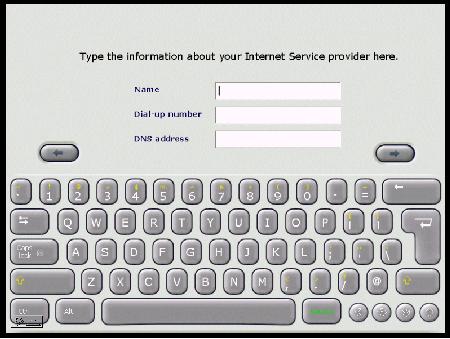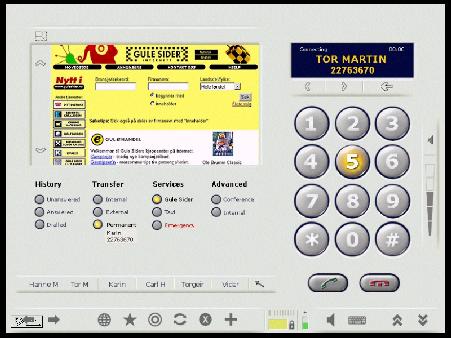 The FreePad will offer some nicely integrated capabilities, such as combining browser functions with telephone functions. For example, you might browse the online yellow pages, locate the number you want, and then simply press a "call" button to automatically place a telephone call to the number you've selected.
Speaking of telephone functionality, there's a mini jack on the FreePad for a headset which lets you use the FreePad like a normal telephone (ISDN or POTS, depending on your external connection). IP telephony will be added later, after which you'll be able to select between high quality ISDN/POTS calls, or lower quality (and lower cost) IP calls.
Specs
Here's a summary of FreePad's specs:
Hardware
LCD screen size: initially 10.4″ with 800 x 600 resolution; 12.1″ LCD as an extra-cost option

User input: touch screen (built in), or external USB keyboard/mouse

Processor: Cyrix Media GX processor running at 166 MHz

DRAM memory: 32MB (standard)

Flash memory: 16MB M-System DiskOnChip (standard)

Wireless technology: DECT DMAP, for Europe (discussed below); 300-500 meter range; .5 megabit/second bandwidth

Boot speed: currently, 6 seconds; production goal, 1 second

External connectors: USB, sound, charging power

Built-in Smartcard reader; compatible with "active Smartcards"

Battery operation: 2 or 5 hours, depending on battery option

Weight: less than 1.5 kg (with standard battery)

Thickness: approximately 2 cm

No fans
Software
Operating system: Embedded Linux

Windowing system: Nano-X (from the Microwindows project)

Browser: Opera
The USB port, which represents the FreePad's only "local" expansion port, allows the device to be used with most any USB device. For example, you can connect a keyboard and mouse, a printer, an external network adapter for Ethernet, or even a USB game controller. Although any USB device should in principal be usable, not all will be supported initially. It's basically a matter of drivers.
The standard battery that fits within the FreePad's thin package provides 2 hours of operation. If you want longer battery life, you can purchase a 5 hour battery. The longer life battery adds a bit (approximately 0.5 cm) to the thickness of the device and also, of course, increases its weight.
FreePad Base station
Each environment where FreePads are used requires a base station. The base station creates the wireless network for the FreePads, and also bridges it to the outside world. In that respect, it acts like a communications gateway. The compact 12 x 12 x 2 cm unit provides parallel and USB ports, facilitating connection to shared resources such as printers.
Several models of the base station are eventually going to be offered, in order to support a range of external world communication standards. These will support analog phone lines, Ethernet LAN, cable modems, ADSL, and ISDN.
What is DECT?
Screen Media selected DECT, as the initial wireless technology for the FreePad, because it is the most common European cordless phone technology. It is cheap, most people already have DECT cordless phones, and it provides a 500 meter range. Compare that with the current 10 meter range of Bluetooth, for example.
Although not used in the US, DECT holds the largest market share for cordless telephony in Europe, and is supported by Siemens, Ericsson, and Nokia. DECT uses the European 1.8 GHz wireless communications band. In the US, an alternative option is offered by the 2.4 GHz 802.11 wireless band. DECT's bandwidth, currently .5 megabit/sec, is expected to increase to 2 megabit/sec in the next year or so. Although the 802.11 wireless standard offers higher bandwidth, Screen Media considers DECT's bandwidth to be adequate for consumer applications.
Dosch & Amand, Screen Media's wireless technology partner, has enhanced DECT to add multimedia capabilities. The enhanced standard, called DECT DMAP, allows a single base station connected to the external phone network to create a cordless environment that supports cordless phones, cordless cameras, cordless printers, FreePads, and laptops with PCMCIA DECT cards. All that, while simultaneously handling both phone and Internet traffic to and from an external network.
Why Embedded Linux?
How and why did Screen Media settle on Embedded Linux as the FreePad's operating system? "We were just two people, at the beginning," explains Janson. "The other guy was a very early adopter of Linux here in Norway. He convinced me that Linux was the best choice." As a result, by the Spring of 1998, Screen Media had begun its software development for the FreePad based on Embedded Linux.
At that time, there were none of the many off-the-shelf Embedded Linux distributions that are around today, so development began from the then current Linux kernel.
Today, despite the availability of multiple specialists in Embedded Linux, Screen Media continues to create their own configuration of Embedded Linux (now based on kernel 2.2.14). The reason for this, according to Screen Media system architect Frode Hernes, is a number of unique requirements that aren't satisfied by off-the-shelf Embedded Linux distributions. Hernes says these include Flash disk storage, system memory utilization, USB support, and the need for a highly robust and fail-safe online software upgrade function.
Nano-X provided an excellent window manager layer that offered both smaller resource footprint and better performance than the normal X window system. Screen Media has worked closely with the Microwindows project of which Nano-X is a part, to add functionality and customize the widget sets. The company intends to release its Nano-X enhancements back to the open source community once they become stabilized.
For the browser, Screen Media turned to Opera rather than to an embedded browser such as ViewML. This approach was dictated by the need for a full-function state-of-the-art browser — one with the very latest Security, JavaScript, CSS, HTML 4, WAP, plug-in support, etc. These features are vital to support the wide variety of home applications envisioned for FreePad users. For example, shopping and banking applications generally require security; entertainment sites typically require JavaScript, Flash, MP3; and news sites have started to use CSS and HTML 4. Screen Media worked closely with Opera Software to optimize the browser for the FreePad. For example, it was important to maximize ease-of-use, and also to eliminate or alter configuration options in order to produce an optimally pre-configured browser.
Looking back on the decision to use Embedded Linux, Screen Media has no regrets. "I am very happy with this decision," says Janson. "We have not seen any other alternatives that could have given us a better solution, either from a technology or from a time-to-market point of view." Although it was necessary to port software supporting DECT wireless technology from Windows NT to Linux, Janson says Windows CE was never a viable option due the lack of basic features plus the limited availability of device drivers. Linux, with its open source worldwide community, was better able to provide what was needed.
Screen Media is certainly not alone, among web pad makers, in its choice of Linux. "I'm happy to see that other players trying to bring web pads to market have also chosen Linux," observes Janson. "This means we are in the mainstream, which is always good."
Although the FreePad's operating system is a standard, open platform, Screen Media does not particularly want users to download "uncertified" software into the FreePad. Instead, to facilitate FreePad upgrades and enhancements, the company plans to create "FreePad Software Central", a website where FreePad users can obtain the latest certified software upgrades and enhancements. This way, the update process can be controlled by Screen Media's servers, and managed in a manner that prevents accidental destruction of the FreePad's internal control software in the event of data errors or data transfer/update interruptions.
Open source software — a double-edged sword?
How does Screen Media feel about using open source software, in general?
Janson says his company "really likes the philosophy around Linux" and plans "to create an open source community for the FreePad and invite people to contribute." "We are excited by what you can achieve in an open source environment, and we see it as an extremely interesting and exciting way of working," adds Janson.
He is, however, concerned about maintaining strict quality standards for users of the FreePad. "There is, in a way, a contradiction between quality [control] and open source," Janson observes. "Not that open source doesn't produce good software. But the belief that software is good is not sufficient! You need to actually verify the quality of the software."
Screen Media therefore will offer its open source development community a means to certify programs for the FreePad. "It's really not very complicated to combine open source with quality assurance," says Janson. "Once you have passed this qualification test process, your software can become available for use as a downloadable option for the FreePad. Maybe those who do this should receive a license fee, or something," adds Janson. But the precise methods to do this remain to be defined.
Company background and future plans
Screen Media was founded by Janson in March, 1998. "In Norway, we don't have much of a hardware development industry, so it was a bit difficult in the beginning to obtain funding," recalls Janson. Eventually he raised enough seed money from the Norwegian government to fund the development of a prototype. Once there was a prototype, it became much easier to secure the additional funding needed to move the FreePad into production. During 1999, the company focused on creating partnerships with key technology and manufacturing companies, and on finalizing the FreePad's hardware and software design.
Screen Media's focus is on project management, marketing and sales, and application software development. For other aspects of the project, Screen Media has formed partnerships with companies in Norway, Germany, and China — so that it has become a truly international effort. The FreePad itself is built in Shanghai, by Inventec. The base station is built in Germany, by Dosch & Amand, with whom Screen Media has formed a strong strategic partnership. Dosch & Amand also plays an important role as Screen Media's supplier of DECT wireless technology.
Screen Media now has 45 employees, and growing, and recently established a small office in California which will focus on developing technology and marketing partnerships for North America.
When can I get one? How much will it cost?
FreePad begin first shipments within Scandinavia, towards the end of this year. The rest of Europe will begin receiving FreePads during the first quarter of next year. North America and other non-European countries will need to be more patient, as shipments there won't take place until the middle of next year. One impediment to serving the US market is the lack of DECT support there. To overcome that obstacle, Screen Media is actively seeking to form technology partnerships with companies having expertise in 802.11 and other wireless technologies used in the US.
In Scandinavia, the plan is to not sell the FreePad, but rather to provide it as part of a subscription with monthly fees and service charges. Elsewhere, the model will depend on the specific region's distribution partner. In any case, Screen Media intends for the FreePad to become a high volume product, and accordingly is working hard to reduce the product's cost drivers. Having it manufactured in Shanghai should help!
One of Screen Media's goal for the FreePad is to sell it as a replacement for business phones. For this market, the company has designed (but not yet productized) a high-end "executive" model that includes a cordless phone handset which docks directly on the FreePad. The idea is for employees to use the FreePad as both an Internet terminal and a telephone appliance. Since it's battery powered, portable, and connects wirelessly to the office LAN (via a base station), the FreePad can be carried to meetings, where it will be useful in accessing presentation materials directly from the corporate LAN.
Quite a nice etch-a-sketch, eh?
Related stories:
Ericsson puts Linux & browser on cordless screen phone
Ericsson cordless phone / Internet appliance runs Linux
Microwindows: a Graphical Windowing system for Embedded Linux
Linux + Microwindows: challenger to WinCE
What is DECT?
Do you have questions or comments on this article? talkback here

This article was originally published on LinuxDevices.com and has been donated to the open source community by QuinStreet Inc. Please visit LinuxToday.com for up-to-date news and articles about Linux and open source.