Apr 26, 2005 — by Henry Kingman — from the LinuxDevices Archive — views

Fujitsu Microelectronics America (FMA) is shipping an SoC (system-on-chip) targeting WiMAX broadband wireless access (BWA) equipment for metropolitan area networks (MANs). The MB87M3400 targets base stations and subscriber access equipment, and can be used in equipment carrying up to 75Mbps of data, Fujitsu claims.
Intel shipped a similar chip, the Pro/Wireless 5116, last week. Both chips are said to comply with the IEEE 802.16-2004 standard for WiMAX (worldwide interoperability for microwave access) devices.
According to Fujitsu, WiMAX will bring cost-efficient, high-quality, fixed broadband connectivity to MAN users. Unlike today's 802.11 MANs, WiMAX MANs will not limit users to line-of-sight connections, Fujitsu says.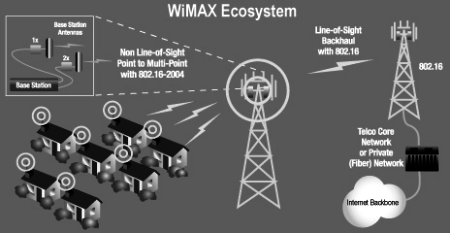 Fujitsu's WiMAX vision
Fujitsu says the MB87M3400 is designed to enable deployment of BWA equipment in licensed or license-exempt bands below 11GHz. It uses an
OFDM
256 (orthogonal frequency division multiplexing) PHY that supports channels from 1.75MHz up to 20MHz, and can operate in TDD (time division duplexing) or FDD (frequency division duplexing) modes, with support for all available channel bandwidths. A programmable frequency selection generates the sample clock for the desired bandwidth. When applying 64QAM modulation in a 20MHz channel, and using all 192 sub-carriers, the SoC's data rate can go up to 75Mbps, Fujitsu claims. Uplink sub-channelization is also supported.
The MB87M3400 is based on a RISC processors of unspecified architecture. The RISC processor implements the 802.16 upper-layer MAC, scheduler, drivers, protocol stacks, and user application software. A secondary RISC/DSP functions as a co-processor, and executes lower-layer MAC functions, Fujitsu says. A multi-channel DMA controller handles high-speed transactions among agents on a high-performance bus.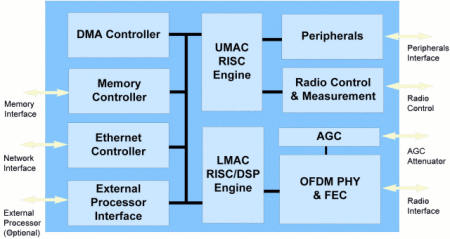 MB87M3400 architecture
The Fujitsu WiMAX SoC also incorporates radio control and all required analog circuits, the company says, along with various integrated peripheral functions. It uses DES/AES/CCM encryption/decryption engines for the 802.16 MAC privacy sub-layer. The chip also includes a memory controller, an Ethernet engine for interfacing to the network, and high-performance DAC/ADC for flexible baseband interface, Fujitsu says.
Reference designs — where's the Linux?
Fujitsu says it plans to offer hardware/software reference designs for the MB87M3400 WiMAX SoC for a number of different configurations, including:
Subscriber stations (diagram)
Subscriber station or base station for HDX FDD (half duplex frequency division duplexing) or TDD (time division duplexing) using external processor (diagram)
Full duplex FDD using external processor (diagram)
The software platform included with the reference designs is currently based on VxWorks, a Fujitsu spokesperson told LinuxDevices.com.
Keith Horn, senior VP of sales and marketing for FMA, said, "This new WiMAX-compliant SoC is the industry's most integrated, modular, scalable, and cost-efficient solution. Our design team has worked very closely with innovative systems developers worldwide to deliver the optimal technology for WiMAX-compliant equipment. Early adopters of our system-on-chip are now set to make 2005 the inaugural year for WiMAX-based customer premise equipment, base stations, and low-cost subscriber stations in a broad range of geographic markets."
Availability
The MB87M3400 is shipping now, packaged in a 436-pin BGA, and priced at $45 in quantities of 1,000. At least one reference design is also currently available. The reference design is scheduled for certification by the WiMAX Forum, Fujitsu says.
---

This article was originally published on LinuxDevices.com and has been donated to the open source community by QuinStreet Inc. Please visit LinuxToday.com for up-to-date news and articles about Linux and open source.