Nov 20, 2007 — by Eric Brown — from the LinuxDevices Archive — 2 views
The Software Freedom Law Center (SFLC) has filed two more GPL infringement lawsuits on behalf of an open source software project. The second-ever GPL lawsuit alleges that Xterasys and High-Gain Antennas failed to honor "source-code transparency," in violation of Busybox's GPLv2 license.
The suits are the second and third ever filed in the U.S. over the GNU GPL (General Public License), widely acknowledged to be the world's most popular open source software license. After the first-ever GPL lawsuit was filed last month, defendant Monsoon Multimedia quickly announced it would settle out of court. In its October 30th settlement Monsoon agreed to remedy its violation, ensure future compliance, and financially compensate the plaintiffs.
As with the first GPL suit, the new cases were filed by the SFLC (Software Freedom Law Center) on behalf of the open source software project that maintains Busybox. Filed November 19th in the United States District Court for the Southern District of New York, the complaints request injunctions be issued against Xterasys and High-Gain Antennas, respectively, and that damages and litigation costs be awarded.
Specifically, the suit claims that the SFLC asked Xterasys Corporation and High-Gain Antennas, LLC to distribute BusyBox source code to downstream recipients, but that they have not complied. Refusing to honor "source-code transparency" is a violation of the BusyBox's GPL version 2 license.
The nonprofit SFLC has alleged that the following Xterasys routers and gateways are in violation of the GPL license: the BM-200, WAP257, XA-2611B, MH350, XR-2408GU, XR-3106, XR-4106, and WR-254. High-Gain is being sued over its HGA-8186HP-1 customer-premises equipment (CPE) wireless router.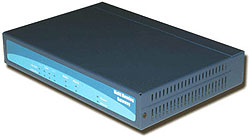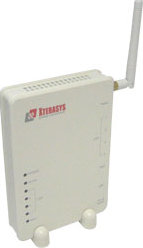 Xterasys XR-4106 DSL/Cable Router (left) and XR-2408GU Wireless Router
BusyBox works by combining tiny versions of many common Unix/Linux GNU utilities into a single small executable. It may well be the most popular utility in the world of embedded Linux, due to its ability to provide many of the most popular Unix command line utilities, without adding greatly to the operating system's memory and storage requirements.
Stated Rob Landley, a developer of BusyBox and a named plaintiff in the lawsuit, "We let companies do what they like with BusyBox on their hardware, and what we asked in return was that they let us reproduce what they've done with BusyBox on our hardware. That's the deal embodied in the GPL."
---

This article was originally published on LinuxDevices.com and has been donated to the open source community by QuinStreet Inc. Please visit LinuxToday.com for up-to-date news and articles about Linux and open source.