Feb 25, 2010 — by Eric Brown — from the LinuxDevices Archive — 23 views
Leopard Imaging is shipping two Texas Instruments DaVinci-based vision/imaging development boards supported by the company's Designsomething.org development community. The $84 Leopard Board 355 and $129 Leopard Board 365 tap TI's TMS320DM355 and TMS320DM365 processors, respectively, support 720 video, and ship with a Linux SDK from RidgeRun, says the company.
When Texas Instruments (TI) announced its TMS320DM365 (DM365) processor last March, it also announced the availability of an HD-ready LI-5M02 camera kit from Leopard Imaging, based on a Micron/Aptina five-megapixel CMOS sensor designed for 720p HD cameras. While the LI-5M02 plugged into TI's DM365 DVEVM evaluation board, the new Leopard Board 365 integrates the DM365 processor directly into a development board of its own. The Leopard Board 355, which appears to have been shipping for a while, offers a similar configuration, but uses the earlier, low-cost TMS320DM355 (DM355) processor.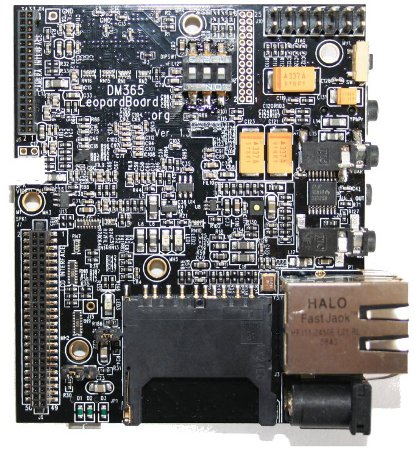 Leopard Board 365
(Click to enlarge)
The two Leopard boards are said to offer all the codecs, peripherals, and video I/O necessary for developing video and vision-based systems capable of 720p, 30fps video encoding and decoding. They both include an image board connection slot that support Leopard Imaging's array of CMOS camera boards, which designed for various camera and video resolutions.
In addition, each of the boards is available with royalty-free open source 2A functions, technical support, user guide, a bill of materials, schematics, PCB layout and gerber files, and the RidgeRun Linux SDK (see farther below). Leopard Imaging's Designsomething.org development community site supports the boards with forums, documentation, and software download pages, says the company.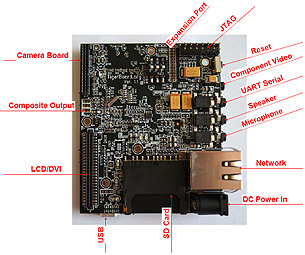 Leopard Board 365 detail
The key difference between the boards is the power of the underlying DaVinci processor. While both incorporate a ARM926EJ-S core, the DM365 is clocked to 300MHz while the DM355 can clock to either 216MHz or 270 MHz. The DM365 also offers an enhanced video processing subsystem in addition to the standard video subsystem, which is also available on the DM355.
The DM365's "on-chip image tuning tool" provides video stabilization, face detection, noise filtering, auto white balance, auto-focus, auto-exposure, and edge enhancement, says Leopard Systems. The enhanced subsystem also offers additional video quality enhancements for image improvements, as well as added intelligent video processing, says the company.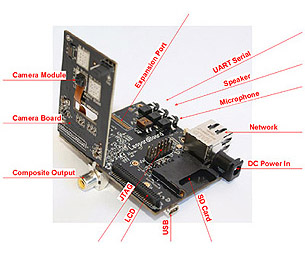 Leopard Board 355 detail
Both boards offer an MPEG4 (at 720p) codec, as well as a JPEG codec that can process up to 50M pixels per second, says Leopard Systems. In addition, the DM365 supplies H.264, MJPEG, WMV9/VC1, and MPEG2 video codecs, as well as MP3, WMA, AAC, and Audio Echo Canceler (AEC) audio codecs, says the company.
Standard features on both boards, which share the same 3.0 x 2.5-inch (76.2 x 63.5mm) dimensions, include 128MB DDR2 SDRAM, expandable to 1GB, and 256MB NAND flash, expandable to 2GB. The boards are also said to offer SDIO-compatible SD memory card support.
I/O includes a 10/100 Ethernet port, and a USB 2.0 port, which can be used for power or expansion purposes, says Leopard Imaging. Other common features are said to include JTAG and serial ports for debugging, stereo audio I/O, and a cross-compatible expansion connector for plug-in camera boards. The 365 model also provides a new plug-in configuration in which the camera board can lie flat against the board rather than sit at a 90 degree angle (see video demo farther below).
Whereas the Leopard Board 355 ships with a VGA camera board pre-installed, it appears that the 365 model may ship without a standard camera board, but supports all camera boards that run on the Leopard Board 355. Leopard Imaging claims that the 355 model supports camera boards with resolutions ranging up to five megapixels, as well as 720p, 30fps video, yet the 365 model may be preferable for working with the higher resolution sensors and video modes. This is suggested by the fact that the RidgeRun API for the 365 adds support for DVI, 720p HD, and five-megapixel sensors — features not available with the 355's SDK.
Both boards provide an LCD/DVI interface and a Composite TV connection, says Leopard Imaging. The Leopard Board 365 is said to add a Component HD out connection that can be extended via an optional DVI add-in board, including a HDMI interface.
RidgeRun Linux SDK
The open source Linux SDK from longtime Davinci software support firm RidgeRun is available in separate configurations for each board. As previously mentioned, the DM365 version adds support for DVI, 720p, and a five-megapixel sensor.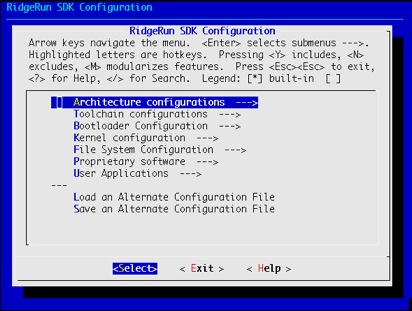 RidgeRun SDK interface
Both kits offer an integrated configuration and build environment, as well as the GStreamer audio and video streaming library. The GStreamer implementation provides features such as audio and video synchronization and streamlined codec replacement, says Leopard Imaging.
Core features of the RidgeRun SDKs are said to include:
Linux 2.6 kernel with real-time patches (kernel version depends on the specific hardware)
GCC 4.1 or up with soft-float ARM processor support or floating point (and NEON) support for ARMv7
uClibc or glibc based toolchain
NPTL thread library (also available in uClibc)
EABI support on ARM targets
gdbserver and gdb for system debugging with debugging support from Eclipse CDT.
Support contract (10 or 60 hours) included
Current fixes, tuning and patches
Oprofile system profiling
Leopard Board 365 demo on YouTube


(Click to play)
Availability
The $84 Leopard Board 355 (LI-LB01) and $129 Leopard Board 365 (LI-TB01) are available now via Arrow, Avnet and Farnell distributors, along with a free RidgeRun Linux SDK, says Leopard Imaging. More information may be found here. More on the RidgeRun SDK may be found here.
---
This article was originally published on LinuxDevices.com and has been donated to the open source community by QuinStreet Inc. Please visit LinuxToday.com for up-to-date news and articles about Linux and open source.