Aug 19, 2008 — by LinuxDevices Staff — from the LinuxDevices Archive — views

At today's Intel Developer Forum (IDF) in San Francisco, the chipmaker announced new SSDs (solid-state drives). The 1.8-inch X-18M and 2.5-inch X-25M target laptops and desktops, while the 2.5-inch X25E, which boasts faster write speeds, targets servers.
(Click here for a larger view of Intel's X-25M and X-18M SSDs)
The laptop and desktop PC SSDs
Intel's new X-18M and X-25M SSDs for laptops and desktops use Micron's MLC (multi-level cell) NAND technology. Offered in 80GB and 160GB sizes, the parts are claimed to be fast and wear-resistant.
Intel says the X-series SSDs deliver sustained read rates of 240MB/sec. — about a third as fast as cached reads from a typical SATA laptop drive, but about five times faster than uncached reads. Read latency, meantime, is measured at just 85 microseconds (0.085 milliseconds) — orders of magnitude faster than the 5.6 to 11.1 millisecond latencies of 5,400 rpm drives. Write speeds are listed at 70MB/sec., which approaches the 90MB/sec. to 100MB/sec. rates typical of fast SATA disks.
Intel claims the X-series SSDs are good for five years of useful life, thanks to "enhanced" wear-leveling algorithms. The parts can handle workloads of 100GB per day, says Intel.
As for power consumption, the X-18M and X-25M use under 0.15 Watts when active, and just 0.06 Watts when idle, Intel says. A really efficient hard drive, such as Western Digital's WD10EACS, might use 4 Watts when idle, 7.5 Watts in operation, and 0.30 Watts in "sleep" mode.
A more detailed comparison of performance compared to hard drives may be available in a Micron whitepaper, here.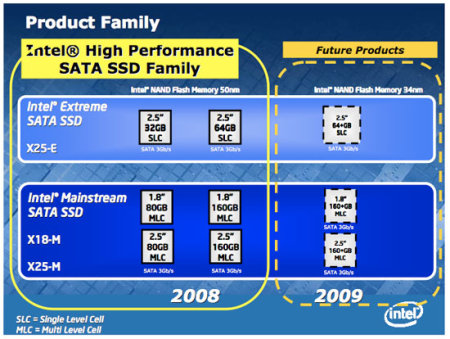 Intel's SSD roadmap
Source: Intel
(Click to enlarge)
The server SSD
Also announced was the X-25E, a 2.5-inch SSD that targets servers. Intel claims it can be a more reliable replacement for existing 15,000rpm hard disk drives. Like the X-18M and X-25M, the X-25E reads data at 240MB/sec., but it is also capable of writing it at an impressive 170MB/sec.
The X-25E, based on SLC (single-level cell) NAND flash technology, will be offered in 32GB and 64GB capacities. It requires 0.06 Watts when idle, and 2.4 Watts when active, according to Intel.
Further information
Intel says the X-18M and X-25M will begin sampling in about 30 days, and will be on sale by the end of the year, while the X-25E will be sampling in about three months. Pricing, alas, was not disclosed.
---

This article was originally published on LinuxDevices.com and has been donated to the open source community by QuinStreet Inc. Please visit LinuxToday.com for up-to-date news and articles about Linux and open source.