Dec 22, 2011 — by LinuxDevices Staff — from the LinuxDevices Archive — 4 views
Intel this year has been both helped and hurt by the booming media tablet space, according to analysts at IHS Isuppli. Sales increased for the chips used in data centers to support cloud computing, but revenue from the company's Atom processor — featured in most netbooks — fell 32 percent year over year in the third quarter.
Intel saw its dominant share of the global microprocessor market increase in the third quarter, with the booming tablet space being both a drag and a boon for the giant chip maker.
According to numbers released Dec. 22 by market research firm IHS, Intel grew its market share to 83.7 percent, a jump of 1.2 percentage points over the 82.5 percent share the vendor had in the second quarter. Conversely, smaller rival Advanced Micro Devices saw its share drop 0.3 percentage points, to 10.2 percent.


Q3 2011 Total Microprocessor Market Share
(percentage of global microprocessor revenue)
Source: IHS Isuppli
(Click to enlarge)
IHS analysts say Intel was both hurt and helped by the exploding popularity of media tablets, particularly Apple's iPad. Consumers over the past year have embraced tablets, including the growing numbers of devices based on Google's Android mobile operating system, which has cut deeply into sales of the once-popular netbooks. The result has been a sharp drop in sales of Atom chips, which Intel rolled out several years ago to meet demand in the netbook space.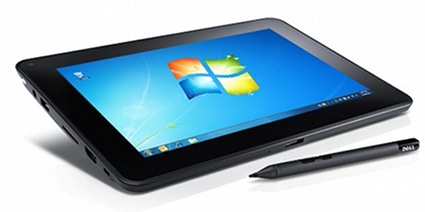 Atom-powered tablets like this Dell Latitude ST apparently haven't been helping Intel's sales much
(Click to enlarge)
However, the rise of tablets, smartphones and other mobile devices has helped fuel the growing demand for cloud computing environments, hugely benefitting Intel and its Xeon server chip business.
"The boom in media tablet sales has packed both upsides and downsides for Intel–hurting its business in netbook microprocessors, but boosting its sales of chips used in data centers to support cloud computing," Matthew Wilkins, principal analyst for compute platforms research at IHS, said in a statement.
"Because of its broad product line that addresses both the consumer and business side of the microprocessor business, Intel in the third quarter managed to outperform the overall market," Wilkins continued, "Even with the company warning that its fourth-quarter revenue will fall short of expectations, the company still is expected to expand its lead in the global semiconductor market based on its strong performance in the third quarter and the rest of the year."
Intel executives earlier this month said they expect fourth-quarter revenues to come in at about $1 billion less than what they had initially forecasted, thanks in large part to the squeeze on the supply of PCs caused by the massive flooding in Thailand this fall. The natural disaster has been a significant dent in the production of hard disk drives — Thailand manufactures more than 40 percent of the world's HDDs — which are critical components in PCs. Intel now is expecting fourth-quarter revenues to come in at about $13.7 billion.
IHS said the Thailand floods will mean almost four million fewer PCs being shipped in the first quarter, falling to 84.2 million units. The firm's pre-flood forecast had put that number at 88 million. Netbooks grew in popularity in 2008 and 2009, as the global economy slipped into recession and consumers were looking for low-cost computing alternatives to mainstream PCs.
Neetbook shipments grew in double digits between 2008 and 2010, according to IHS analysts, who said that they expect 21.4 million to ship in 2011, down 33.5 percent last year. The downward trend will last at least for the next three years, falling to 13.4 million units in 2015.
For Intel, that has meant a hit to its Atom platform, which saw revenues in the third quarter fall 32 percent over the same period in 2010.
IHS' research summary didn't mention it, but adoption of the Atom may have slowed in embedded devices, too. At least, that's our surmise, judging by the plethora of recent product announcements involving AMD G-Series chips, which combine power consumption that's almost as low with graphics processing units suitable for HD video playback as well as light gaming.
However, Intel officials have been aggressively positioning their Atom chips for use in tablets and smartphones, with products hitting the market in large numbers in 2012. Intel executives recently gave researchers at the Massachusetts Institute of Technology a demo of smartphones and tablets powered by the "Medfield" Atom system-on-a-chip (SoC), and said they expect products to start hitting the market in 2012.
While tablets may have hurt Atom sales, the growing demand for cloud computing technologies has boosted Intel's revenues, according to IHS. The analysts said consumer and business spending on the public segment of the cloud space will grow from $23 billion in 2010 to $110 billion in 2015, with demand for servers to power these cloud environments also spiking.
The analysts also noted that despite the continued pressure on the consumer PC market, corporations continue to buy notebooks, which also is helping Intel.
Jeffrey Burt is a writer for eWEEK.
---
This article was originally published on LinuxDevices.com and has been donated to the open source community by QuinStreet Inc. Please visit LinuxToday.com for up-to-date news and articles about Linux and open source.