Apr 20, 2009 — by Eric Brown — from the LinuxDevices Archive — 1 views
Canonical will release Ubuntu 9.04 (nicknamed "Jaunty Jackalope") on April 23. The new release of the fast-growing open-source Linux distro boasts faster boot and resume operations, a new desktop notification service, smoother handoffs between WiFi and 3G service, and Ubuntu's first ARM port,… says Canonical.
Desktop and server editions of Ubuntu 9.04 will be available for free download on Thursday, while the "Netbook Remix" version will be available a week later on April 30, says Canonical. Billing Ubuntu 9.04 as a Jackalope-like hybrid (pictured) that is at home on servers and even embedded devices as it is on the desktop, the Canonical-sponsored Ubuntu project follows the October 2008 release of Intrepid Ibex (Ubuntu 8.10). Prior to that, the last major release was Hardy Heron (8.04), which arrived a year ago.
ARM support touches down
The Ubuntu ARM port was announced in November, and could play a significant role in a new wave of ARM-based netbooks due to arrive starting later this year. Adding to its previous support of 32- and and 64-bit x86 processors, Ubuntu 9.04 now natively integrates an ARM installation for mobile Internet devices (MIDs) and low-end netbooks that run ARMv5EL and ARMv6EL-VFP architectures. The ARMv7 port targets system-on-chips (SoCs) based on ARM's Cortex-A8 and -A9 processor cores, such as new SoCs from Texas Instruments, Freescale Semiconductor, and Qualcomm.


Freescale's Ubuntu-based
netbook reference design
(Click for details)
In February, Freescale showed off an Ubuntu-based netbook reference design (pictured) incorporating its ARM Cortex A8-based i.MX515 SoC. At the same time, rival Linux distro vendor Xandros announced a port of its Xandros distribution to ARM, with specific support for the i.MX515, as well as Qualcomm's Snapdragon processors.
While several desktop Linux distributions have spun off netbook versions over the last year, Canonical has been especially rigorous in expanding Ubuntu into netbooks and other mobile devices. In early 2007, Canonical launched the Ubuntu Mobile and Embedded (UME) project, and in June of last year, Canonical launched a UME-based release of of Ubuntu 8.04 called Ubuntu MID Edition, in cooperation with the Intel sponsored Moblin project. The initial developer release is available for both the Intel Atom and Intel's A100/110 platform, targeting the Samsung Q1U ultra-mobile PC.

Mark Shuttleworth
Early last year, Canonical and Ubuntu Founder Mark Shuttleworth (pictured) predicted Linux dominance in devices. The very next month, Ampro began distributing a Ubuntu Linux derivative with its x86-compatible single-board computers (SBCs) called "Ampro Embedded Linux" (AEL).
Desktop Edition: Fast boots and quick resumes
Pushing a key differentiator from Windows, with version 9.04, Canonical has focused on improving Ubuntu's boot-up times, faster resume from suspend operations, and more power-efficient hibernation, according to a story in our sister publication, eWEEK. Desktop Edition boot time is now as short as 25 seconds, claims Canonical, and users are said to enjoy longer time between charges and faster access after hibernation. In addition to the smoother switching between WiFi and 3G cellular network service, the consumer-oriented Linux distribution now supports more WiFi devices and 3G cards.
Ubuntu 9.04 is based on the 2.6.28 Linux kernel, and includes the new Ext4 filesystem that was introduced in the latest 2.6.29 release. The Ext3 file system is still offered as the default, however. A new integrated notification system is said to combine the notification methods of various applications and present the information "in a simple, unobtrusive manner," says Canonical. The overall UI of the Desktop Edition, meanwhile, has been gussied up with new icons and artwork, says the company.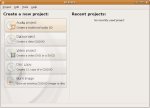 Gnome 2.26 and Brasero app
(Click to enlarge)
The new Ubuntu ships with version 3.0 of the Microsoft Office-compatible OpenOffice.org. Other updates include X.org server 1.6, as well as the KDE 4.2 and Gnome 2.26 desktop environments.
Gnome 2.26 is touted for additions that include the Brasero CD burning application (pictured). It is also said to offer improved handling of multiple monitors with an updated gnome-display-properties function.
Netbook Remix and the Server Edition
The Ubuntu 9.04 Netbook Remix, which is aimed specifically at netbook installs, offers an enhanced interface, says Canonical. The netbook version also benefits from Ubuntu 9.04's general enhancements, including the faster boot performance and improved power management techniques. With Ubuntu's ARM support, meanwhile, the coming wave of ARM-based netbooks should be well supported. (There is no sign so far of any support for the rumor that Canonical is considering switching its netbook version from Gnome Mobile and the Hildon framework to Nokia's Qt stack, but it may be early yet.)
Users can load Remix to a USB flash drive directly from Ubuntu.com and then install it on a wide variety of netbooks, including the following tested models:
Acer Aspire One
Asus eeePC 900 and 1000
Dell Mini 9
HP Mini Mi
Toshiba NB100
The new Ubuntu 9.04 Server Edition, meanwhile, debuts a preview version of Canonical's Ubuntu Enterprise Cloud (UEC) technology, and it offers other features associated with cloud computing and virtualization. The UEC technology uses an open source program called Eucalyptus that is said to enable a company to deploy and test their own private, in-house cloud that matches the Amazon EC2 API. (For more on the desktop and server features of Ubuntu 9.04, please see the coverage at our sister site, DesktopLinux, here.)
Stated Jane Silber, COO at Canonical, "With access to the latest office productivity suite, support for Skype and Adobe Flash, and faster boot times, we're confident that Ubuntu 9.04 Desktop Edition will see more people join millions of others and make the switch to an open platform."
Stated Mark Shuttleworth, CEO and founder of Canonical, "It's an extraordinary time in the PC industry and 9.04 is an extraordinary release. We think it's our best release ever."
Availability
Desktop and server editions of Ubuntu 9.04 will be available for free download on Thursday, while the updated Ubuntu Netbook Remix will be available on April 30, says Canonical. More information on Ubuntu 9.04 may be found here.
The eWEEK story on Ubuntu 9.04, focusing primarily on the Server Edition, may be found here.
---

This article was originally published on LinuxDevices.com and has been donated to the open source community by QuinStreet Inc. Please visit LinuxToday.com for up-to-date news and articles about Linux and open source.