Nov 20, 2009 — by Eric Brown — from the LinuxDevices Archive — 19 views
Klaus Knopper has released version 6.2 of his Debian-based live-CD Linux distro. Based on Debian 5.0 ("Lenny"), the new version uses the lightweight LXDE as the default desktop, and includes a new version of the ADRIANE talking menu system for vision-impaired users.
The live-CD version of Knoppix, called Microknoppix, offers a complete rewrite of the Knoppix boot system, and includes a number of bug fixes and updates, says Knopper in his release notes. The release is said to be based on the "Testing" and "Unstable" branch of Debian 5.0 ("Lenny"), as well as Linux Kernel 2.6.31.6, and X.org 7.4.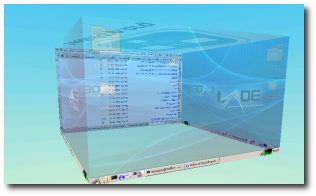 Knoppix 6.2 featuring LXDE desktop with Compiz 3D extensions
Knoppix ("Microknoppix") 6.2 is said to offer features including:
High compatibility is continued with the Debian base, says Knopper.
The boot procedure is accelerated and runs independently from the usual SysV bootscripts, enabling multiple tasks of system initialization run in parallel.
The LXDE desktop is available, featuring short start times, low resource requirements, and thanks to its GTK2 base, optimized compatibility with the Orca screen-reader.
The software footprint has been greatly reduced, once again enabling remasters based on the CD.
The DVD edition includes KDE 4.3.3 and GNOME 2.28 desktops, "with many applications originating from these popular desktops."
Network configuration is now handled by NetworkManager, with nm-applet in graphics mode, and textual GUIs in text mode (compatible with Debian's "/etc/network/interfaces" specification).
A persistent image for saving personal settings and additionally installed programs is supported on boot device, optionally encrypted with AES/256bit.
ADRIANE (Audio Desktop Reference Implementation And Networking Environment) talking menu system moves to version 1.2, featuring a graphical environment with talking programs and arbitrary magnification using the Compiz 3D desktop, the new name for the merger for the former Compiz and Compiz-Fusion.
Knoppix, which we last covered with version 5.0, is one of the leading Live CD and USB-boot Linux distributions. According to O'Reilly's book, Knoppix Hacks, written by Kyle Rankin, Knoppix was developed by Klaus Knopper to avoid having to lug a laptop to his various tech projects. He made a bootable Linux CD distribution so he could take his favorite open source tools with him wherever he needed to work, without needing to install software on every new computer. Eventually, he improved the hardware support to the point that Knoppix could recognize and automatically configure much of the hardware it encountered.
Today, Knoppix is commonly used by independent software vendors wishing to create demonstration versions of their wares. Knoppix is also fairly easy to install on CompactFlash, as described in this Knoppix-based solid-state CF music recorder project. Several Live CD distros are based on Knoppix, including Dreamlinux.
Availability
Knoppix 6.2 is available now, with release notes and downloads, here.
---
This article was originally published on LinuxDevices.com and has been donated to the open source community by QuinStreet Inc. Please visit LinuxToday.com for up-to-date news and articles about Linux and open source.