Apr 30, 2008 — by Eric Brown — from the LinuxDevices Archive — 9 views

Chumby Industries announced a partnership with Albino Blacksheep to provide Flash-based games for the Linux-based Chumby "alarm-clock" computer, leveraging its motion-sensing capabilities. Meanwhile, Chumby's development site is growing, providing a forum$ wikis, and other information for hacking the Chumby's open-source hardware and software.
(Click for larger view of Tumbler game on the Chumby)
The $180 Chumby was released in small quantities in November, and shipped in volume in February. Designed for the bedside, desktop, and kitchen counter, the alarm-clock sized Chumby offers hackable open source hardware, software, widgets, and even outerware, which comes standard in multiple shades of Italian leather.
The Chumby displays a continuous stream of rotating, personalized "push content" channels from the subscription-free Chumby Network. The Chumby website offers widgets such as music, games, movie previews, customized alarm clocks, and various Web-based content, all subsidized by advertising. Since its launch, Chumby has added The New York Times podcasts to its list of content, which also includes offerings from CBS, MTV Networks, MySpace, The Weather Channel Interactive, AOL's SHOUTcast, and Scripps Networks. Users can also develop their own "widget content" using the Chumby's hackable, open-source Linux development platform and share it with other Chumby users ("chums") on the site.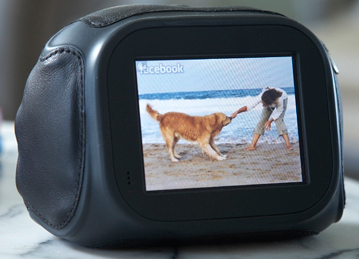 Chumby in black leather
Working with Canada-based
Albino Blacksheep
and U.K.-based game developers Everybody Panic!, Chumby has converted five Albino Blacksheep games to support the device's Kionix KXP74-1050 3-axis motion sensors. Games include Bounce, Missile 3D, the Line Game, Chameleon, and Tumbler (pictured at top). In addition to using the accelerometer for interactivity, the games also take advantage of the Chumby's touchscreen. By just rotating or shaking the device, users can perform movements such as navigating through tunnels and chasing balls. Chumby has also added an animation widget, enabling access to Albino Blacksheep's large collection of Flash animation classics and user-generated Flash content.
The Chumby Network offers some forty games, but until now only one — Chumby's simple Chumball — has supported the accelerometer.
"The Albino Blacksheepgames were originally designed to use a mouse, but with the Chumby versions you can use the accelerometer as a steering mechanism," said Stephen Tomlin, founder and CEO of Chumby Industries, in an interview. "For example, with Missile 3D, you are a missile and you can change your direction by tilting the Chumby."
A growing Linux/Flash development community
Chumby appears to have followed through on its promise to open up its hardware to the Linux development community. Over the last two months, the start-up has posted consderable technical details on its developers site. There are also several pages of forum entries, as well as schematics and other materials for developing Chumby hardware add-ons, software, and widgets.


Chumby developer site
reaches out to Linux hackers
(Click to enlarge)
A number of hardware details have been filled in since launch. The Chumby is based on a 350MHz Freescale iMX21 ARM9 processor with 64MB of SDRAM and 64MB of NAND flash, says the company, and there is also a STMicroelectronics STR711FR0/1 ARM7 "crypto" processor. The device is equipped with a 3.5-inch touchscreen with 320×240 resolution based on a Texas Instruments TSC2100 controller with stereo DAC.
Measuring 5.5 x 4.25 x 3.25 (base) and 2.25 (top) inches, the Chumby offers two external USB 2.0 ports, as well as an internal USB port used to connect a Xterasys 3135G 802.11g USB WiFi adapter. The device also includes MP3-ready audio with stereo 2W speakers and headphone output, as well as the Kionix motion sensors. There are no embedded haptics for tactile feedback, but the device includes embedded squeeze sensors for additional interactivity.
According to industry veteran Tomlin, who is also a managing member at Avalon Ventures in San Diego, the headquarters of Chumby Industries, Flash-based widget development is the area drawing the most interest. "The number of widgets is growing fast, to about 700, and they're mostly generated by the Chumby community at large," he said.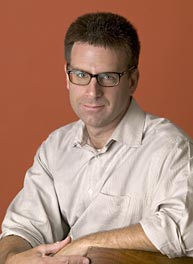 Chumby CEO Stephen Tomlin
Tomlin (pictured at right) admits that selling a device with a new format like the Chumby is "a bit of a marketing challenge," but he says he's happy with the customer response so far. Yet, the Chumby is just one of numerous Linux-based devices that will run the Chumby Network, he said. "Our goal is not just to sell Italian leather Linux computers," he said, hinting that an announcement with a digital photo-frame company may be in the works. "Our goal is to reinvent the Internet for a whole new class of devices."
According to Tomlin, the combination of open-source Linux software and Adobe's Flash Lite 3 is a potent mix for bringing content to low-cost Internet-enabled devices. "The Linux footprint can be reasonably small, so it's fairly portable, and it's highly acceptable in Asia, which is important," said Tomlin. "With Linux you don't have to pay egregious OS taxes, and you have more adaptability and openness, so it's perfect for these type of devices."
Although he wished Flash Lite 3 was open source, Tomlin finds it be a highly attractive technology that works well with Linux. "One of the cool things about Flash Lite 3 is that it was designed for embedded devices, so it lets you poke through to some of the lower level capabilities of the device, such as our accelerometers," he said. "It's designed for portability and offers a wide variety of embedded codecs for things like animation and fonts, and in a small package."
Availability
The Chumby is available now for $180, says Chumby Industries, and the five accelerometer-based Albino Blacksheep games are now available for download. The Chumby developers site is here.
---

This article was originally published on LinuxDevices.com and has been donated to the open source community by QuinStreet Inc. Please visit LinuxToday.com for up-to-date news and articles about Linux and open source.