Jul 31, 2007 — by LinuxDevices Staff — from the LinuxDevices Archive — 6 views

A France-based e-book specialist is readying a Linux-powered successor to its earlier Windows CE-based e-book reader devices. Bookeen's third-generation Cybook device, featuring "groundbreaking" Vizplex e-paper technology from E Ink, is a customized version of a Chinese-language e-book reader that debuted last December.

Bookeen's Cybook (left) is a customized version of eRead's STK-101 eBook (right)
Being derived from the same basic design, Bookeen's Cybook Generation 3 and eRead's Star eBook STK-101 devices share many features and specifications, including size, weight, and 6-inch screen sizes. Both run a 2.4.18 Linux kernel on a 200MHz ARM920T-based Samsung system-on-chip (SoC), while the Bookeen's device appears to offer double the boot ROM (8MB), the same amount of system RAM (16MB), and double the internal flash storage capacity (64MB).
According to Bookeen co-manager Michael Dahan, the most significant hardware differences between the two e-book readers are in their screens and mechanical housings.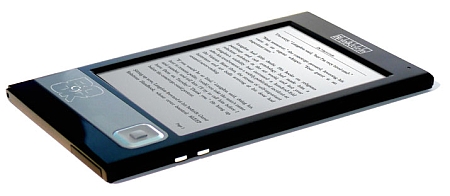 The Cybook's display is based on E Ink's Vizplex e-paper
(Click to enlarge)
In particular, the Cybook's screen is based on
E Ink
's "Vizplex" e-paper technology, instead of the standard E Ink screen used in eRead's device. The company claims its use of Vizplex will equip its Cybook Generation 3 e-book reader with "the brightest and fastest switching epaper display of the market."
Vizplex, according to Dahan, provides a display that is "brighter with lower screen refresh latency" in comparison to E Ink's standard display technology. While both simulate newsprint presentation based on a 4-level grayscale, Vizplex "is truly like a sheet of paper, it can be viewed from nearly any angle and in a wide range of lighting conditions, including direct sunlight," he adds.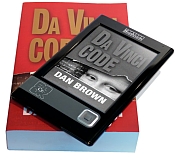 (Click to enlarge)
Other differences between the devices appear in the device's Linux-based software stack, adds Dahan, who notes that the Cybook's "entire application layer [was] developed by Bookeen." Key features are said to include:
Multi-format support
Mobipocket DRM support
Optimized and accelerated interface
Enhanced layout quality (header, footer, margin)
Better ergonomics
Multi language support — occidental, but also, for example, Cyrillic (all
languages except right-to-left like Hebrew and Arabic)
Additionally, the Cybook's embedded OS is upgradeable. The next release will gain enhancements such as "shorter booting time" and "better power management," Dahan said.
Bookeen notes that its agreement with Mobipocket, an Amazon company, to license and distribute the e-book titles in Mobipocket e-book format, enables the Cybook Generation 3 to be used with over 50,000 titles. This spans a "vast amount of copyrighted books ranging from bestselling Dan Brown's The Da Vinci Code to the latest Hillary Clinton biography," according to the company.
Cybook owners are also free to read personal and public domain content. "On the Cybook, you don't need to convert your files to an exotic format or upload them to any proprietary web site. You simply transfer your files directly to the device and read them natively," said Laurent Picard, Bookeen co-founder.
Availability
The Cybook Generation 3 e-book reader has been released for production, and is expected to be available from the company's online store beginning in September. Pricing starts at $350, according to the company.
---

This article was originally published on LinuxDevices.com and has been donated to the open source community by QuinStreet Inc. Please visit LinuxToday.com for up-to-date news and articles about Linux and open source.